Lying at the coast of rippling Persian Gulf, this vibrant city is a gorgeous mixture of mesmerizing skyline, world-class shopping opportunity, global cuisines, plenty of adventure activities and jaw-dropping hotels. Whats more, Dubai is home to many of them. Talking of jaw-dropping hotels; Here are The Best Hotels at Jumeirah Beach Residence.
Thanks to all those marvellous tourist attractions, Dubai is experiencing huge increase in the number of foreign travellers with each passing year. Last year i.e. 2019, this city welcomed a record number of 16.73 million travellers and tourists which is really awe-inspiring. The city was expecting a crowd of about 20 million tourists in 2020 but I guess, COVID-19 situation has hampered that expectation.
After several months of COVID Lockdown. Dubai has reopened its door for tourists and if you are looking forward to gather spectacular keepsakes from your Dubai trip, then I will suggest you to book hotels at Jumeirah Beach Residence. The Walk is a perfect place to experience the greatest luxury and grandeur in the world.
You can go shopping, dine at plush restaurants or simply take a stroll by the sea when your hotel is at The Walk JBR. Now, to go through the details of the hotels that offer best of this glitzy city in every possible manner.
In no particular order these are the top 3 Best Hotels at Jumeirah Beach Residence.
1. Rixos Premium Dubai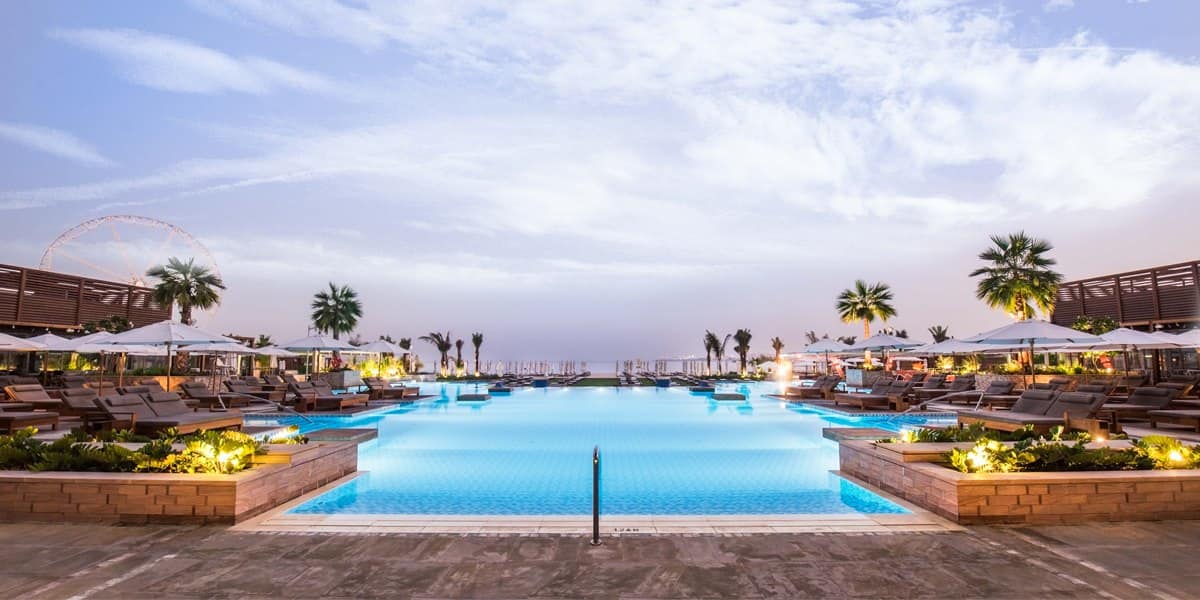 There is no place better than Rixos Premium Dubai to experience luxury at the most stylish hotspot of the city. Located right at the heart of Jumeirah Beach Residence, this fabulous 5-star hotel is the epitome of trendy living and iconic architectural design.
This hotel overlooks the beach and the largest Ferris Wheel in the world, The Dubai Eye. Rixos Premium Dubai is one of the most exotic places to book your accommodation at JBR. The spectacular Crystal Tower design of this hotel itself is a piece of wonder brightening the skyline of JBR.
Rixos Premuim Dubai is a prominent landmark of Jumeirah Beach Residence and its official address is on The Walk, Jumeirah Beach Residence. In case you are interested in exploring the neighbourhood of the hotel virtually, click here. You can also visit the official website of Rixos Premium to gather more information.
Furthermore, there is a collection of 414 upscale rooms and suites. Each of which allows the guests to enjoy direct access to the beach along with the bars and restaurants of the hotel.
Everything at Rixos has been designed mindfully to match fast-paced business entrepreneur lifestyle. Every nook and corner of the hotel is fitted with tech-savvy and ultra-modern facility so that you never regret your stay at Rixos Premium.
Rooms at The Rixos Premium Dubai
Additionally, how is it possible to skip the interior of its spacious rooms. In their attempt to treat the guests with marvellous view of the city, the beach and the upscale neighbourhood – all rooms feature floor-to-ceiling glass panels.
Rixos Premium have prepared and designed their rooms in a way that never fails to offer an excellent accommodation choice. Rooms at this premium hotel can be categorized broadly into six:
Deluxe Room (32 0 48 sqm),
Premium Room (32 – 48 sqm),
Junior Suite (48 – 53 sqm),
Deluxe 1 Bedroom Suite (84 – 94 sqm),
Premium 1 Bedroom Suite (84 – 94 sqm) and
Premium 2 Bedroom Suite (122 – 150 sqm).
Irrespective of your choice of rooms, be rest assured to enjoy the endless horizon over the Arabian Gulf or the dazzling skyline of the city.
Every room of the Rixos Premium is equipped with a 48-inch flat screen television and a sprawling seating area. Just like the room, you are going to love their impeccably developed bathrooms. A rainforest shower at your bathroom is the first step to ward off all your worry and tiredness. After a hectic meeting or thrilling adventure sport, luxury bathroom amenities of Rixos are all set to greet you with unmatched indulgence to rejuvenate your body and mind.
Dining at The Rixos Premium Dubai
After the beautiful rooms, comes the food of Rixos Premium. This hotel can literally spoil you with plenty of choices when it comes to tickle your taste-buds.
STK restaurant of the hotel is best known for their modern and little twisted version of American steakhouse style dining. This place also allows you to enjoy your food in a plush and contemporary ambience. On the other hand, Turquoise Restaurant offers all-day dining option for authentic Turkish and international cuisine buffet.
Furthermore, Black Tap Craft Burgers & Shakes and Luigia Italian Restaurant are also great places to enjoy your lunch and dinner. When having good time at pool or beach, don't forget to kill your hunger with snacks and drinks from Azure Beach Bar and Ammos's delicious Greek menu.
If you are a nocturnal species who loves to enjoy the party and the food late at night, then you have multiple choices including District, Stock & Barrel and Lock.
Rixos Premium Dubai Facilities
If you are thinking of having everything on earth to satiate your senses with unmatched facilities of Rixos, then wait. What about a rejuvenating session with its Natureland Spa? This world-class spa with its signature Ottoman hammam is the right place to take the first step towards a holistic approach of well-being.
Rixgym Fitness Centre of the hotel is a state of the art gymming area loaded with all sorts of exercising machineries. You can also treat yourself with a pampering salon session right at Rixos Premium to look fabulous and feel great.
Rixos Premium Dubai is located at a stone's throw from Dubai major attractions like Mall of Emirates, Dubai Marina Mall, Jebel Ali and Sheikh Zayed Road. You will be offered with complementary shuttle bus service to and from Mall of Emirates. So, lots of amazing things are waiting for you in and around Rixos Premium.
2. Le Royal Meridien Beach Resort and Spa
When it comes to booking your accommodation with extraordinary ambience and impeccable facilities, it is impossible to miss Le Royal Meridien Beach Resort and Spa.
Spread across an extensive area of 19 acres, this award-winning property is located on The Walk, Jumeirah Beach Residence. Overlooking the pristine golden beach against the gorgeous backdrop of Arabian Gulf, Le Royal Meridien Beach Resort redefines the idea of luxury.
Vast area's of this beach resort hotel are dotted with perfectly manicured landscape gardens, three swimming pools and a state-of-the-art fitness centre.
If you are travelling with children, there is absolutely nothing to worry about how to keep them engaged. A specially designed Kids Club helps to get their eyes off the Ipads. Additionally, this club also encourages them to gather interesting facts through engaging learning techniques.
Le Royal Meridien Beach Resort and Spa is located in the lavish locality of Jumeirah Beach and The Walk. You can reach this hotel with an address of Al Mamsha Street, Jumeirah Beach Residence, Dubai.
Being a prominent landmark at Jumeirah Beach, you don't have to face any difficulty to spot the hotel. For hassle-free transportation, you can check the exact location of Le Royal Meridien Beach Resort here.
Rooms at Le Royal Meridien Beach Resort and Spa
With a revolutionary vision to offer unrivalled service and captivating ambience, Le Royal Meridien Beach Resort and Spa features 504 evocative rooms and suites. Each of these rooms allows guests to take a straight view of Arabian Gulf or the sparkling Dubai Marina.
Rooms and suites of the hotel has been crafted with utmost dedication and specification to meet every type of travel requirement. This property is so highly appreciated due to its understated luxury.
Rooms here are equipped with a 42-inch flat screen television & satellite channels, DVD player and minibar along with Free Wi-Fi. You can also access business-friendly amenities including telephones, study desk, wired/wireless internet access and complimentary newspaper.
Bathrooms of the hotel boast rainfall shower heads and tubs for an immersing bathing experience. Guests in any of their rooms are entitled to enjoy 24-hour room service although their stay at Le Royal Meridien Beach Resort and Spa.
Dining at Le Royal Meridien
Le Royal Meridien Beach Resort and Spa sports a wide range of bars and restaurants so that you don't have to compromise on taste. All of their restaurants bring culinary delights from across the globe.
If you are an ardent fan of Mexican delicacies, then get ready to treat yourself! Here there are amazing dishes from award-winning Maya Mexican Kitchen and Bar by Richard Sandoval. For seafood lounging there is Geales, while Zengo showcases a beautifully handpicked menu of Asian style and flavour.
Rhodes Twenty10 is an innovative new generation place to have an amazing steakhouse dining experience. Al Khaima is an open-air restaurant boasting not just authentic Middle Eastern cuisine but heart-warming Arabic ambience too. There are still many other dining choices that you can explore with Le Royal Meridien Beach Resort and Spa.
Facilities at Le Royal Meridien Beach Resort and Spa
There are as many as three spectacular outdoor swimming pools within the boundary of Le Royal Meridien Beach Resort. All the family can have real fun in water as there is a separate pool for children too.
Furthermore, you can also look for other recreational options like outdoor tennis courts, private beach, sauna and fitness centre. Le Royal Meridien is determined not to make you feel home-sick with their flawless service and exclusive amenities.
At Le Royal Meridien Beach Resort and Spa, royal treatment awaits your body and mind. At this beach resort, comfort of guests is the priority. Aesthetically designed Caracalla Spa is a Roman theme-based spa centre offering a whole range of beauty treatments and massage sessions. The highly upscale Fitness Centre also allows guests to carry on their regular workout schedules without fail.
The hotel is a 10-minute drive from the Mall of the Emirates. Additionally, about 3 kilometres far away from renowned Emirates Gulf Club. This means, you will have a blast as soon as you step out of your hotel.
To make your stay more exclusive and fabulous, you can visit the official website of Le Royal Meridien Beach Resort and Spa.
3. Sofitel Dubai Jumeirah Beach
Last but never the least. Here is the Sofitel Dubai Jumeirah Beach hotel. This luxury 5-star hotel is surely a prominent gem in the skyline of Jumeirah Beach Residence.
The Sofitel opens straight onto the most celebrated recreation promenade of Dubai, The Walk. The hotel is particularly known for its beautiful location and stunning views. You can spot this wonderful property right on Jumeirah Beach Residence. For more details on the location, you can click here.
Sofitel JBR Accommodation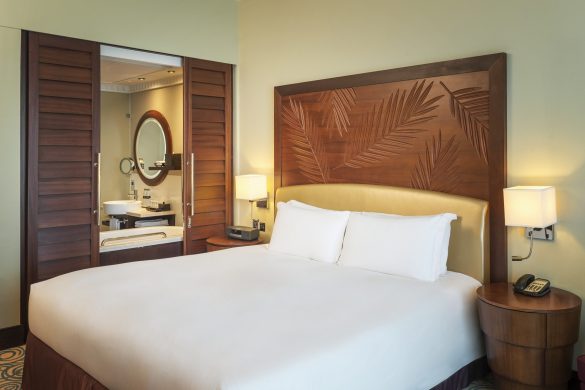 There are a total of 444 rooms at Sofitel Dubai Jumeirah Beach. From all the rooms, you can take a deep look at the azure blue water of Arabian Gulf and Ain Dubai.  Depending on your travel requirements, Sofitel Dubai Jumeirah Beach has designed several types of spacious rooms and suites.
This 31 storey structure houses 27 Junior Suites & Family Suites and 12 Prestige Suites along with another 2 Opera Suites. Those meticulously decorated rooms come with a private balcony with a mesmerising view of the sea and the city. Furthermore, finely combined Arabian décor and Art de Recevoir of Sofitel flaunts warm hues. Teak furnishing ushers a touch of mystery that Middle Eastern décor is known for.
In order to ensure utmost comfort and a relaxing ambience, Sofitel Dubai Jumeirah Beach has made all their rooms specious enough to enjoy your visit.
Minimum floor area's per room starts from 35 square metre and ends at 95 square metres. Every room of this hotel flaunt a flat-screen TV, minibar and Bose sound system. Free Wi-Fi & Modern furnishing complete the round-up. Additionally, all sorts of urban facilities makes sure your stay an exceptional memory.
Sofitel JBR Dining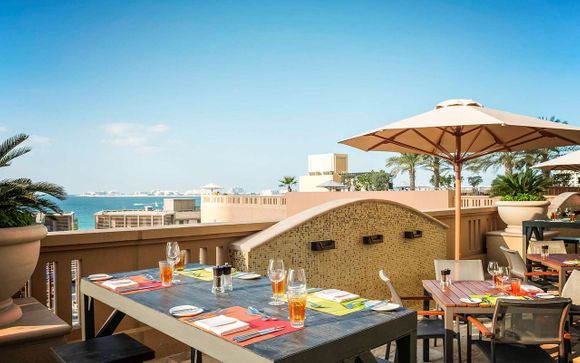 Additionally, Sofitel doesn't restrict their services only to your room. You can expect much more beyond the boundary of your accommodation. To complement its luxury, the resort offers its guests a golden opportunity to indulge in exquisite international cuisines.
Plantation Brasserie, Bar & Terrace is the place to savour authentic French and Mediterranean cuisines. Flaunting a nature-inspired setting, this restaurant offers a la carte menu to match every mood. You can also explore its impressive collection of concoction and beverages.
Sofitel JBR Facilities
Whats more, you can also have a great time with your loved one at the Infinity Pool Lounge which sits next to the sea-facing pool. This place is surely the best spot at Sofitel Dubai Jumeirah Beach to behold the sunset hues across the Gulf and the city skyline. Furthermore, if you are more into maintaining a great physique and a healthy body, you can visit their state-of-the-art fitness centre during your stay at Sofitel Dubai Jumeirah Beach.
There are lots more to explore and enjoy in and around Sofitel as it is surrounded by a series of upscale tourist attractions including The Walk, the Beach, Dubai Marina Yacht Club, Meydan Beach and Roxy Cinema JBR.
You can gather more information on Sofitel Dubai Jumeirah Beach by visiting their official website.
Conclusion
Here I have given you some of my favourite hotels from Jumeirah Beach Residence, The Walk. All of these hotels are best known for their service, ambience, views and pulsating neighbourhood. Hopefully you will love to give them a try during your next visit to Dubai. Apart from these three 5-star hotels, there are many fabulous beach resorts near The Walk and JBR. Choose according to your budget and travel goals.
Thank you for taking time to read about The Best Hotels at Jumeirah Beach Residence. I hope that this article has given you some fantastic choices of hotels when visiting The Walk. For more travel information and tips on Dubai follow my blog. You can also follow me on Pinterest and YouTube too.