Dubai is a fantastic holiday for adults and children of all ages, with an endless amount to do and see. However, when exploring for things to do on your visit to Dubai you better make sure to visit their aquariums. Dubai is home to some of the best aquariums in the world but What are the best Aquariums in Dubai?
Dubai is undoubtedly the best place on earth to witness awe-inspiring architecture. However, that's not everything Dubai is all about. This city is home to the finest underwater displays. Pull up your socks and get ready to explore the vibrant and ethereal underwater world of Dubai.
1. Burj Al Arab – Al Mahara
Burj Al Arab is one of the most magnificent and flashy hotels in Dubai. The seven-star hotel doesn't just wow you with its looks but also with its unmatched hospitality. Burj al Arab houses a humongous aquarium system with a lobby tank of 500,000 litre capacity. Another predator tank known as Al Mahara restaurant offers an additional capacity of 300,000 litres.
This spectacular aquarium has recently undergone a massive renovation to incorporate more advanced technologies. Furthermore, what makes this tank breathtakingly beautiful is the artificial corals. In addition, they've added more hues to create an alluring underwater scene.  
Marine life at this aquarium are looked after by dedicated teams of experts. They keep an eye on the whiteboard inside the feeding room to ensure that every creature is doing fine. In case of any abnormality in the readings, the aquarium specials rush to fix the problem with the help of a high-tech centre armed with all sorts of monitoring gadgets.
Burj Al Arab Aquarium gives guests a golden opportunity to spend a few hours with clown fish, black tips, sharks, guitar shark and humphed wrasse. The best attraction of the aquarium is Zebedee, a female zebra shark. She is the 'pathogenic' type which means she deliver pups with mating.
The obvious location of the aquarium is, Burj Al Arab Hotel, Jumeirah Street. Click here to reach its official website.
As per Tripadvisor, this is the 4th favourite things to do in Dubai with 12,245 reviews. The most feasible way to visit the aquarium is to book a table at Al Mahara restaurant. The cost of two people will be approximately $430.
2. Dubai Aquarium & Underwater Zoo
Dubai Aquarium & Underwater Zoo is the largest aquarium in the UAE with a tank capacity of more than 10 million litres. Located on the Ground Level of Dubai Mall, it is also the largest suspended aquarium in the world. This place is certainly a world-class exhibit to showcase 650,000 marine creatures to its visitors. Additionally, if you count them by species, there are 140+ species in a single tank!
This splendid underwater world is known for the largest collection of Sand Tiger Sharks in the world. Furthermore, the most thrilling experience comes when you meet them at darkest parts of the walk-through tunnel.
The upper level of this underwater zoo introduce you to Angel Fish, Stone Fish, Box Fish, creepy Giant Spider Crabs, and those playful penguins. You can also snorkel in a cage, take a glass-bottom boat ride or a behind-the-scenes tour to explore its impressive surrounding. Trained divers will accompany you all through your underwater exploration so that you don't have to worry about which direction to go next.
This well-illuminated aquarium takes you to the vivid world of the sea which will not just captivate your senses but will enhance your understanding of the underwater biosphere. In case, you are not that comfortable to plunge into water, you have alternatives to take a walk through the glass tunnel to watch those colourful creatures floating around you.
You can spot this aquarium at Ground Level of Dubai Mall, Doha Street off 1st Interchange – Sheikh Zayed Road in Dubai. Dubai Aquarium & Underwater Zoo remains open from 10.00 am to 12.00 midnight. Several types of guided tours are available in the aquarium and you can take a better look at the price from their official link. You can also check its rating and review at Tripadvisor.
3. The Lost Chambers Aquarium at Atlantis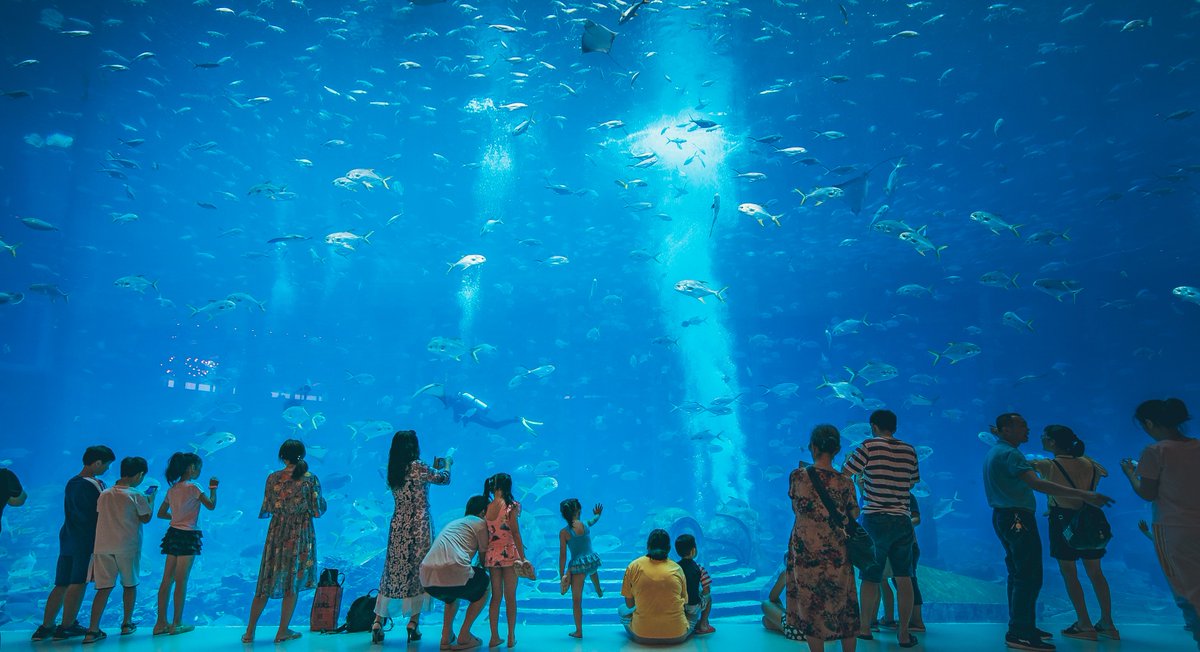 Next up in our review of the best aquariums in Dubai, The Lost Chambers of Atlantis. The City of Atlantis has finally been revoked after a deep sleep of thousands of years beneath the abysmal depth of the sea. The Lost Chambers are themed on Atlantis, the mythological Greek city. Relics inside the aquarium are really convincing and successful in creating a world of imagination and magic.
The main attraction of the aquarium is the gigantic ambassador Lagoon located at the centre which is home to hundreds of exotic marine creatures. The whole tank features a labyrinth of underwater tunnels and mazes to depict lost civilisation of Atlantis. This setup actually helps adventure-lovers to feel the excitement of 'lost & found' game.
Whats more, there are total 65,000 species of marine creatures in this aquarium including lobsters, 'Nemo' fish, jelly fish, groupers marble rays, cow nose rays and the most fearsome sharks.
The Lost Chambers Atlantis is the only place in Dubai that allows you to make frequent encounters with eels, sharks, piranhas and seahorses. It also features more than 20 exquisite marine life exhibits encompassing an interactive Aqua theatre show and a touch tank.
This marvellous attraction shows remarkable positive reviews at Tripadvisor too. You can derive further information from their official website. Their website will also tell you the exact price of several types of tours and excursions arranged inside the aquarium.
The Lost Chambers Aquarium is located in The Avenues in Atlantis Dubai. Complimentary valet parking is offered so that you don't waste any time to relish the beautiful Atlantis.
Opening times of the Lost Chambers at Atlantis is from 1.00 pm to 7.00 pm, Sunday to Thursday. The timing changes to 10.00 am – 8.00 pm on Friday and Saturday.
4. Dubai Dolphinarium
When it comes to entertain the tourists, Dubai doesn't leave no stone unturned. Among all the underwater zoos and aquariums, Dubai Dolphinarium is surely one of its kind. Is it not amazing to watch dolphins and seals shows and get amused how adorable these animals are? Of course, it is. That's why Dubai has gifted the world this amazing place to play with seals and dolphins particularly along with your little ones.
This dolphin park is spread across an area of approximate 5,000 square meter and offers safe abode to 6 celebrated bottle nose dolphins. This park is also inhabited by a large population of Fur Seals and more than 20 colourful species of parrots. Each and every one of them is waiting for you and ready to make your day a memorable one.
Dubai Dolphinarium sports a centrally air-conditioned facility which means there no chance of feeling exhausted due to extremely hot and humid climatic conditions of Dubai. Be it any time of the day, Dubai Dolphinarium is going to welcome with cool breezes and soothing temperature only.
However, there is more than one thing to do in Dubai Dolphinarium. The major attractions include events like Dolphin & Seal Show, Swimming & Meet & Greet with Dolphins, Creek Park Exotic Bird Show, Mirror Maze – Labyrinth @Dolphinarium and Trampoline.
Click here to check the show timing from its official website. You can also book your online tickets with the same link to avoid long waiting times in front of the ticket counter.
Dubai Dolphinaruim is located at Creek Park, Gate No.1 at Umm Hurrair 2. If you are taking a cab, then just tell the driver to take you to the Dolphinarium behind Health Care City in Creek Park. Nearest Metro Station is Health Care City on Green Line.
5. Mina A'Salam Turtle Enclosure
Last on the list but not the least, here comes Mina A'Salam Turtle Enclosure. As you can guess from the title, it is a place dedicated to those cute and timid marine creatures. This is not exactly a plush aquarium like the previous ones with massive land areas. For example, the large tank of this turtle pen measures 22m x 16m x 16m while the small tank measures 8m x 14m x 10m.
This turtle lagoon was developed as a part of Jumeirah's Turtle Rehabilitation Project in 2004. Further, this place is now a safe playground of approximately 550 turtles. That's a lot of turtles right?
Mina A'Salam Turtle Enclosure helps baby turtles get accustomed to the sea environment so that they can survive on their own in the wild. It also takes care of turtles injured by entanglement or feeding of plastic waste. The venue offers you an experience of lifetime that you can enrich more by meeting loggerhead turtles, green turtles and critically endangered hawks bill turtles.
This turtle enclosure remains open although the day but you can feed the turtles only at 11.00 am on Wednesdays and 1.00 pm on Fridays.
The Turtle Pen is located at Mina A'Salam in Jumeirah. This place is about a mile away from Mall of Emirates metro station on the Red Line.
Conclusion
My personal favourite Dubai aquarium is The Lost Chambers at Atlantis but I'll let you decide on your visit.
Thank you for taking the time to read my post on The 5 Best Aquariums in Dubai. For more travel information and tips on Dubai follow our blog here. You can also follow us on Pinterest and Youtube.