Dubai's endless list of things to doesn't stop with scuba diving but presents yet another amazing experience for travellers. The Arabian Gulf is packed with some of the world's most beautiful corals and multi coloured tropical fish. So whether you're a first timer or a seasoned scuba diver you bound to be wowed by 9 of The Best Places for Scuba Diving in Dubai.
Throughout this post we take a look at some of the best diving spots Dubai has to offer as well as the best scuba diving companies and the price of scuba diving in Dubai.
Is Scuba Diving in Dubai Any Good?
A quick common question to answer. The Arabian gulf has year round warm clear waters with an array of tropical fish and different wrecks to explore. Does Scuba Diving in Dubai compare to Egypt, probably not. But is it worth it, definitely yes!
Top Places to Scuba Dive in Dubai
From aeroplane wrecks off the cost of Jumeirah beach to scuba diving in Dubai Mall's aquarium, there is something here for all. Below are 9 of The Best Places for Scuba Diving in Dubai.
1. Scuba Diving in Dubai Mall
We start with the most obvious place in Dubai to scuba dive, Dubai Mall. One of the world's largest aquarium tanks in the world to date, Dubai Mall's aquarium is home to over 30,000 creatures, 300 different fish and has the largest collection of Sand Tiger Sharks in the world. Furthermore, this tank is 51 meters in length, 20 meters in depth and 11 meters in height!
Whilst scuba diving in Dubai mall, visitors can also choose between a glass bottomed boat ride, snorkelling with the fish or even shark feeding in a suspended shark cage.
Certified scuba divers can book dives here as and when they please but you don't need to be certified to come and try it out. Dubai Mall's Aquarium offers a "discover scuba diving course" for all beginners which will enable you to take the plunge.
Website: The Dubai Aquarium
Opening Hours: Daily 10am – 12am
Trip Advisor Rating: 4/5
Price of Scuba Diving in Dubai Mall
Dubai Mall Aquarium Scuba Diving Prices
2. Scuba Diving at Jumeirah Beach
The first place we take a look at in the open sea is Jumeirah Beach. Here you will get a true experience of scuba diving in the deep ocean of the Arabian gulf. What's more, shipwrecks are situated here and make for a fantastic diving experience.
Scuba Diving at Jumeirah Beach is probably one of the best places there is for beginner scuba divers. This is due to the number of shallow areas close by.
There are a few different scuba diving businesses in Jumeirah Beach which you can try. These are namely Nemo Diving, Royal Diving Centre, Deep Blue Sea Diving and Bermuda Diving Centre.
Nemo Diving has the best rating with 4.6 out of 5 and so we shall use them as an example below. All associated Jumeirah Beach Diving centre websites can be found by clicking the links above.
Nemo Diving Opening Hours: Daily 9am – 6pm
Trip Advisor Rating: 5/5
Nemo Diving Scuba Prices
Tip: If you are staying at the Jumeirah Beach Hotel, Scuba Diving Experience Courses are free of charge courtesy of The Pavilion Diving Centre. The hotel also has a diving store which sells scuba diving essentials should you not have your own.
3. Zainab Wreck Diving in Dubai
The Arabian gulf is awash with various wrecks. A short 30 minute boat ride from most places in Dubai can get you diving in the most glorious areas. The beauty of diving wrecks apart from having a piece of history to explore is the self contained marine life that has submerged itself to live in them.
Zainab wreck is the most popular of wrecks in the arabian gulf to dive. This wreck is best suited towards advanced divers due to its size and depth. The minimum dive depth of 20m will bring you to the top of the vessel and give you an opportunity to see huge schools of yellow tail barracuda. After this, you will continue to descend to around 30m where the ship bottom sits on the sea floor.
Yellow Tail Barracuda aren't the only type of species you will encounter down here as Oysters, Batfish, Rays and Snappers all reside in the wreck too.
Divers Down UAE offer excursions to explore the many wrecks the arabian gulf has to offer. Divers Down UAE also won a certificate of excellence in 2019 from tripadvisor.
Website: Divers Down Dubai
Opening Hours: 9am – 6pm Daily
Trip Advisor Rating: 5/5
Ship Wreck Diving Prices with Divers Down Under Dubai
Divers Down Under Dubai Scuba Diving Prices
4. Mariam Express Diving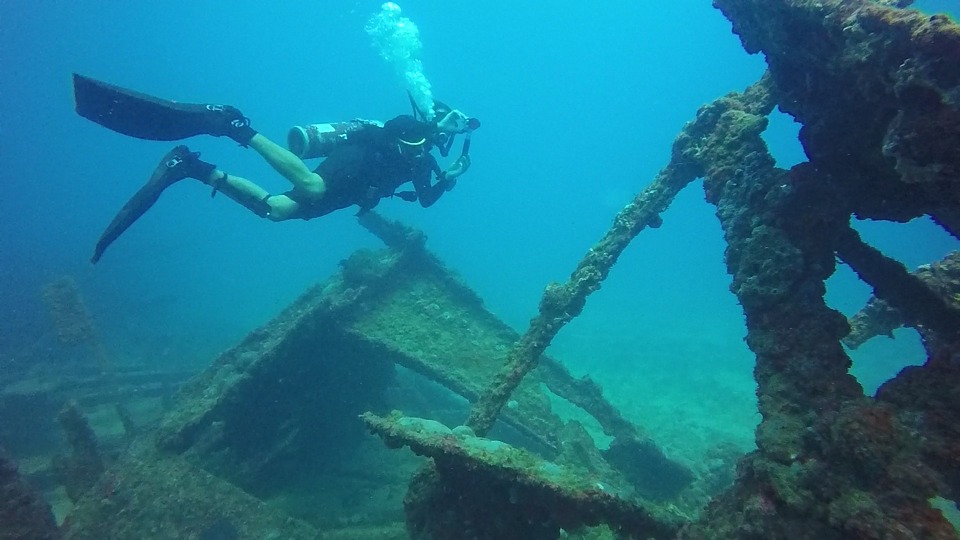 The Miriam Express is a Panama-registered, roll-on roll-off ship which was sailing from Hamriyah to Iraq when it sank approximately 20 miles off the coast of Dubai. This is one of Dubai's most recent shipwrecks to explore, only sinking in 2006. The wreck sits on the sea bed at around 25m.
The Mariam Express and all of its cargo were submerged, including many vehicles, which has made for a fantastic underwater home for Torpedo Rays and Yellowtail Barracuda.
Divers Down UAE offer trips to dive the Miriam Express, just like they do for Zainab wreck diving.
5. Sharm Rock Scuba Diving in Dubai
Situated north of Dubai, towards the tip of the UAE is Sharm Rock. Sharm Rocks are four outcrops of rock chich break the oceans surface. Soft corals cover the rocks which make the perfect home for thousands of different marine life. Fusiliers, Snapper and large shoals of Jacks reside here not to mention the large tuna fish and turtles. If you're really lucky you will be able to see black tip-reef sharks too.
When the water is at its' warmest, reports of whale sharks have also been seen at this location. The circuit of the four rocks can be completed in around an hour.
Orca Diving Centre offer day trips to Sharm Rocks from Fujairah.
Website: Orca Diving Centre
Opening Hours: MONDAY 8:00-16:00
TUESDAY 10:00-19:00
WEDNESDAY 8:00-16:00
THURSDAY 7:00-15:00
FRIDAY 8:00-16:00
SATURDAY 8:00-16:00
SUNDAY CLOSED
6. Dubai World Islands
Sand dredged from Dubai's coastal waters created the World Islands back in 2003 but the construction of these islands were halted by the financial crisis in 2008.
Recently, consortiums of business owners have vowed to re start and complete the project. However, for now, The World Islands make a great place to scuba dive.
Budding with small colonies of marine flora and fauna, the surrounding areas have been maintained by the Dubai government to encourage growth. This site is said to become one of the leading scuba diving sites in Dubai in years to come.
7. The Pearl
The centrepiece of a stunning five acre dive and snorkel tourism lost world off the coast of Dubai is The Pearl of Dubai. Individual artificial reef sculptures are set with cast bronze elements adding a unique facet to artificial reef design for tourism. 
Overall site design includes a main temple that doubles as a dive training area, snorkel reefs incorporating artificial reef habitat for declining Hamour (Epinephelus chlorostigma) in the region, in partnership with Abu Dhabi.
Construction of The Pearl Dubai is currently on hold but set to resume in 2021.
8. Sheikh Mohammed Barge
As scuba diving in Dubai becomes more popular, more businesses are creating artificial and man made areas to explore the underwater paradises of the UAE. Sheikh Mohammed's' Barge is just one example of a vessel which was intentionally sank to form an artificial reef.
Hundreds of holes in the wreckage allow experienced divers to get inside and come face to face with angel fish, batfish, barracuda and more.
Deep Sea Adventures offer scuba diving around the barge as well as other out at sea excursions. Furthermore, this company offer great value for a full day priced at just 830AED.
9. Martini Rock
This small reef inherits its' name from the contour of rocky pinnacles below the sea that appear like a martini glass on its' side. The rock measures in at over 150m on its' length and 80m at its' widest point. What's more, the visibility on this site is as good as 20m on clear days.
Divers can explore the rock from as shallow as 12m with more experience divers progressing to 20m.
Many different kinds of reef fish live at Martini Rock such as lionfish, burrfish, parrot fish and broomtail wrasse. Thus making it one of the most popular diving spots off the east coast of Dubai. This popular dive spot is noted for its sandy gullies and abundance of rich orange soft coral and complemented by deep purple and bright yellow soft coral.
The marine life doesn't stop there thought and lucky divers will come in close encounter with turtles, cuttlefish and moray eels too as they get closer to the sea bed. Seahorses and shrimps also blossom in this area.
Nemo Diving Center offer half day trips to scuba dive at Martini Rock with prices starting at 350AED.
10. Deep Dive Dubai
Deep Dive is another world's first from Dubai. This 60m deep artificial diving pool is the globes deepest. Inspired design from the UAE's rich pearl diving heritage makes this place truly special.
The dive centre features 56 underwater camera's to capture fantastic moments of you exploring a sunken underwater city and caters for divers of all levels too.
It doesn't matter whether you are a first timer looking for a beginners course or an experienced free diver, Deep Dive Dubai has you covered.
Below are the different experiences on offer and the cost of each.
| | |
| --- | --- |
| Experience | Cost |
| Discover Scuba Diving | From 1,800AED |
| Discover Snorkelling | 400AED |
| Discover Freediving | 1,000AED |
| Learn to Scuba Dive | From 4,000AED |
The Price of Scuba Diving in Dubai
Taking into account all of the prices above then you would be looking at approximately 1250AED for most beginner scuba diving courses in Dubai.
More advanced sessions and ship wreck diving averages around 1,500 – 2,000AED.
Extend Your Scuba Diving Experience Outside of Dubai
For those who are keen scuba divers and don't mind a couple of hours travel, you should definitely venture out to some of the other Emirates to try scuba diving.
Fujairah is another Emirate in the UAE with incredible scuba diving. This Emirate is on the south cost of the country and lines the Indian Ocean. You can reach Fujairah by car in around 90 minutes from most area's of Dubai. So if you're staying in Dubai you could easily do this as a day trip.
Scuba divers should give Sandy Beach Dive Centre a go when visiting Fujairah. The company are experts in diving in this region and hold a proud 5 out of 5 rating on TripAdvisor too!
We recommend spending some time in this beautiful Emirate and so if you wish to, Sandy Beach Hotel is one of the best in the area.
Tips for Scuba Diving in the UAE
When diving in any location, not just Dubai, it is important to abide by basic etiquette and safety.
Make sure you have a valid scuba-diving certification
Do no go in to the waters all alone
Respect all marine life no matter how small and do not get too close
Respect the safety instructions of your tour operator and abide by them at all times
Do not swim far from your tour guide whilst submerged
Stay safe and do not try anything extraordinary that maye put yourself or others in danger
To discover more magic in the world of scuba diving check out this comprehensive list on visitdubai.com.
Thanks for reading. Make sure to come back for more on Travel & Living in Dubai & Abu Dhabi. Follow us on Pinterest and Subscribe on Youtube too.