Proposals are always very special. It's that intimate affair, which binds you with your loved one in the forever kind of way. Flaunting the ring, whilst disclosing precious moments from the romantic proposal that swept you off your feet. The place in which this intimate moment happens contributes so much to the memory.
What're more, the setting of your proposal is one of the most important things to consider.
That's exactly why we've written this guide on Where to Propose in Dubai.
If you're planning a grand proposal for your partner, but are confused about the destination that can get you a quick "YES", then heading to Dubai would be just the right thing to do.
Dubai is home to some fabulous backdrops, where you can surprise your partner by popping the big question. Similarly, you can customise the proposal by sticking to the activities, locations, food, and drinks that are native to Dubai.
Of course, you can add a personal touch and emotional bent to the proposal, so that you and your partner can remember and cherish every little moment that unfolded between all the jitters and excitement on Proposal Day.
1. The Million Dollar Proposal in Dubai at Bab Al Shams
The first location for our Dubai proposal we take a look at is inside Bab al Shams Desert Resort and Spa.
Proposal Day can make the person popping the question go through a great deal of anxiousness and impatience. Likewise, the person, who is being proposed to is sure to experience a rollercoaster of several emotions.
What better way to relax your partner and yourself, than to head to Bab Al Shams Desert Resort and Spa. Located in the middle of the desert, this 5-star luxury resort resembles an Arabic fort. Furthermore, you can book yourself for a couple's massage and come out rejuvenated and refreshed. If your partner is someone who loves scenic architecture, then head to Bab Al Shams!
The quiet setting of this resort and spa, bounded by the spectacular view of the desert is sure to bring back pleasant memories in the future.
2. Propose at the Dubai Fountains
Take romance to an all-new level by shooting the "will you marry me" question at the Dubai Fountains. Located under the Burj Khalifa, these dancing fountains are capable of creating a mesmerising backdrop for your proposal.
Here, you can catch the fountains dance to a new song every 30 minutes between 6pm and 11pm. Furthermore, this proposal location is going to cost you nothing at all!
The only adjustment that you will have to make is to find your way through the many bystanders and try to get that private moment amidst all the hustle-bustle. This can be avoided by choosing off-peak times.
When they say yes, be ready to attract some cheer from the people surrounding you. If you would like to preserve your privacy, then you can book a table at one of the many restaurants overlooking the Dubai Fountains.
Light, grandeur, and glow will welcome your proposal at this location.
If you want to make your Burj Khalifa engagement extra special, take a look at the Armani Hotel.
3. Atop The Burj Khalifa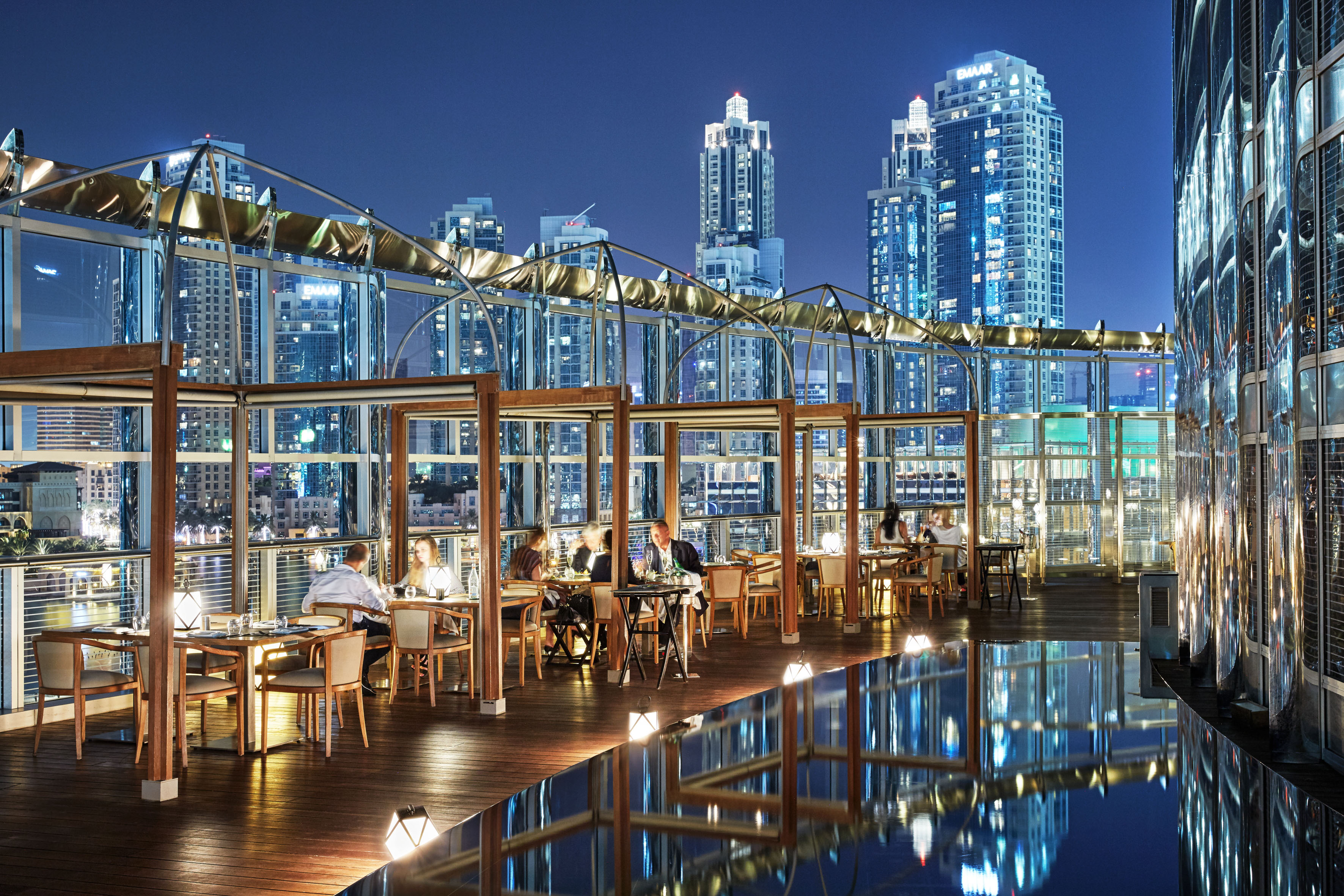 Get high on enthusiasm and cheerfulness by planning that special proposal atop Burj Khalifa. Being the tallest building in the world, Burj Khalifa helps you to take your romance to great heights.
You can head to the Observation Deck, find a secluded corner or book a table and pop that much-awaited question to your lover. The Burj Khalifa is a popular tourist attraction, which is why it witnesses thousands of tourists all year round. Therefore, if you are someone who shy's away from the public eye and instead prefers to go private, fret not.
In this case, you can book yourself a table at Atmosphere, which is the world's highest restaurant, located on the 122nd floor inside of the Burj Khalifa.
4. The Desert Proposal
Fancy something different to the city when wondering where to propose in Dubai? Hit the desert for an original and raw proposal.
One of the best ways of proposing in Dubai is by setting out on a desert safari and popping the question amidst the warm and sandy desert winds. When you look around, all you see is the never-ending desert landscape that feels so peaceful and calming.
The view of the stars in the night sky from the desert in the UAE is like nothing else you will ever see.
If this feels like a lot of work, let us tell you, there is not much that you need to do. You can simply sign up with an agency and they would be more than happy to host a desert safari for you. You can also personalise your special moments by planning an intimate dinner for two in the middle of the dessert. Indeed, a unique setting to shoot that big question.
The Starry Skies coupled with the Desert Vibe is sure to remain etched in your memories forever.
5. On a Private Yacht
If you'd like to create glamorous memories, then proposing on a private yacht will surely work out to be a thrilling endeavour.
All you have to do is to get in touch with a yacht agency, which will help you to set up the perfect proposal on the Arabian waters. Many of the seafront hotels can arrange this for you. One of the best places to rent a yacht is from Sofitel The Palm on The Palm Jumeirah.
The best time to pop the most important question of your life is in the evenings when the sun is ready to set.
Just imagine how electrifying the entire experience would be. The far-fetched ocean, soothing winds, beautiful sunset, and of course the love of your life will together make for the most romantic mishmash of all times.
Now that you have decided to make your partner officially "Yours", why not do it in style? You can add a bottle of champagne and a delectable brunch to complete the yacht experience.
6. At the Miracle Gardens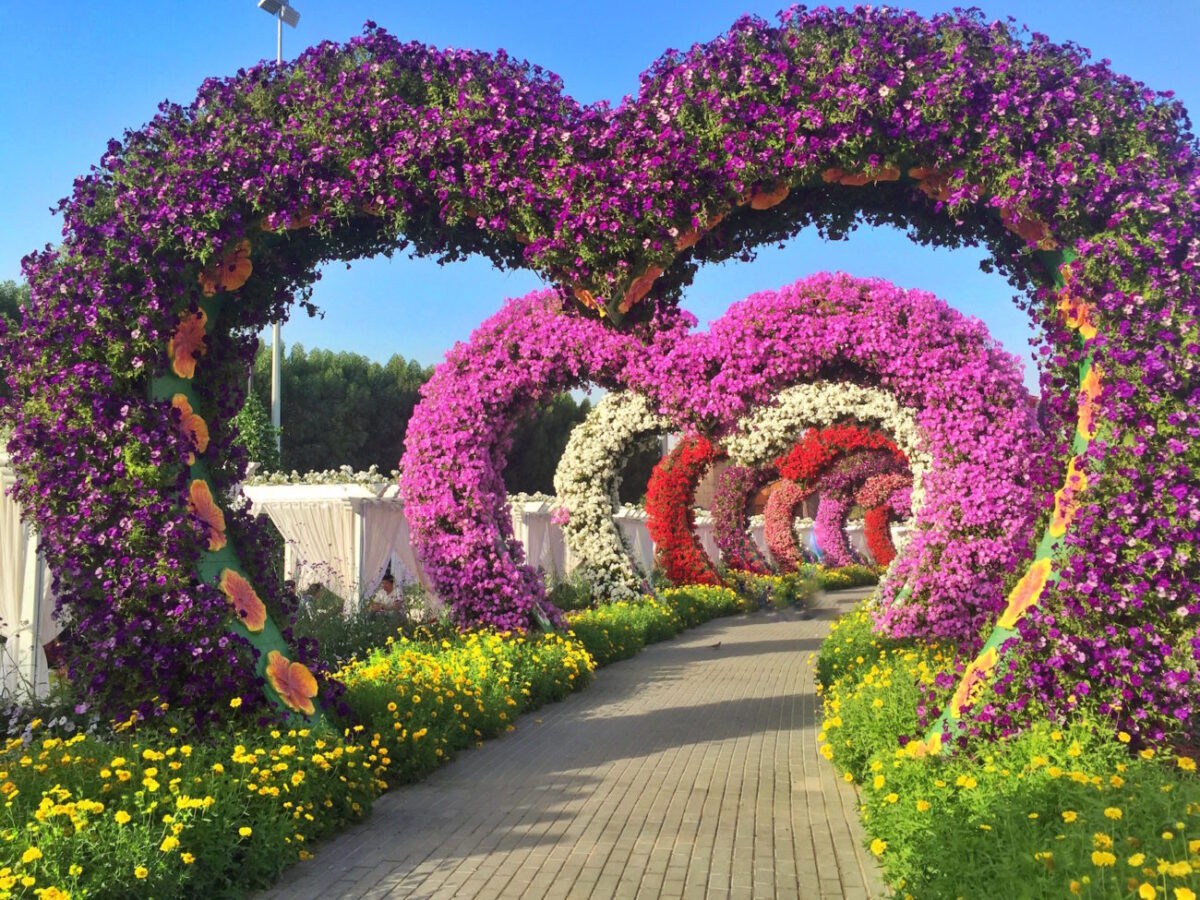 The mere thought of Miracle Gardens brings before our eyes a picturesque scene that includes a gorgeous collection of flowers.
Flowers and love certainly have this deep, unquestionable connection. The best way to say "I Love You" is to present your partner with a bunch of beautiful flowers. But why settle for one or two flowers, when you can have the whole garden to yourself.
Plan a date with your partner to the Miracle Gardens, and when they're least expecting, go down on your knees and pull out that stunning ring you got for them.
You can customise your proposal by joining hands with the staff at the Miracle Gardens. They will help you to put together a beautiful bouquet or even a flower display, which is sure to leave your partner spellbound.
Don't forget to hire the services of a professional photographer to capture all those wonderful moments that will remain close to your heart forever.
7. Head to Ski Dubai at the Mall of Emirates
Being in the company of your partner, loads of love and emotions, and of course a chilled background with snow all over, for sure makes a perfect place to propose.
This time around ditch all typecasts, let the candlelight, heart-shaped balloons, and red roses rest out a bit. Surprise your partner in ways they would have never even imagined.
Plan a day out at Ski Dubai and when everything seems perfect go for it.
Let go of all the fears and hesitation. The cute little penguins roaming around will surely offer you the boost you may be looking for. Whats more, you can request the penguins to carry the ring to your partner on your behalf. Isn't it going to be adorable?
8. Go Skydiving
Proposing to your partner is no less than an adventure. Having said that, if you and your partner are adventure enthusiasts, then planning an adventurous proposal would make a lot of sense.
Just imagine getting onto the helicopter and landing on a parachute to see the love of your life waiting to make you permanently theirs. This would end up becoming the moment of your lifetime. All you have to do is to prepare a huge "Will you marry me?" landing matt, and pop the question when you finish.
After all, they say "Love is in the air", for a reason.
9. Propose on an Abra Boat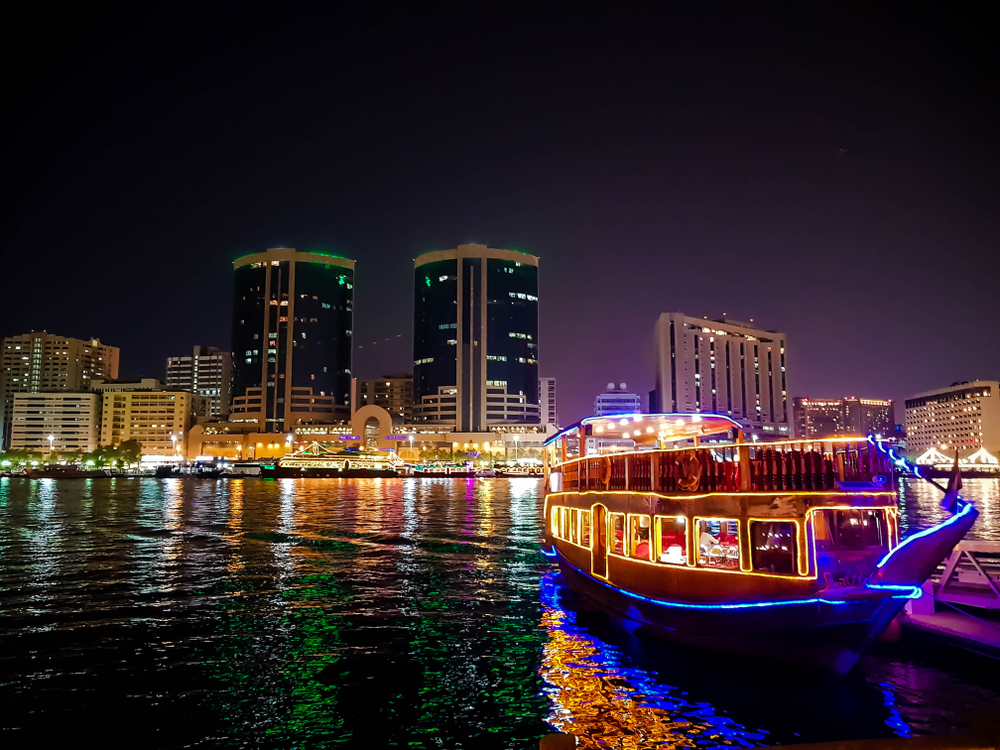 If the private yacht proposal works out to be a little too expensive for you, then you can certainly opt for an Abra Ride. These boats cost as little as 1AED a ride.
In the end, what matters are the emotions and efforts that you put into the proposal. Monetary spending is secondary. Once you plan to take your partner on an Abra Ride, you can choose between Old Dubai at the Creek or New Dubai at Madinat Jumeirah.
If you wish to take some cute pictures together, then the beautiful surroundings are sure to do complete justice to your wishes and desires. What's more, the Burj Al Arab offers you the backdrop of your dreams.
What are you waiting for? Just pull that dazzling ring out and make them all yours.
10. The Classic Beach Proposal in Dubai
If your partner is someone who finds happiness in tiny gestures and small moments, then an evening by the beach is the one.
You need not plan this proposal for days. It needs to look and feel real. All the raw emotions that you have held in your heart for days or even months need to come out and do the talking.
A nice walk under the starry skies is where you can begin your evening at. This can be followed by an intimate candlelight dinner followed by a romantic dance, where the waves would play the violins and piano for you.
When the mood is lit and they feel like they've had the most picture-perfect romantic date ever, add to there surprise by asking them to become forever yours.
For more ideas of which beach to choose for your proposal check out all of our beach guides here.
11. Emirates Park Zoo
One for the animal lovers out there. Proposals are fun when they're least expecting the big question to pop up. Let us say, you invite them for a special date at the beach or a fancy restaurant, there are chances they might catch some hints.
Invite them to visit the Emirates Park Zoo and they'll have no idea. Take them around the zoo, share some fun stories, exchange some quick stares and make them blush a little.
When the two of you start feeling the love and connection oozing out, get down on your knees.
The best part about the zoo proposal is that you will not be in it alone. The giraffes and elephants will be there to watch on you and encourage you.
12. Propose Underwater at the Atlantis
Wouldn't it be a nice idea to propose to her as you dine at the Ossiano Restaurant at Atlantis The Palm.
This is one of the most sort after places to pop the million-dollar question. If you aren't staying here make sure you book well in advance and let the restaurant know your making a proposal. That way they will get you the best table.
Witnessing the spectacular view of the gigantic marine life that welcomes you at this restaurant, would be a great start for the evening. The set up at this restaurant is excessively love-infused and romantic. Several wedding proposals have successfully taken place here in the past.
The uniqueness of this place comes from the 11 million-liter water tank that houses about 65,000 marine animals.
You can take your wedding proposal a notch higher by hiring the services of professional divers, who would be more than happy to pop the question on your behalf to your partner.
13. Just as you Land at Dubai Airport
Let us assume you have whisked your partner to Dubai solely to propose. However, for some reason, you may have had hard luck to plan the perfect proposal.
Alternatively, the plans you had already made may have fallen out for some reason. If you are done with all the permutations and combinations and have started to feel like a failure, worry not.
All you have to do is to grab a few flowers, keep the ring ready and go down on your knees as soon as you land at the Dubai Airport. Let us not forget Terminal 3 at the Dubai Airport, which has a next-level charm to it.
The shock, surprise, and mixed reactions on their face will surely be a visual treat for you. When this is out of the way you can thoroughly enjoy your nerve free stay in Dubai, both glowing with happiness.
14. Ain Dubai
If you fancy really pushing the boat out then why not plan your proposal at the largest ferris wheel in the world, Ain Dubai.
The perfect time to do this would be during New Years Eve, at midnight, under the fireworks; but make sure you book well in advance.
If this is too much for you, taking a trip up Ain Dubai any time of the year is just as spectacular as you take in the whole of Jumeirah Beach Residence and the City of Dubai from a great vantage point.
15. Atelier M at Pier 7 Dubai Marina
If you're looking for a swanky restaurant with incredible views then look no further than Atelier M.
Atelier M is located at the top of Pier 7, Dubai Marina and offers incredible views of the marina and city skyline. When you've done with the proposals and celebrationary drinks, take a stroll around the marina walkway and take in everything it has to offer. Why not even hire a boat to end the night in perfect bliss?!
Where is the Best Place to Propose in Dubai?
Our favourite place to propose from the list above would be on Jumeirah Beach, as the sun sets, but you choose and make it your own!
Love for sure is a beautiful emotion. The connection you feel with your special person is not something you share with everyone. You cherish these ties for a lifetime.
Whats more, if Dubai is your favourite place, then head back to propose and create even more memories shed in a different light to before. Remember, proposals happen only once this is why they are meant to be special.
Thanks for reading. We hope this guide has given you plenty of ideas for your Dubai Proposal. Make sure you come back for everything Dubai & Abu Dhabi. Also, you can subscribe to our channel on Youtube and follow us on Pinterest.
Happy Proposing!