Located in the heart of Downtown Dubai and at the foot of the tallest building in the world; Dubai Mall is a place not just for retail therapy but for entertainment, epic shows and views and also, believe it or not, relaxation! One of the best places to visit when on vacation in Dubai! There are just so many things to do at Dubai Mall!
Adults or children it does not matter at Dubai Mall, you will lose your day at this epic centre or architectural brilliance, so make sure to start early and allow yourself to finish late. To list all that can be done here would require us to publish a book, so we touch on a piece of everything it has to offer. 
If you'd rather watch than read, check our video on the top 15 things to do at Dubai Mall below.
1. Shopping
The first and most obvious thing to do at The Dubai Mall; hit the shops! Featuring over 1,200 stores, two anchor department stores and hundreds of food and drink outlets, The Dubai Mall covers more than 1 million square meters, which is the equivalent of 200 football pitches!
So now your already getting to grips with our advice on starting early right… For those with a love of top brands, Fashion Avenue is dedicated to the likes of Burberry, Versace, Armani, Boss and more.  
This fabulous fashion precinct features a number of VIP extras including porter services, an exclusive lounge to relax in and even its own 20-metre catwalk where you can channel your inner top model. There are over 70 signature fashion shops and a whole area dedicated purely to children's fashion. 
2. Dubai Mall's Aquarium and Underwater Zoo
33,000 Aquatic animals reside here in a 10-million litre tank. The largest amount of Sand Tiger Sharks in the world also live in this very tank. This 33,000 litre tank rises to the third tier of the mall and has a 48-meter tunnel that you can stroll through whilst in awe of the creatures around and above your head.
You can also take a glass-bottom boat tour, have a go in a snorkelling cage or plunge into an oxygen tank to swim with sharks. Apart from the extra's aforementioned, admission is free. 
To book any of the activities above visit their website.
3. Eat & Drink
Aside from actual Things to do at The Dubai Mall; one of the best things to do in life is eat and drink!
With literally hundreds of restaurants and cafes to choose from, there is something for everyone. Wagamama, Eataly, Operation Falafel, Carluccio's are to name but a few. There's even Cereal Killer Café for those fancying breakfast at any time during your visit. Fast food outlets such as McDonalds and Five Guys are also available.
Must-try: The traditional baklava at famed Turkish steakhouse Günaydin in all its sweet and sticky glory. 
The best thing about dining at Dubai Mall has to be the restaurants outside though. Overlooking the water, Dubai Fountain and The Burj Khalifa.
4. Go Ice Skating
For the active ones, unless your like some, and can't skate, this Olympic sized ice rink is located inside the mall and is available for use by the public as well as for shows. Ice Hockey games are held, Ice Go-Kart Racing and the rink even transforms into an astro-turfed soccer pitch at certain times of the year.
The shows here are fantastic and a must if your in the area at the time. For those wanting to spice it up a bit you can even rent ice bikes! I know, sounds crazy but give it a go, loads of fun!
5. Watch the Fountain Show
Showing multiple times throughout the day and night and with endless themes depending on the time of year and what is going on, the fountains are a must. Situated at the foot of the Burj Khalifa, the water show can be seen from ground level or by looking down from the top of the Burj. Either way you choose, both options give you a different feel and the show is no better through a specific viewing point.
Although images and video do not always do the real thing justice; you can check out a glimpse above.
6. At The Top – Burj Khalifa
You can't visit The Dubai Mall without climbing the worlds tallest tower!
Our recommendation is to visit at dusk so that you get 360 degree views of the city in the day-time and at sunset. Watching the sun set over the beaches of the Arabian gulf is mind blowing. You can take it one step further and for an extra cost gain access to the sky premium experience. At 555 meters high, the outdoor terrace is officially the highest observation deck in the world. 
Book your tickets at BurjKhalifa.ae
7. Play at the VR Park
Virtual reality is fast becoming popular and more VR centres are popping up everywhere. Dubai never tends to fail when it comes to showcasing new technology and when it also comes to doing it better than most.
Lose yourself in a fully immersive virtual reality experience. Fun is had here for all ages with leisure, sport, adventure and more. Take a sneak peak at what type of games there are in the video below.
8. Kidzania
Whilst on the topic of fun and things to do for children; Kidzania is an adventure park turned children's sized city that encourages education through play.
Maybe you've had enough of your littles ones pulling at your arm whilst your dragging them around the shops, so you can let them burn off some energy here. If your really lucky, they'll then fall asleep in the pram afterwards whilst you continue shopping. Job done!
9. Visit the Cinema
Be entertained by the latest movies at Reel Cinema. The cinema has several different themed rooms which cover luxury seating, 4D, 270 degree picture and even a dine-in and watch by celebrity chef Guy Fieri. 
10. Hysteria
Hysteria is an extreme fear experience. The first haunted attraction of its kind in the region takes guests on a journey through their darkest nightmares and deepest fears. This is not for the faint hearted! If you are a thrill-seeker, an adrenaline junkie, a horror movie fan or you simply like to try new experiences; this is for you if you think you're brave enough. 
11. Dubai Dino
One major tourist attraction at the Dubai Mall is Dubai Dino, which is a real fossil of Diplodocus longus – Dinosaur. This remain is 24 meters in length and 4 meters in height. Not to forget, its long neck and elongated tail.
There is a great deal of fascination among visitors to witness this massive creature. This is primarily because these remains are about 155 million years old.
You need not just spend time observing the fossils of this Dinosaur, but also click as many photos as you would like around it.
Located in the souk area of the mall, access to this full-sized creature is free of cost. If you wish to gather more information about this creature, be it its diet, posture, or habitat, have no worries. There is an information board displayed right next to the relic which you can read through.
It's hard to find a creation like this anywhere around the world, so next time around when you visit Dubai, head to the Dubai mall to witness this spectacular sight.
12. Become a Pilot with Emirates A380
This is your opportunity to fly the A380 as a captain with this Emirates Flight Simulator at Dubai Mall. This one of its kind flight simulator experience is sure to sweep you off your feet.
You will be joined by a trainer in the cockpit, who will take you through this unique experience. You can ascend, descend, turn, and even land as a pilot once you decide to take this flight journey.
If you are interested to fly Emirates A380, then you can book your tickets online. You get to choose from various flying packages. These range from sessions that last for 15 minutes to the ones that go up to 45 minutes.
From aviation enthusiasts to people, who simply wish to test their flying skills can sign up for these sessions. Once you get into the cockpit, you can choose to land at thousands of international airports. Most importantly, this simulator covers almost every airport that falls under the Emirates Global Network.
What is more, is that you get to choose the weather and environment conditions under which you would like to fly the plane.
Your family and friends can cheer you through this experience all thanks to the open cockpit and high-definition screens that air all the activities that are taking place on the deck.
13. Witness the Human Waterfall
When at the Dubai mall, you need to keep your eyes wide open to witness all the beauty that sits inside of this huge space.  Begin with the awe-striking human waterfall.
This art display is undoubtedly one of the major crowd-pullers at the Dubai Mall. This human waterfall sits at the heart of the mall and the photo above just doesn't do it the justice of seeing it in the flesh.
The waterfall is designed in such a manner that the cascading water effect spreads across the entire height of the mall. The height of this waterfall is around 24 meters, while the diameter is 30 meters, which makes it a huge attraction.
You will be smitten to witness the inimitable charm that this piece carries with it. This man-made waterfall displays humans that are free-floating in the air, upside down with their hands spread out sideward. What further adds to the viewing experience is not just the inbuilt skylight, but also the natural sunlight that makes its way to this mesmerizing waterfall. The waterfall has a rhythmic touch to it, which further adds to its beauty.
14. Candylicious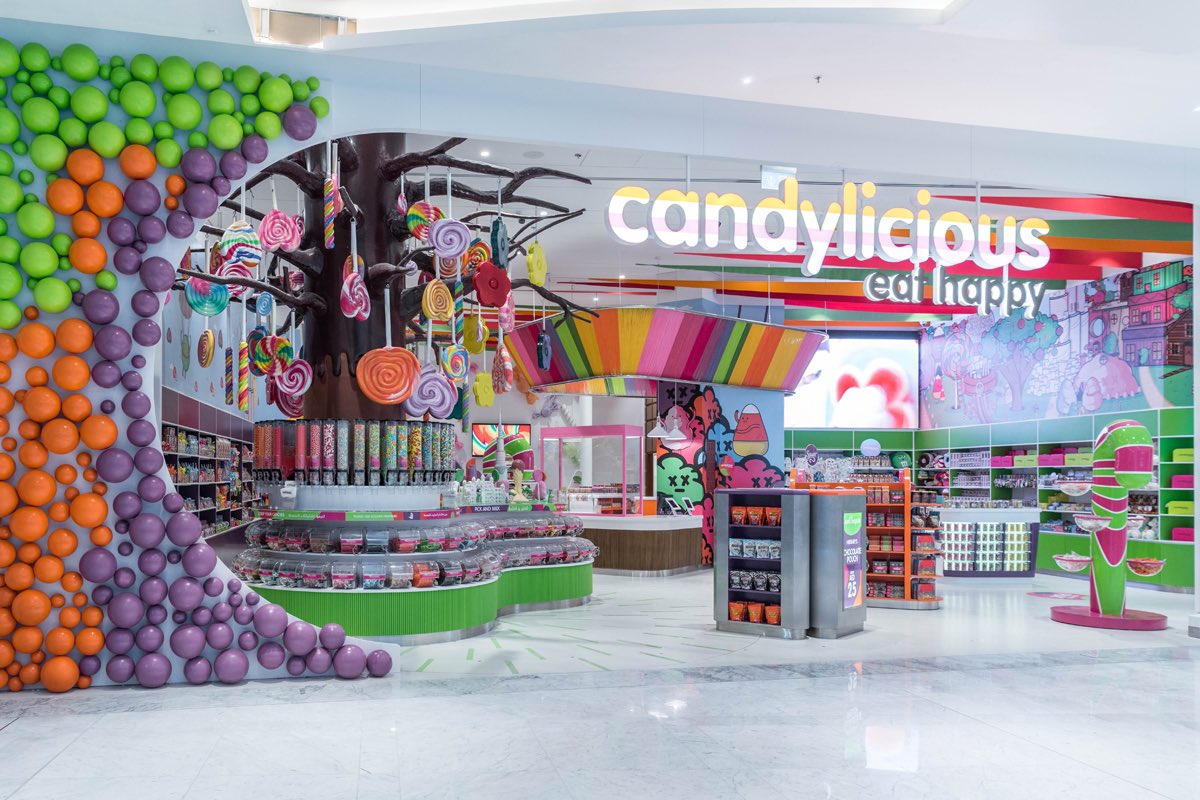 One of the most favourite spots especially for children at the Dubai mall is undoubtedly the world-famous candy store, Candylicious.
At this store, children get an opportunity to design their candy. What boosts their excitement levels is the fact that the candy is made before them.
Candylicious at Dubai Mall is one of the biggest candy stores in the world.  You will have a time of your life as you witness the 3D candy experience up and close. Whats more, the 3D gummy printer remains the highlight of this store. The store is located opposite the Dubai Aquarium.
Candylicious sure isn't the only sweet shop to explore in Dubai Mall, but if you have a sweet tooth, you surely cannot give this one a miss.
15. Visit The Ferrari Store
If you're a die-hard fan of the Ferrari Formula 1 racing team, then heading to The Ferrari store at the Dubai mall would be just the right thing to do.
You will feel great as soon as you step into this store, as its design resembles the Ferrari Formula 1 pit stop or garage. Do not miss the staff that works at this store. They come dressed in uniforms similar to that of Ferrari engineers and pit crew. At this store, you can shop for sportswear and accessories by Scuderia Ferrari.
The Ferrari lover in you will find it difficult to leave this store.
Conclusion
Thanks for reading! Dubai Mall really is one of the best places to visit whilst on vacation in Dubai. However, it does have a rival in Mall of the Emirates. We'd advise visiting both, as both have many different shops and things to do. More notably Mall of the Emirates has an indoor ski slope! However, if you've not got time for both and want to know which is better, we have you covered in Dubai Mall vs Mall of the Emirates.
Make sure you keep coming back for more on Dubai & Abu Dhabi! You can also follow us on Pinterest and Subscribe on YouTube too.