Jumeirah Beach Residence or most commonly known as JBR, is a waterfront community located opposite Dubai Marina. JBR boasts of a plush residential & tourist locality that houses tens of towering apartments and hotels.
At any given time, JBR can house over 15,000 people and is one of the biggest hotspots for tourists in Dubai.
Locals visit JBR over the weekends as there are many attractions for all tastes here. In addition, as per a Dubai Real Estate market survey conducted it was concluded that The Walk at JBR is one of the most sought after localities to buy an apartment in the UAE.
The architectural style of towers standing tall at JBR is unique and distinguished, as compared to other buildings all over Dubai. All of these towers give a feel of modernity being sprinkled over a traditional arabian canvas.
Jumeirah Beach Residence does not end with a luxurious seaside lifestyle though. There's much more worth exploring at this spot, from dining at some of the best restaurants in Dubai to engaging in fun activities with your family and friends. All this and more is presented to you in a bouquet of sorts at this hip Dubai hotspot.
What's The Difference Between JBR & Jumeirah Beach?
The first quick question to tackle is the difference between JBR & Jumeirah Beach.
Many first time visitors of Dubai often get confused that the two are the same, but they're in slightly different locations.
JBR is a stones throw away from Dubai Marina & Bluewaters Island, set to the south of Palm Jumeirah, whereas Jumeirah Beach is around 20km away or 20 minutes by taxi.
Half way along this route you can reach Jumeirah Public beach and the area of Madinat Jumeirah which is an absolute must visit on your stay to Dubai.
How to Get to Jumeirah Beach Residence
Anyone visiting Dubai must make sure to go to JBR. If you're lucky enough you are already staying here and reading this article to find out what the area has to offer. However, if you're not already staying at The Walk then the question is, how do you get to JBR?
How to Get to JBR by Metro & Bus
One of the easiest ways of commuting anywhere in Dubai is by boarding the metro. After you have boarded the metro, you need to depart at the Jumeirah Lake Towers Metro Station, which is the closest station to JBR.
Once you arrive at the Jumeirah Lake Towers Metro Station, you can either walk to JBR or hail a taxi. To travel by metro, you will need the Silver Nol Card, which includes an adult and child (if any).
Depending on which area of the city you are visiting from you can see below approximate metro prices and durations to JBR.
| | | |
| --- | --- | --- |
| Travelling From | Metro Cost | Duration |
| Palm Jumeirah | 4AED | 37mins |
| Downtown Dubai | 4AED | 42mins |
| Jumeirah Beach | 4AED (Bus) | 48mins |
| Deira | 5AED | 56mins |
| Bur Juman | 5AED | 53mins |
Metro & Bus Cost & Durations to JBR
Although the Metro and Bus take you longer to reach JBR, this is an extremely cheap way to travel around Dubai.
Jumeirah Lake Towers Metro Station Location
How to Get to JBR by Taxi
Depending on which area of the city you are travelling from, you can see approximate taxi costs and durations to JBR below.
| | | |
| --- | --- | --- |
| Travelling From | Taxi Cost | Duration |
| Palm Jumeirah | 24AED | 11mins |
| Jumeirah Beach | 35ED | 16mins |
| Downtown Dubai | 45AED | 20mins |
| Deira | 60AED | 26mins |
| Bur Dubai | 55AED | 23mins |
Taxi Costs & Durations to JBR
The great things about taxi rides in Dubai is that you do not have to worry about being charged an exorbitant price due to the low fuel costs in the UAE.
Things to do at Jumeirah Beach Residence
Shopping on The Walk JBR
"The Walk" is the main promenade on JBR. You can satisfy all your desires right from your shopping longings to your food cravings here. Make sure you don't miss the opportunity to take a stroll on the main beach front too.
Shopping enthusiasts are in their element in JBR. A variety of accessories, apparels and home décor items are available at the plenty in the many stores. If you have an inclination towards purchasing the latest designer clothes, there is ample of choice available under that head as well.
You don't have to buy just designer wear though. Chic pieces designed by local designers can also be bought from here, which speak volumes about the culture and traditions of Dubai.
Local Entertainment on The Walk – Jumeirah Beach Residence
Once you have shopped till you drop, you can proceed to explore some local art and entertainment. The Walk does not fall short of street entertainers. You will be mesmerized to see the many tricks and techniques that they bring to the table.
Jumeirah Beach Residence – Beach
If you want to make someone's day, take that person to The Beach at JBR. The Beach as the name rightly suggests is your chance to experience some beach lifestyle. It is more like a beach resort, accessible to all visitors.
Be it during the day or at night, every moment at the Beach is full of surprises and thrill.
If you are a person, who enjoys water sports then The Beach has a lot in store for you. Right from parasailing, wakeboarding and Jet Skiing, to taking a banana boat ride. If you're a keen lover of water sports check out our post here on The Best Places to Jet Ski in Dubai.
Parents need not worry about keeping children entertained. Just like they would enjoy building a sand castle, they will have an equally great time taking the kid's train or using one of the many play areas located up and down the beach. Whatsmore, let them have a camel ride to pass some time.
For people who just want to sit and chill, they can spend time simply observing and admiring the arabian ocean and the newly built Bluewaters Island, which is home to the largest ferris wheel in the world.
The Beach has awesome opportunities for fitness enthusiasts as well. From sweating it out at the open gym to taking a run at a 600m running track, you are sure to enjoy working out in the open space. If you are carrying your yoga mat, then you can finish a quick open-air yoga class by the sea. There is also a beach volleyball court waiting for you as well.
For more information on Outdoor Gyms in Dubai check out our full guide here.
The Flying Cup
When at The Beach, you can take a ride in the Flying Cup, which is one of the most favorite attractions at JBR. The Flying Cup has become Dubai's most photographed locations all thanks to the amazing view that this ride offers.
This ride takes you about 12-storeys above ground level. You can buy tickets for this ride either online or at the ticket booth located at The Beach. Children aged over 4 years and more than 105 cm in height are welcome to take this spectacular ride. One highlight feature of The Flying Cup is that as you rotate in the air, you get to sip on a drink, which is a part of the ticket. Similarly, you can munch on a sumptuous meal by paying an additional amount.
As you go far up in the air, you get to witness an amazing and scenic view, which also includes the Palm Jumeirah, Ain Dubai and The Beach. Safety is fully taken care of in this ride.
Roxy Cinemas
If you are a movie buff, then you should definitely book tickets to catch a show at the Roxy Cinemas. What began as Reel Cinemas in the year 2014 was taken over by Roxy Cinemas in 2017. You are sure to have a one of its kind experience at this cinema complex, which houses 10 independent screens.
At any given time, Roxy Cinemas can accommodate around 1000 individuals. This multiplex offers a great food menu onboard. Apart from the regular popcorn tubs and drinks, you can also pre-book a full meal at this cinema hall. Let us not forget the prompt and attentive staff that is always ready to serve you better. If comfort is something you do not want to compromise on, then there is no better place than Roxy Cinemas to catch up on a movie.
The Best Restaurants at Jumeirah Beach Residence
Now that you have walked, shopped and moved about for quite some time your hunger pangs are sure to start taking a toll over your senses. Do you think The Walk is going to disappoint you by leaving you hungry? Of course not. Right from grabbing a quick coffee at a café to having a full meal at one of the popular fine dine restaurants, there is something for every food lover out here.
Catch 22
Catch 22 is a restaurant located at The Beach. If you are interested in having a relaxed and fun-filled dining experience, then there is no better place than Catch 22. Be it a quiet family dinner or a hangout with friends, Catch 22 is just perfect for all occasions. This restaurant boasts of a vast menu right from pasta, salad, burgers, seafood, shakes and sushi.
If you have a sweet tooth, then Catch 22 becomes a paradise for you. This is because Catch 22 serves some amazing desserts. Desserts, which you cannot get enough of. So whenever you decide to visit JBR, do give Catch 22 a try.
Website: https://catch22.ae/
EatGreek Kouzina
If you wish to be transported to Greece, especially through the food that you get to devour, then EatGreek Kouzina is the place for you. Traditional Greek cuisines served with a touch of modernity is what best describes this restaurant. Located at The Beach, the ambience of this place is very Mediterranean.
A complete contemporary Greek interior welcomes you at this eatery. This restaurant believes in serving fresh and healthy food to its diners, which is why most of their ingredients are organically produced. Some of the popular dishes on their menu include roasted beetroot salad, Greek salad, jumbo prawns saganaki and calamari.
Website: https://www.eatgreekkouzina.com/
Bombay Bungalow
Everyone, who is interested in trying out some real Indian food, reserve a place at Bombay Bungalow restaurant. The vibe at this restaurant is very chill. In addition, the haveli styled setting at this restaurant will give youa true taste of India. The amazing Indian fare at this restaurant highlights Indian flavors and spices in every morsel that you take.
Bombay Bungalow have an extensive menu, which includes dishes such as Chicken Biryani, Paneer Tikka, Butter Chicken, Dal Makhani and Pani Puri. You can also enjoy some great Indian desserts such as Rasmalai, kulfi and gulab jamun at Bombay Bungalow.
This is the same restaurant, which was earlier known as the House of Curry. Bombay Bungalow has an equally spectacular ambience.
Website: https://www.bombaybungalowdxb.com/
Smoky Beach
When visiting Jumeirah Beach Residence, you might have the urge to take the shisha lounge experience. If this is what is on your mind, then Smoky Beach is sure to satisfy all your shisha cravings.
At this restaurant, you will get to enjoy an array of food choices. Be it snack options, mocktails, main course to desserts, everything is served at Smoky Beach.
Some of their dishes, which you should definitely give a try include sushi, club sandwich, chicken skewer and of course chocolate milkshake. People, who are health freaks, need not worry as this restaurant serves some of the best healthy smoothies. If you wish to relax yourself and let your hair down a bit, then Smoky Beach is the place for you.
Website: https://m.facebook.com/smokybeach/
Aprons & Hammers
If seafood is what you swear by then head to Aprons and Hammers. This eatery has been Dubai's award winning seafood restaurant. All types of seafood, from prawns, lobsters, crabs and oysters is served here with love.
As you dissect a plate full of seafood, you will require an apron and tools such as a hammer and a knife, which is exactly where the name of this restaurant has been derived from. If you do not want to be served with an intricate order that will make you do a lot of work at the table, then you can settle for easier alternatives on the menu such as the crab cakes, curries and paella.
Seafood lovers, who have dined at this restaurant, have been giving repeat visits.
Website: https://www.apronsandhammers.com/
Blaze Burgers
Everyone, who wants to eat some real burgers should head straight to Blaze Burgers. The highlight of the burgers sold at this restaurant is the homemade sauce, which lifts the taste to the next level. You will get the friendliest and warmest welcome whenever you decide to visit this eatery.
They have an extensive burger menu, which offers you ample choices. This is one of the main reasons as to why food lovers visit JBR specifically to try a burger at Blaze Burgers. The fries served as this eatery are equally lip smacking. The portion size is huge, which is sure to make you feel full.
Website: http://blazeburgers.com/?country=uae
Dubai Food Festival at Jumeirah Beach Residence
Dubai sits on the top as far as being a gastronomic destination is concerned. It has always been about food and food lovers in Dubai. Dubai Food Festival does just this and continues the celebration of food.
Dubai Food Festival takes place every year during the months of February and March. In the year 2020, this festival took place from February 26 to March 14. During these 18 days, multiple food related events and promotions were conducted at this fest.
Food connoisseurs, budding chefs and foodies in general have a lot to explore at the Dubai Food Festival, right from gulping down some sumptuous street food to taking an elite fine dine experience. There is this and much more worth trying at the Dubai Food Festival.
During the two and a half weeks program, visitors have a lot to see, do and taste. The main venue for this festival has always been The Walk at JBR, City Walk and Jumeirah Beach.
When in Dubai, you should absolutely consider attending this festival as it brings together over 1,000 top-notch restaurants and approximately 30 celebrity chefs each year.
This unique and distinguished food event is something no food explorer should miss.
Nightlife at Jumeirah Beach Residence
Jumeirah Beach Residence promises an equal amount of extravagance and entertainment at night as during the day. Nightlife at JBR has witnessed a drastic change over the years and the night scene has changed for good. There are various restaurants and bars around JBR, which promise an enthralling experience with some dance, music and drinks.
Many people travel to JBR specifically with the intention of experiencing the nightlife around this area. As an explorer, who does not know much about JBR, you might find it difficult to choose a place where you can have a good time as a part of your JBR nightlife stint so let us look at the top 5 places to hit in JBR for nightlife.
Bliss Lounge
With a cocktail in your hand and your eyes gazing out to the mesmerizing sunset along the beach, Bliss Lounge is the perfect place to start your evening and end your night.
If you love to dance, then you can have a great time at this lounge as you get to step out to dance barefoot on the sand as you sip on your drinks.
Music lovers need not worry a bit. Some of the best DJs come over to play at this lounge. If you want to keep things a little easy on your pocket then you can enter during the happy hours, which is when the prices are slashed.
Website: https://www.blissloungedubai.com/
JB's GastroPub
Spice things up a bit and get grooving at none other than JB's GastroPub. This place allows you to sip on some affordable drinks thanks to the happy hours on offer. You can also share hi-fives with the friendliest bartenders at this pub. Most days are extremely busy at JB's GastroPub.
Live DJs play at JB's, which makes the temperature soar higher. This place has an extremely warm vibe to it, with some excellent music playing in the background. This place is sure to make your night a memorable experience.
Website: JB's Gastro Pub
BiCE Sky Bar
If live entertainment is something you have been craving for then BiCE Sky Bar is the place for you. As you move to the 10th floor, this place is sure to offer you a spectacular view of The Palm and the Arabian Gulf.
You can grab yourself a cocktail and raise a toast to the breathtaking sunset that makes the Dubai waterfront look so gorgeous. However, you need not give an abrupt end to your amusement as you can spend some more quality time with yourself or your loved one by having Italian dinner in the incredible dining area.
Website: BiCE
Pure Sky Lounge
Nightlife in JBR is incomplete if you miss out on the Pure Sky Lounge. This lounge is located on the 35th floor of the Hilton in JBR. Here you will get to enjoy a breathtaking view of The Palm on one hand and Ain Dubai on the other.
Pure Sky Lounge rightly combines sophistication with simplicity. It has a very refreshing look and feel. The ambience of this place is such that it plays a key role in lifting the mood of all its visitors. Right from observing the sunset, munching on some light snacks to sipping on some beer, wine, martinis or cocktails, this place offers it all under one roof.
Website: Pure Sky Lounge
Lock, Stock & Barrel
Yet another hip place that does not deserve to be missed since it does complete justice to the nightlife at JBR. Lock, Stock & Barrel is more of an all under one roof party bar. The best part about this place is that it has a fully stocked up bar that serves a range of drinks. There is something to satisfy the taste buds of every party lover, who has decided to gulp down on some drinks.
With huge screens placed all over, you can catch up on the ongoing sports tournaments when at this bar. The bar houses pool tables to keep you occupied too and has been hosting great bands ever since it opened.
Website: Lock, Stock & Barrel
If you want to know more about What Nightlife is Like in Dubai, check out our other article here.
Shopping at Jumeirah Beach Residence
Shoppers can browse through different stores and boutiques when at The Walk. Be it dresses, accessories, shoes and sneakers, home décor or gift items, you can shop for all this and more at The Beach.
Some of the most popular stores at The Beach are listed below.
Adidas: Fitness enthusiasts, who have forgotten to carry sportswear on their trip to JBR or are desirous of purchasing t-shirts, jackets or sports shoes, which can be used back home, Adidas is the store for you.
I Love Dubai: For sure, you would like to take back some fond memories of Dubai. At I Love Dubai, you can shop for items that would keep you reminded of this fabulous destination. Here, you can shop for some fantastic gift items as well.
Hamac Beach Boutique: Get yourself some trendy beachwear for your next beach holiday or a poolside party only at Hamac Beach Boutique. This place is sure to leave you spoilt for choices.
Sephora: If you adore cosmetics and are always up to experimenting different beauty products then this France oriented gem, Sephora will bring a wide smile on your face. It would not be wrong to claim that Sephora is Dubai's one of the best and undisputed beauty destinations.
Godiva: People, who have a sweet tooth with a special liking for chocolates should get their chocolaty cravings satisfied by visiting Godiva. This place stands out for its luxury Belgian chocolates, which are crafted the traditional way with a lot of love and passion.
River Island: From T-Shirts to Jeans, Swimsuits to Dresses and Handbags to Shoes.
For a full list of all the stores at Jumeirah Beach Residence follow this link.
Hotels at Jumeirah Beach Residence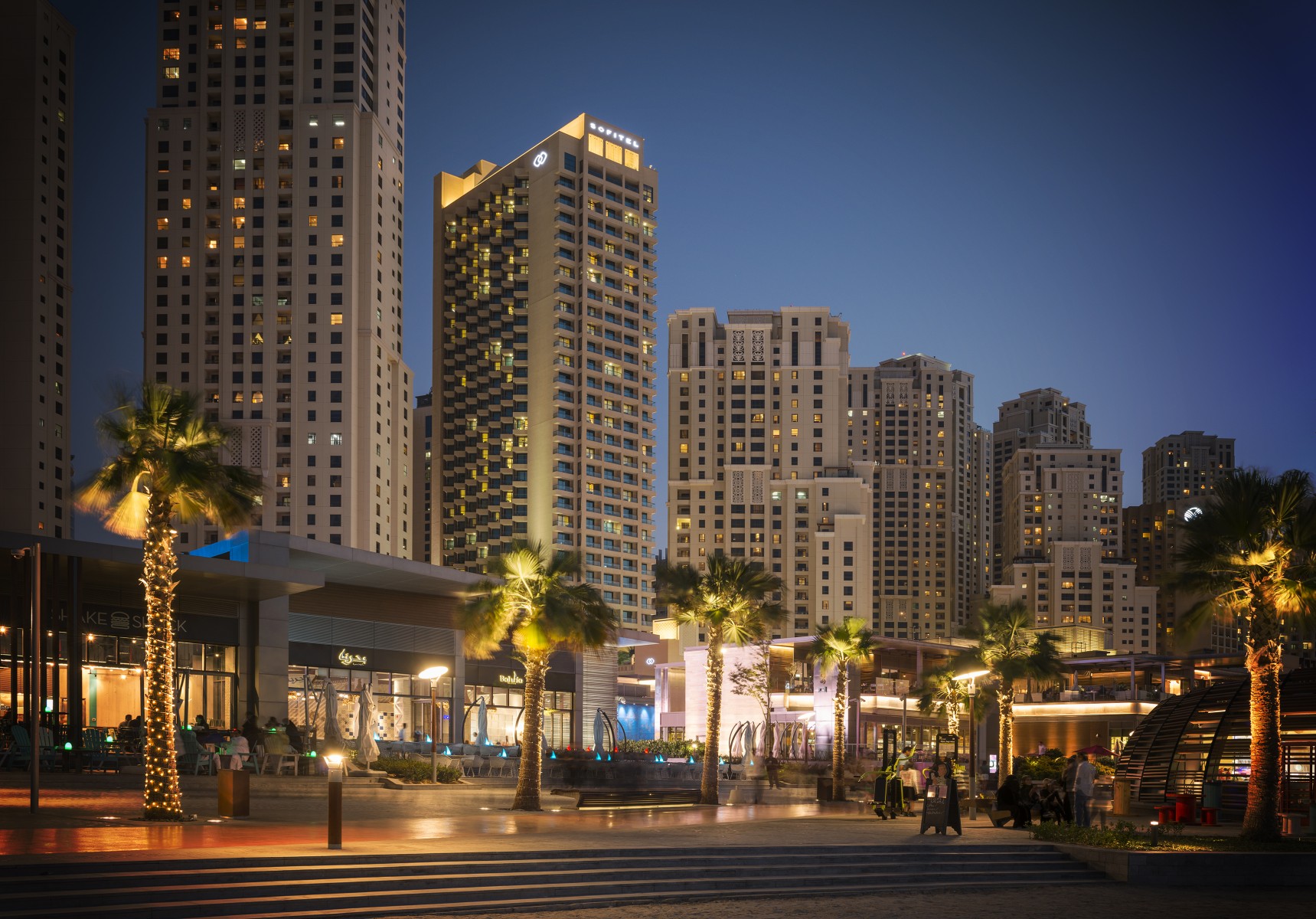 JBR houses some of the most cozy and luxurious hotels, which make for an awesome stay. Hence, you need not worry about your lodging and boarding.
For those staying here, the hotels are fantastic and the service is second to none. I recommend booking a brunch at one of the hotels. Brunch in Dubai is a common event and takes place in specific hotels on a Friday. It is an all you can eat, all you can drink event that usually lasts a few hours.
Take note that in Dubai, "all you can eat", doesn't mean buffet lunch! Everything to choose from is top class and you can request specific meals to be cooked at certain counters delivered to your table.
Relax and drink champagne, wine or beer; whichever is your preference. The JA Ocean View Hotel is one of the best in the area for Brunch and is reasonably priced too.
For a full list of all Hotels in Jumeirah Beach Residence check out this link.
Watersports at Jumeirah Beach Residence
Any adrenaline junkie staying at Jumeirah Beach Residence must also take advantage of the many water sports activities on offer. Some of the best water sports at Jumeirah Beach Residence are highlighted below:
Hydro Water Sports
If new generation water sports are something that you would like to engage in, then Hydro Water Sports is the place for you. Here you can spend some quality time trying out both motorized and non-motorized water sports.
You can also take professional training sessions from expert instructors at this sports center. However, the highlight of Hydro Water Sports remains the water stunt shows, which is a unique and electrifying experience in itself.
Flyboard: You can now fly high and experience what it is to be a superhero by trying out the Flyboard at Hydro Water Sports. Beginners are provided with a 30 minutes flyboard session at this center in order to allow them to understand the basics.
Jetpack: A one of its kind water sport that combines multiple water activities such as scuba diving, skydiving, skiing and parasailing. You are sure to feel the adrenaline rush when you have a go on a Jetpack at JBR.
Jetovator: Wouldn't it be fun to take a mid-air motorbike experience amidst the warm waters and pleasant sunshine of Dubai? This is exactly how you will feel on your Jetovator ride.
In this sport, a flyboard like water-bike will help you to soar above the sea. In order to try this water activity, you need not possess any prior training or expertise. The on-site instructor will help you sail through the Jetovator ride.
Website: Hydro Water Sports JBR
Hydro Water Sports Location
Sea Wake
Sea Wake is one of Dubai's leading and well-known water sports company. Irrespective of whether you want to brush up on your skills or simply have a good time in the water, you can sign up for a water sport of your choice with this entity.
Quality is one central element that receives immense attention of this company. This is why; all the water sports equipment used by Sea Wake is of top-notch quality.
The team of instructors at Sea Wake are well qualified and bring with them an extensive experience in the area of marine sports.
Fun Rides: Once you decide to leave your hair lose amidst the beautiful waters of JBR, how is it even possible for you to give the many fun water rides at Sea Wake a miss?
It does not matter if you are alone or in a group, as this place has something in store for each of its visitors. Here you can engage in some water skiing, knee boarding, tube rides and banana boat rides.
Parasailing: Your water sport experience remains incomplete if you fail to include parasailing on your list. The parasailing experience at Sea Wake helps you to soar high above the Arabian Gulf and enjoy the breathtaking view of Palm Island and Dubai Marina.
The best part about this experience is that you are not in this alone. Three or less friends can accompany you. If winds are in your favor, then parasailing can take you as high as 500 feet. Different parasailing time slots are available for you to choose.
Website: Sea Wake JBR
Sea Wake Location
Bluewaters Island – Jumeriah Beach Residence
Your trip to the Jumeirah Beach Residence will remain incomplete if you decide not to head to the Bluewaters Island. Once more, commuting between JBR and Bluewaters Island is simple.
A pedestrian bridge connects Bluewaters Island to Jumeirah Beach Residence. Just a 300 meter walk will have you transfered from JBR to Bluewaters Island. Furthermore, a monorail runs between the leisure hub of this island and Dubai's metro stations, making this island one of the well-connected destinations.
Bluewaters Island is located at Ain Dubai, off the waters of Dubai Marina. This is one of the most beautiful island destinations in Dubai and is the newest. You wouldn't imagine just how close you are to the hustle and bustle of JBR with how very serene and peaceful this place is.
This island is divided into different sections such as the residential complex, the beach, hotels, the retail hub and the leisure and entertainment space.
The Dubai Eye, which is the largest ferris wheel in the world, attracts thousands of tourists to this area every year and is well worth a go.
For hotels, Caesar's Palace is the highlight of Bluewaters Island. This is essentially a luxurious stay-in facility that has diverse accommodation facilities designed for different occasions. Caesars Palace hosts views of JBR which are simply stunning. Hence, if you are travelling to JBR do make it a point to visit Bluewaters Island.
Conclusion
Jumeirah Beach Residence is one of the top areas for Dubai attractions. The beach is flat and safe and there is always something different going on each day.
The outdoor cinema sometimes comes to town, or there may be a 15 minute long firework show; just because! The sea water is usually warm most parts of the year and the famous Cheesecake factory (amongst other eateries) sits nicely on the promenade if your fancying a slice with a view.
One thing is for sure, you cannot be bored in this area of the city. For the active travellers there are outdoor gyms and Jet Skiing on the seafront and play areas for kids. Dubai Sky Diving is also based here for the really daring. Children can take camel rides down the beach whilst the adults soak up the sunshine and sip cocktails whilst admiring the incredible architectural backdrop. 
Thanks for reading. Make sure to come back for more on Travel & Living in Dubai & Abu Dhabi. Follow us on Pinterest and Subscribe to our Youtube channel too!