The luxurious city of Dubai can be viewed in many ways, and one of the best ways is from the water. Dubai Marina, Dubai Creek and the fact the city lines the Arabian Ocean creates incredible opportunities to view the city from a different perspective.
What's more, with Dubai specialising in man made archipelago's such as Palm Jumeirah, The World Islands and Bluewaters Island; what better way to enjoy them than to hit the open sea.
Today we take a look into Yacht Rental in Dubai. Now doesn't that sound glamorous before we even start?!
For many, yachting is a once in a lifetime experience, so to make it a big success, you need to be sure of making the right choice to save your wallet and to increase the overall experience.
Reasons to Rent a Yacht in Dubai
This is the most prominent question that flashes across our minds, especially if we are on holiday for a short time.
Before you know anything else about Yacht Rental in Dubai, you should understand why you should indulge in yachting. So, let us discuss the pros in brief.
A fun, adventurous activity- Yachting is always considered a fun-filled sport. Sailing through the whirl of water with your loved ones in a far-off land is sure to make you happy throughout the journey. Moreover, for people who have never been into water sports, yachting is an adventurous activity by itself. 
Some quality me-time- Amidst the journey and trip, a solo yacht experience will give you enough time to introspect yourself. Far away from hearing car horns and busy roads, a yacht journey is the best way to escape from it all. Furthermore, many yacht charters in Dubai offer fabulous food and drink for you to indulge in whilst sailing on the warm Arabian sea.
Improves your health- This may not be much known to people, but this is proven and logically correct. The sound of water alters EEG wave patterns in your brain, which reduces stress and anxiety. Moreover, the sound of soft waves will help you attain emotional relaxation. This refuels and rejuvenates you both physically and mentally.
Memories- Who does not want memories of their trip to be etched in their mind forever? To have some of the best memories, rent a yacht in Dubai. 
Background for perfect snaps- With the rising influence of social media, there is a high demand for picture-perfect snaps. Any rented yacht will take you along the blue water path coupled with the best backgrounds. They may even pause their motion for a while for you to take beautiful pictures.
The Best Companies to Charter a Yacht in Dubai
Before you decide to go for an astonishing yacht, you must be well aware of the world-class charters in this city. Different charters quote different prices based on the quality of travel and the facilities provided in the yacht. You can choose one according to your convenience.
Super Yachts – Flying Fox Lurssen
To give you an idea of how the super rich roll we have pulled out one of the most famous yachts in Dubai, The Flying Fox Lurssen.
The Flying Fox Lurssen is an elegant and sleek designed yacht, with two helicopter pads and a swimming pool.
This beauty belongs to the team of business class yachts and is equipped with a large deck and other high-level facilities for the perfect yacht experience.
This yacht is more like a paradise and is the best one in its range. Check out their website to know all about this majestic yacht. However, you won't get much change out of £10m for the week!
Anyway, back to reality where we now take a look at some gorgeous (and affordable) yacht rentals in Dubai..
There are numerous yacht clubs in Dubai. Yachts are available on hourly, daily or weekly rent for tourists. You have to book them well in advance to ensure you secure the one you want as these book up fast.
Dubai Key
Located at Palm Jumeirah, Dubai Key offer a luxury concierge service in three different locations. These are Dubai, Ibiza and New York.
Dubai Key are a well renowned and established company who offer a variety of experiences aside from Yacht Rental. However, Yacht Rentals are definitely their forte.
If you're looking for tours of Dubai Marina, a sail around the Palm Jumeirah or a visit to the 7 star Burj al Arab then look no further than Dubai Key.
Website: https://www.dubai-key.com/
Luxury Sea Boats Charter
Luxury Sea Boat Charters (LSB) is one of the finest yacht clubs in Dubai. They offer exclusive yachts for travellers at reasonable prices. Established in 2008, Luxury Sea Boat Charters rent out yachts and boats on both a weekly and a monthly basis.
As with most things nowadays, the yachts from this club are best booked online.
Website: Luxury Sea Boats Charter
Dubai Marina Yacht Club
Dubai Marina Yacht Club is the largest yacht club in the UAE. Furthermore, this is a very busy club with numerous yachts sailing off and returning day in day out. The Dubai Marina Yacht Club has been one of the most popular places to grab a yacht rental in Dubai for a long time.
The beautiful picturesque marina coupled with expert crew members make this yacht club unique among its competitors.
Website: https://www.dubaimarinayachtclub.com/
Dubai Creek Golf and Yacht Club
The Dubai Creek Golf and Yacht Club transits beautifully between the serene background of the aesthetic creek and takes you on a long sail away from the hustle and bustle of everyday Dubai. Moreover, this setting has one of the most well-equipped golf courses in Dubai.
Website: Dubai Creek Golf & Yacht Club
Dubai Offshore Sailing Club
Dubai Offshore Sailing Club is a non-profit sailing club in the heart of Dubai. It is maintained by a group of people, who are experts in their respective fields. They contribute their respective knowledge making this club a great success. Apart from elegant yacht experiences, this club also offers water sports, pedal boating and much more.
Website: Dubai Offshore Sailing Club
How Much Does it Cost to Rent a Yacht in Dubai?
Rental costs for a yacht in Dubai start at around 600AED per hour and rise to as much as 20,000AED per hour. However, the cost can vary greatly depending on the size of the yacht, on board facilities and duration of rent.
There a 2 types of yacht rental available in Dubai:
All-inclusive yacht charters – These charters offer a price that is inclusive of all costs, like food and drinks. There are no hidden charges associated with the fare. 
Plus Expense Charters – These Charters offer a cost which includes only the occupancy of the yacht over a period of time. Food, drinks, and spa cost extra.
Top Tip: If holidaying in a group, Yacht Charters in Dubai can be very reasonably priced. For example, a 50ft Yacht holding 16 Persons would be 800AED per hour; at only half occupancy this reduces to only 100AED per person! This makes your Dubai Yacht Rental cheap whilst still giving you plenty of space on board.
To give you an idea of the cost of yacht rental in Dubai, we have put together the below table of fees taken from one of the most popular rental companies in the city, Dubai Key.
| | | |
| --- | --- | --- |
| SIZE | YACHT HOURLY RATE (AED) | CAPACITY |
| 45ft | 700 | 14 Persons |
| 48ft | 850 | 20 Persons |
| 50ft | 800 | 16 Persons |
| 52ft | 850 | 22 Persons |
| 55ft | 900 | 22 Persons |
| 56ft | 900 | 25 Persons |
| 62ft | 1100 | 25 Persons |
| 64ft | 1700 | 15 Persons |
| 67ft | 1250 | 27 Persons |
| 75ft | 1300 | 33 Persons |
| 80ft | 2200 | 27 Persons |
| 85ft | 1900 | 40 Persons |
| 88ft | 2500 | 65 Persons |
| 90ft | 4000 | 20 Persons |
| 101ft | 3400 | 50 Persons |
| 155ft | 5000 | 200 Persons |
| 220ft | 12500 | 800 Persons |
As you can see from the table, the price doesn't necessarily depend on the size of the yacht. Some yachts are 2 to 3 stories in height and others may have luxury additions on board like jet-ski's and jacuzzies!
Check the video below to see what bang your getting for your buck!
Other Boat Tours in Dubai
Yachts in Dubai offer various tours across the city. For beautiful picturesque sceneries, you have a wide range of choices. The price and the duration of the yacht tour depend largely on the route that you choose.
We have filtered some yacht tours below that are mostly preferred by tourists. These tours are listed with their respective time duration and price.
Dubai Speedboat Tour Marina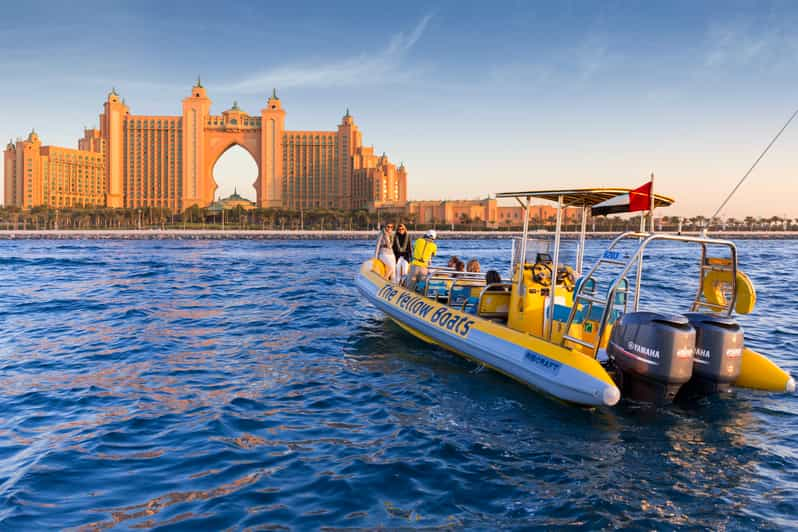 This tours Atlantis and the Burj Al Arab and takes approximately 1.5 hours. The cost of this trip is around 150AED per person which is great value. Furthermore, you get to see the entire city of Dubai from a far yet a closer aspect in the reflection on water. 
Dubai Marina Luxury Yacht Tour
This one comes with an optional audio guide in various languages for the tourists. The tour sticks to a longer route and thus duration on board is 3 hours. The price is 200AED per person all-inclusive of food and facilities.
Dubai Mega Yacht Tour
With Buffet and Dinner, this is a special weekend yacht for the tourists. If you want to spend a longer time on the gentle waves, then quickly book this yacht. A ride costs 200AED and allows you an entire day of fun on the open sea.
Dubai Marina Private Boat Tour and Palm Jumeirah Sightseeing
This is a more personal experience and is an exclusive boat tour in Dubai which gives you every inch of excitement. It costs 500AED per person but fun and enjoyment are worth the money.
All of the above can be booked easily and hassle free by visiting Get Your Guide.
The Best Area's to Rent a Yacht From in Dubai
Yacht Rentals from Dubai Marina
Dubai Marina is one of the most famous cruising destinations in the United Arab Emirates. Furthermore, almost all the charter companies have at least one yacht sailing to and from Dubai Marina. 
For those unfamiliar with Dubai Marina, it is a man-made canal situated by the side of Arabian Gulf. Shopping malls, hotels and restaurants tower above the canal creating some jaw dropping photographs. The ambience of the place makes Dubai Marina the most visited place by tourists in Dubai.
Whether you are hiring a yacht for a day or a week, be sure to sail through Dubai Marina.
There are many different companies to rent a yacht from on Dubai Marina. Check out the map below for the full overview.
Yacht Rental from Dubai Creek
Dubai Creek Yacht Charter is a luxurious cruise that takes the tourists on a relaxing ride along the famous Dubai creek against the backdrop of Dubai Skyline. You get a step closer to your dream paradise from here in Dubai Creek. 
Although Dubai Marina has been the most popular among tourists, Dubai Creek is an emerging yacht halt. Situated away from the limelight of tourists, Dubai Creek is the home to some best yachts which offer reasonable rates for tours.
There are several different companies you can use when opting to rent a yacht from Dubai Creek. Check the interactive map below for a full guide.
Things to Consider on Yacht Rental in Dubai
Since, you have already decided that you are going to have an adventurous yacht trip the next time you visit Dubai, make sure you have a quick look at these five aspects of any particular yacht. This brief guide will help you decide yourselves, the yacht which is best suitable for you.
Route and Starting point
Although most of the Yachts start from Dubai Marina, yet check the starting and ending venue before booking a yacht. You have to plan things accordingly.
Timing
Timing is very important when you book a yacht. You have to be very punctual when you board a yacht. You also have to complete all the formalities like paperwork and verification before you board the yacht. So, keep that time in hand and inform your guests accordingly.
Food
Check the food to be available on the yacht. Sometimes, differences in culture are bound to make some difference in food habits. Check the list of delicacies before you book a yacht in Dubai.
Guest Capacity
Check the maximum guest capacity of a particular yacht. Most of the Yachts offer 10 or 20 guests. So, be careful of that and plan accordingly.
Activities
Every yacht offers some or the other activities. Activities on the yacht include jet ski's, spa, swimming pool and so on. Concentrate on one, which is higher in on wish list.
Affordable yachts may not have the facility for all the above activities. So, check this point before you finalise on booking a yacht.
Budget
Book a yacht according to your budget. However, don't ponder too much over the cost, I mean, when is the next time you're going to be in Dubai?!
Ground Rules When Renting a Yacht
There are few rules that you should be comfortable with before hopping onto a yacht.
Barefoot Rule
Almost all the yachts in Dubai and across the globe, requires visitors to walk barefoot on the deck. However, some allow you to wear soft sole shoes. This is mainly done to prevent cracks in the deck due to uneven pressure applied by hard shoes. Furthermore, this rule will prevent you slipping and hurting yourself.
You are also advised not to wear shoes which come with a black sole. These soles leave a permanent mark on the board of the deck, bringing down the level of beauty on board the yacht. 
Dress Code for Yacht Charters
Revealing dresses or persons with lingerie are not allowed on board. You can wear anything casual or traditional. Revealing western wear should be avoided until your at least out at sea and ready to take a swim. This policy is maintained to keep up the vibrant atmosphere inside the yacht. 
Respect the crew
At all points of time inside the yacht, you are expected to respect the members of the crew. Under any circumstances whatsoever, you should not misbehave or be rude to the crew.
Serious penalties coupled with fines are levied on passengers for disobeying or misbehaving with the crew members. So keep that in mind before you step into a yacht.
Listen to the Briefings Carefully
Before a tour starts, the crew members will give the passengers a brief introduction and some safety precautions. Listen to them carefully even if you are not a first time visitor. Safety precautions are regularly updated since they may change since the last time you took a yacht tour.
Children on board
Most yacht charters do allow children for tours, yet they do not take any responsibility in babysitting or other activities related to children. Although they have several events and spaces to keep the children entertained, you should always keep a keen eye on your little ones.
Many charters have child life jackets which are free issue if you ask. Some tours insist on your little ones wearing them.  
When is the Best Time to Rent a Yacht in Dubai?
Dubai is in the middle of vast desert lands so it is usually too hot but never too cold. Make sure you pack plenty of sun cream as when you're out on the open water the salt spray from the sea and the breeze can make you burn easily without feeling it.
For the best time to travel you can check out our guide on The Best Time to Visit Dubai or read more on Dubai Weather month by month. Everyone has their own preferences on what is too hot and too cold.
In our opinion, hot weather is an absolute no for yacht tours. The best time for a fun-filled yacht experience would be during the start of Dubai's winter. November and December still see temperatures in the late twenties and early thirties. January and February may be too cool for a dip with average temperatures around 23 degrees (Brilliant weather for general sight seeing by the way). However, March and April are perfect again with similar weather to November. If you are a real sun-seeker though any time from May to August sees temperatures touching 40 degrees.
Yacht bookings remain mostly saturated during winter months. Moreover, weekends are a highly targeted time for yacht travel in Dubai. Weekends are mostly preferred by tourists and locals alike. Remember when in Dubai, weekends here are Friday and Saturday.
Conclusion
Dubai is famous for its elegant yachting experience. As far as holiday excursions go it is more on the expensive side but the wonderful experience coupled with the beautiful picturesque is going to make up for the cost.
Rent a yacht according to your budget and needs and sail with your friends and family. This is sure to be one of the best ways to refresh your mind and have some paradise-like pictures etched in your memory forever.
Thanks for reading! Make sure to come back for more on Travel & Living in Dubai & Abu Dhabi. Follow us on Pinterest & Subscribe to the YouTube channel too!
Yacht Rental in Dubai – Frequently Asked Questions (FAQs)
How to Book a Yacht in Dubai
You are advised to book online. Booking should be done well in advance to avoid a last minute rush and paying over the odds. Popular excursion sites such as www.getyourguide.com can be used.
Are Pets Allowed on Yachts in Dubai
No, pets are not allowed on board. You have to make your own arrangements to keep them elsewhere. Some private and more expensive charters may allow pets but you will need to enquire first.
Is Smoking or Drinking on a Yacht in Dubai Allowed?
Yes, they are allowed but there are strings attached to it. The crew members will guide you to the smoking zone and provide you with ashtrays. You can consume alcohol within the vessel only if you possess a valid alcohol license issued by the United Arab Emirates government. Most charters offer alcohol on board for an extra fee anyway.
What Happens to My Dubai Yacht Rental if the Weather Turns?
If the weather is deemed unavoidable by the captain, you will be given the choice to reschedule your trip on some later date or to withdraw the entire ticket money.
Can You Book a Yacht with your Nol Card?
You are to pay using a NoI card offered by the Government of the United Arab Emirates. Generally, cash payments are not encouraged.