Dubai Marina is one of the most popular area's for tourists to visit. Set next to The Walk on Jumeirah Beach Residence, this popular hot spot features fantastic views, mouthwatering restaurants, luxury accommodation and amazing shopping facilities.
Read on for more information on hotels, restaurants, shopping and bars in Dubai Marina.
Dubai Marina Location
Dubai Marina is set next to and wraps just behind Jumeirah Beach Residence.
A map of its location can be seen below.
As you can see from the map above, the marina sits directly behind JBR, with the water separating The Walk from the marina.
Hotels in Dubai Marina
Let's start off with accommodation in Dubai Marina.
Dubai Marina is home to over 200 residential towers. Some are 5 star hotels whilst others are rental accommodation for tourists and locals. Dubai Marina's buldings are also known for being the tallest accommodation blocks in the world.
Due to their height and close proximity to Jumeirah Beach, the views are incredible. There are many hotels to choose from but below I've highlighted three of the best.
The Best Hotels in Dubai Marina
The marina usually offers slightly cheaper hotels than that of JBR as it is not set directly on the beach. Nevertheless, the walk from the marina to the beach is less than 10 minutes.
Wyndham Dubai Marina
For unrivalled views of the length of the marina out of one window and Bluewaters Island out of the other; try non other than the Wyndham Dubai.
The rooms are of 5 star quality here for a 2 star price. Prices for a double room can be found as low as £42 per night. So, for those wanting to see the bright lights of Dubai Marina and enjoy JBR without huge expense, try here.
Address Dubai Marina
Next up, my personal favourite hotel on Dubai Marina, Address. Address Hotel boasts high rise accommodation with a central location to most of the attractions on Dubai Marina.
Pier 7 is only a few minutes away, which hosts fine restaurants and bars. You can also catch a Dhow cruise from just outside the front door. The rooftop pool is also something to die for!
Dubai Marriott Harbour Hotel & Suites
For a third choice, try Dubai Marriott Harbour Hotel and Suites. This hotel is based at the opposite end of Dubai Marina than The Wyndham and has fantastic views looking west on the marina and also out to The Palm Jumeirah.
Dubai Marina Restaurants
Now you've got the accommodation boxed off, the next thing to do is to make the most of the fantastic dining options this area has to offer.
There is a countless amount of choice for eating out in Dubai Marina. Pier 7 alone hosts 7 of these. My personal favourite being Abd El Wahab. This elegant seafood restaurant is located on the 5th floor of Pier 7 and hosts fabulous views of the boats and the lights at night.
Step out of Pier 7 and behind you will find Dubai Marina Mall. We will touch on the shopping here later in this guide; but there are other fast food restaurants here too which can be enjoyed. From Mcdonalds to Five Guys, there's something for all inside the mall.
Furthermore, another favourite for most is Massimo's Italian Restaurant but to be honest we couldn't cover all of the fantastic eateries in this one post.
Check this link for a map of all of the restaurants in Dubai Marina.
Dubai Marina Mall
Next up, shopping. You can't go all of the way to Dubai without enjoying the fantastic shopping experiences it has to offer. Dubai Mall and Mall of the Emirates are the obvious two best choices in the city but Dubai Marina Mall offers great retail therapy too!
Located a stones throw behind Pier 7 in the centre of the marina, the mall is home to more than 100 stores. Furthermore, as with most places in Dubai, the architecture is something special too.
The mall is home to stores such as Hugo Boss, Billabong, Diesel, Fred Perry and many more designer outlets. There's also places to dine such as Wagamama's, Carluccio's and Yo! Sushi.
Between here and the beachfront shops of The Walk, JBR, anyone can enjoy a full days retail therapy in this area.
Dubai Marina Dhow Cruise
Another popular thing to do in Dubai is take a Dhow Cruise. Dhow boats are the traditional Arabian way to travel on the water and offer a different angle to the amazing views of Dubai from the water.
There are many different ways to take a Dhow. Most spots on the marina offer them as taxi's for as little as 1 AED to chaparone you from one end to the other. Other options are for short tours to see the sights of the marina and JBR. Alternatively, you can opt for a Dhow Dinner Cruise, which is best taken during the evening. These boats light up just like the rest of the marina at night and make for a fantastic experience.
You can check out the website here for more information on Dhow Dinner Cruises.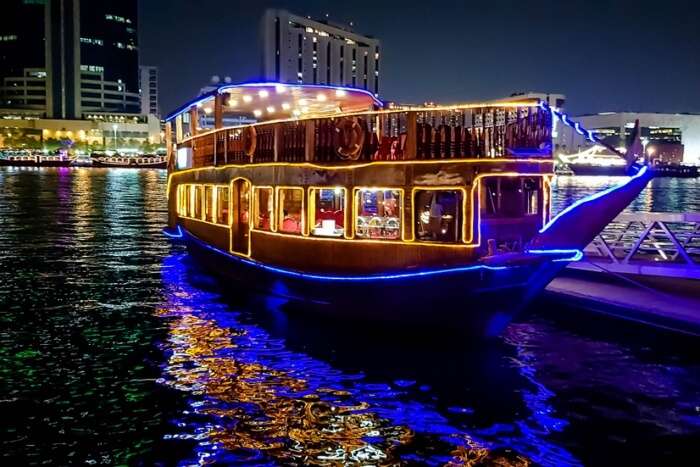 Dubai Marina Walk
The next spot to explore on your visit to Dubai Marina would be The Walk. The Walk is the main promenade on Jumeirah Beach Residence and can be reached on foot in as little as ten minutes.
Most of the best hotels in Dubai are based on The Walk. This spot is home to Jumeirah Beach, countless shops and restaurants and great open space play areas for children.
The Walk, JBR is probably the most popular area to stay in Dubai but hotels in this area are more expensive than the one's on Dubai Marina. If you are fancying a stay on The Walk, The JA Ocean View Hotel and Ritz-Carlton are two of my favourites.
The JA is for the reasonable budget and stands at approximately £100 per night, whereas The Ritz-Carlton is for the higher budgets at around £250 per night. However, both are fantastic places to stay and are in prime locations for the beach and activities on JBR.
You can check out my full guide to Jumeirah Beach Residence here.
Dubai Marina Yacht Club
For those wishing for a more luxury experience than that of a Dhow Cruise, check out the yacht club. Yachts can be rented from most area's in Dubai but Dubai Marina Yacht Club is one of the best places to travel from.
The Yacht Club offers more than just yacht cruises though. This is heaven for sailors by day and offers a unique vibrant waterfront nightlife by night.
Yachts of all sizes are available for tours of the marina and out around The Palm Jumeirah. For me, The Palm Jumeirah tour is one not to be missed! This tour takes you around The Palm Islands and back past one of The Sheikh's private islands. You can check out the video below for an exclusive peep.
Dubai Marina Bars
The nightlife in this area is extremely vibrant. Many tourists flock to Pier 7 for a drink at night in their many restaurants. Alternatively, there are many amazing rooftop bars that MUST be experienced! Here are 4 rooftop bars in Dubai Marina that can't be missed.
Siddharta Lounge
The first of 6 rooftop bars is located at Grosvenor House. Siddharta Lounge is an iconic rooftop cocktail bar with incredible views of the marina, the arabian gulf and The Palm Islands. This view makes Siddharta one of the most popular bars on the marina. Furthermore, they have a nightclub too. So, if your wishing to party on into the night then this is the place to be.
Website: http://www.siddhartalounge.com/
Shades
Second on the list is based at Address Hotel. This pool by day turns into a restaurant and bar by night. The bar hosts fantastic views of the other skyscrapers in the area as well as an elegant poolside backdrop which lights up in the evening.
Hint: The brunch here on weekends is a must.
Website: http://www.addresshotels.com/en/hotels/address-dubai-marina/dining/shades
Ramusake
This Japanese fusion restaurant is one of the best in the area. Furthermore, they have a rooftop terrace to enjoy some drinks on an evening.
Enjoy some of the finest cocktails and Japanese beers from here and enjoy the gorgeous views of Dubai Marina at night.
Website: http://ramusake.ae/
Atelier M at Pier 7
The best of the bars at Pier 7 has to be Atelier M. Located on Pier M's "extra floor" 7M. Many people miss this place when visiting Pier 7 so make sure you're not one of them!
As well as checking in for unrivalled views of the marina, you can also rent out the terrace for private events!
Website: http://www.atelierm.ae/
Conclusion
Definitely up their with one of the best places to stay and visit in Dubai. Any Dubai trip is not complete without visiting the marina.
Thank you for reading Your Guide to Dubai Marina. For more Dubai travel information and tips follow my blog. You can also follow me on Pinterest and Youtube too.