Dubai has many wonderful things to do outdoors. The year round sunshine makes Dubai one of the best holiday destinations in the world. However, we all need to burn off steam at some point! Whether your dying for a break from the kids for an hour or your a fitness fanatic wanting to maintain whilst you're away, you're going to need to know where to workout in Dubai. Rest assured I have put together the best Outdoor Gyms in Dubai: The Ultimate Guide.
If your staying in Dubai for a short while you could try a different one every day, I'll leave it down to you. Enjoy the read..
If your eyes are too tired to read about the best outdoor gyms in Dubai then check out this short video instead.
1. Warehouse Muscle Beach
Up there with the best Outdoor Gyms in Dubai and located on Jumeirah Beach Residence, Warehouse Muscle Beach has crossfit apparatus, rope climbs, kettlebells, rowing machines, and jump boxes, and can also cater to cycling group classes and personal training sessions.
The gym took design to a new level, claiming that most gyms are decorated like hospitals and were tasteless.
The Warehouse Gym Dubai is also an indoor gym should you be unlucky enough to catch Dubai on a bad weather day, or even worse a 40 degree day! The location on Jumeirah Beach boasts incredible views of the new Bluewaters Island which is home to the largest ferris wheel in the world.
A good choice for anyone wanting to train who are staying anywhere on The Walk or at Dubai Marina. This place is within walking distance of both areas.
Details
Entrance Fee: 105AED
Memberships: 399AED p/month
Sunday to Thursdays: 06:00 AM – 11:00 PM
Fridays and Saturdays: 08:00 AM – 10:00 PM
Phone: +971 4 368 4080
Website: https://www.whgym.com/
Location
Opposite Roda Amwaj Suites Hotel & behind Pizza Hut.
2. Fit Inc. Outdoor Gym Dubai
Fit Inc. is a budget friendly gym on the main Sheikh Zayed Road. There are three main workouts: WeTRAIN includes circuit training, kettlebells, parkour and calisthenics; WeSPIN is a dedicated spin studio; and WePLAY offers classes like yoga, Pilates, Zumba and aerobics.
You can also sign up simply for the WeGYM membership and have access to free weights, cardio machines and resistance training facilities.
The outdoor section is small compared to the rest of the gym but is still a nice area to get out and train for anyone staying in the centre of Dubai.
Details
Entrance Fee: 250AED p/month
Hours: 7 Days, 6am – 8pm
Website: www.fitinc.ae
Contact: (800) 348462

Location
Floor 6, City Tower 2 Car Park, Sheikh Zayed Road, Dubai, 6am to 8pm, daily. Tel: (800) 348462. Metro: Dubai World Trade Centre
3. Skydive Dubai Outdoor Gym Dubai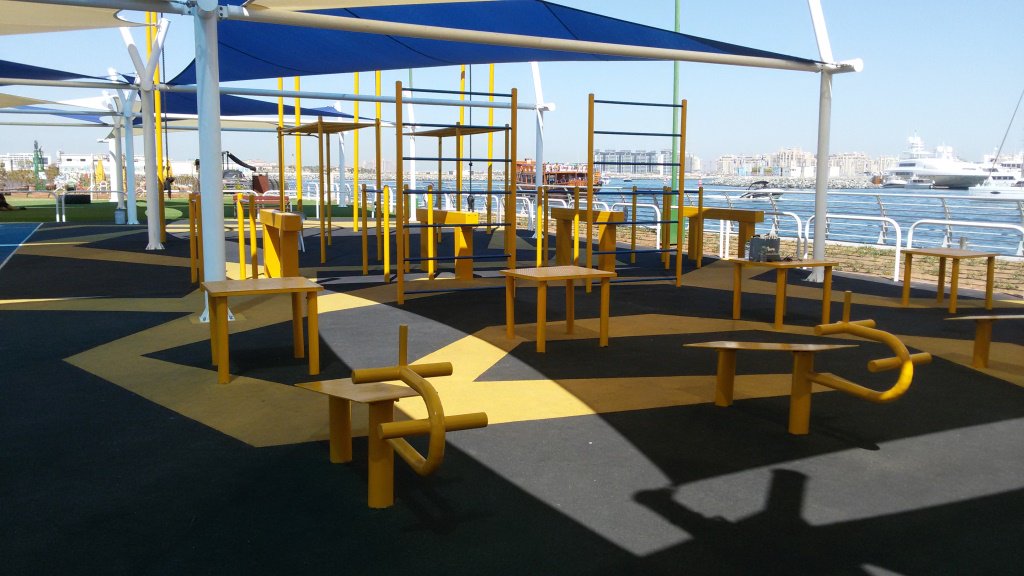 Working out with a perfect view of Dubai Marina and right next to the arabian ocean. This spot is one of the most picturesque for working out in Dubai.
This open gym arena is one for the calisthenics workout regimes. The only downside to the Dubai marina gymnasium is that it doesn't have free weights. A great spot nonetheless and open 24 hours, but more importantly free!
Details
Entrance Fee: FREE
Hours: 24 Hours
Phone: +971 4 377 8888
Website: http://www.skydivedubai.ae/
Location
Skydive Dubai, Dubai Marina
4. Fit Hub Outdoor Gym Dubai
Fit Hub is Dubai's first open air fitness studio. This place specialises in fitness classes and boot camps, boxing etc. The studio recently added an outdoor gym arena with free weights and benches too!
Located at Laguna Waterpark, Fit Hub can be an hours getaway from the hustle and bustle of a big family day out.
When buying workout classes you are also allowed to use the gym floor for the rest of the week free of charge.
Tip: When paying to use Fit Hub you receive a free pass to use Laguna Water Park and a 40% discount for up to 3 friends / family too. This means you can take advantage of all the rides, juice bar and lazy river for post-workout relaxation.
Details
Entrance Fee: 99AED for 1x Class, 449AED for 5x Classes or 799AED for 10 x Classes
Hours: Daily 10am – 6pm
Phone:  +971 4317 3999
Website: https://www.lagunawaterpark.com/en
Location
La Mer – Dubai
5. Magnum Fitness on Kite Beach
Located just behind XSkate Park Dubai and on Kite Beach, Magnum Fitness is a specialised MMA gym but is open for general public use. The outdoor beach gym has everything from aqua-gym and calisthenics to bodybuilding and MMA training equipment and arena.
Magnum Fitness has an array of personal trainers and puts on daily classes for every training level and discipline. In my opinion this gym is up there with the very best in Dubai.
Details
Entrance Fee: 80AED
Hours: Daily 10am – 6pm
Phone: +971 50 410 0348
Website: www.magnumattitude.com
Location
Kite Beach by Meraas
Conclusion
Check the table below for an overview of the best outdoor gyms in Dubai.
| | | | |
| --- | --- | --- | --- |
| GYM | FEE | HOURS | Phone No: |
| Warehouse Muscle Beach | 105AED | 6am-11pm | +971 4 368 4080 |
| Fit Inc. | 250AED | 6am-8pm | (800) 348462 |
| Skydive Dubai Outdoor Gym | FREE | 24Hours | +971 4 377 8888 |
| Fit Hub | 99AED | 10am-6pm | +971 4317 3999 |
| Magnum Fitness | 80AED | 10am-6pm | +971 50 410 0348 |
Thank you for reading Outdoor Gyms in Dubai: The Ultimate Guide. We hope that this information has helped you find your preferred outdoor fitness spot whilst on holiday in the UAE.
Make sure you come back for more on Travel & Living in Dubai & Abu Dhabi. Follow us on Pinterest and YouTube too.