Whether you're stuck on a layover in Dubai or you just want to know more about shopping at Dubai airport; this full guide has you covered.
Below we take a look at all of the places to shop, eat, relax and be entertained at the worlds most prestigious airport. Once you've finished reading this you're going to wonder why people don't specifically fly here just for the airport experience, it's that good!
For those who don't have time to read the full guide and want to know what shopping and dining there is to enjoy at Terminal 3 (Emirates Main Terminal), then you can jump to that section of this post by clicking the link below.
Shopping by Terminal at Dubai Airport
Below we have put together a full guide to shopping, eating and relaxing by each terminal at DXB.
Shopping at Terminal 1 Arrivals DXB
Etisalat
The UAE based telecommunications company can help with data and internet services whilst in Dubai as well as offering a phone repair service.
Du
Du offers fixed line, mobile, internet and digital television services across the UAE. Du also has a store located at terminal 2 which is the main airport terminal.
Book my Wifi
A really handy service which allows travellers to rent a pocket Wifi device allowing you to stay connected on your visit to Dubai.
Duty Free Confectionary
Selling a range of duty free treats from french caviar to chocolate boxes. Shop also located at Terminal 1 departures.
Le Clos
For a wine purchasing experience head to Le Clos. If you like, use their bottle engraving service for bringing home any personal treats for loved ones. Their premier cru wines are the best. Free wine tasting is also available before you buy which can be very dangerous !
Boots
If you've arrived in Dubai and forgotten to bring any medicine, cosmetics or essentials do not panic, there is a Boots at DXB.
Dining at Terminal 1 Arrivals DXB
Costa Coffee
Dubai are 3 – 4 hours ahead of the UK (Depending on daylight saving time adjustments), so head to Costa Coffee for a pick me up after your long flight.
Le Pan Quotidien
For organic dining, coffee, pastries, bread and vegan options head to Le Pan.
Relax and Refresh at Terminal 1 Arrivals DXB
IHG Hotels Group
If you need to book a layover in Dubai for any reason head to the Intercontinental Hotels Group kiosk at terminal 1 arrivals. There is an on site Intercontinental Hotel where travellers can stay for any last minute problems with flights or change overs.
Atlantis
Another kiosk for a leading hotel chain, Atlantis The Palm. Speak to one of the helpful staff for information on transfers to the hotel, excursions or any issues.
One & Only
Kiosk for One & Only hotel group which has a luxury hotel on The Palm Jumeirah.
Jumeirah
Kiosk for the Jumeirah Hotels group.
Khamas Hospitality
Kiosk for Khamas Hospitality.
Golden Sands
Kiosk for Golden Sands Hotel Apartments, one of the most flexible and reliable Dubai accommodation options offering hotel apartments for a day, a week, or as long as you like.
Ahlan Lounge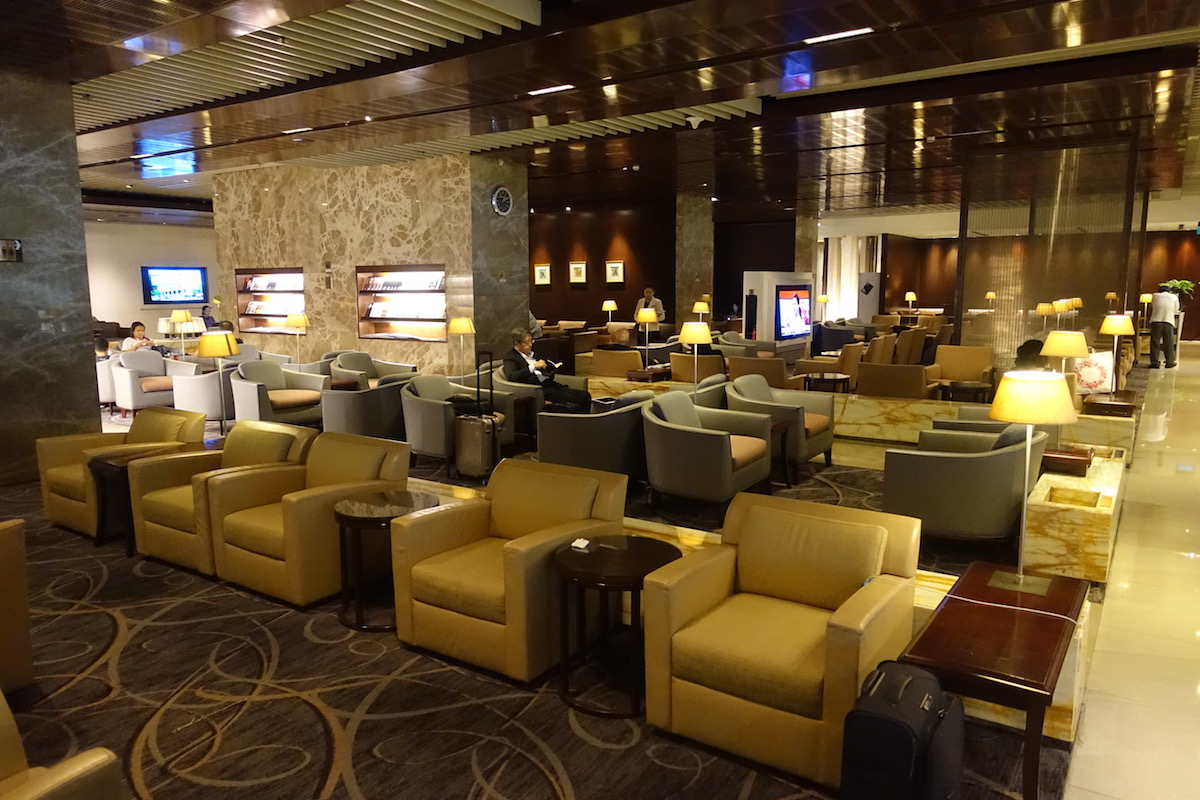 Kick back and relax at the luxurious Ahlan Lounge.
Marhaba Lounge
Relax in the Marhaba Lounge whilst waiting for your transfer or your next flight.
Prayer Room
Muslim prayer rooms and ablution rooms are provided throughout Dubai airport and specific sections of the car parks. Prayer rooms are well sign posted so you need not worry about having to search for them.
Services at Terminal 1 Arrivals DXB
There are many services available at terminal 1 arrivals such as below:
Various ATM's
Currency Exchange Desks
Hertz Car Rental
Sixt Car Rental
EuropCar
Thrifty Car Rental
AVIS
Alamo
Enterprise
National
Fast
Dollar.
Budget
ALWEFAQ Car Rental
Dnata Left Luggage Storage
Shopping at Dubai Airport Terminal 1 Departures
Duty Free Confectionery
Selling a range of duty free treats from french caviar to chocolate boxes. Also available at Terminal 1 arrivals.
Dubai Duty Free
For duty free fashions, perfumes, alcohol and electronics; you'll find it all at Dubai Duty Free.
Dining at Terminal 1 Departures DXB
Costa Coffee
Head to Costa Coffee for light treats and hot drinks after your holiday in Dubai has come to an end. Chill out and look at all of the fantastic photos and memories you've created whilst sipping a cappuccino.
Starbucks
Similar to the above, there is also a Starbucks at terminal 1 departures, my personal favourite coffee.
Relax and Refresh at Terminal 1 Departures DXB
Sky Priority
A lounge for SkyPriority for passengers flying with Skyteam airlines.
Kids Zone
A tip for the parents out there; get your little ones tired out by letting them run crazy in the Kids Zone. THis will ensure they're a lot calmer on the flight home, and if you're lucky they may even sleep! There's an interactive games zone and a climbing frame to play on.
Services at Terminal 1 Departures DXB
There are several services available at Terminal 1 Departures such as:
ATM's
Currency Exchange
Medical Centre
Baggage Services
Special Handling
Terminal 1 Food Court at DXB
Terminal 1's food court at Dubai Airport has the following stores.
Costa Coffee
Baskin Robins
JB & CO
Dubai Duty Free
Shopping at Dubai Airport Terminal 2
Terminal 2 is the main terminal at Dubai Airport and so has the best variety of shopping and dining options.
Du
The same stores as located in terminal 1 and offers fixed line, mobile and data services.
Etisalat
As per terminal 1 store, for telephony services inside the UAE.
Duty Free Confectionary
Also located in terminal 1 and does what is says on the tin.
Duty Free Perfumes and Cosmetics
Duty free perfumes and cosmetics.
Duty Free Liquor and Tobacco
For a full range of liquor and tobacco to suit all tastes and budgets. From special offers on popular brands, to fine wines and premium whisky, you will be spoilt for choice.
Dubai Airport Pharmacy
If you've forgotten to bring medicine or travel essentials, head to Dubai Duty Free's pharmacy. Just like all our stores, these pharmacies are open 24/7, which is very handy if you're feeling a little under the weather.
Dining at Terminal 2 DXB
Aside from the typical Costa Coffee and Starbucks which are littered throughout the airport, here are the other eateries.
Bombay Chowpati
Feast on authentic East Indian cuisine at Bombay Chowpatty.
McDonald's
The obvious place for Big Mac's and Double Cheeseburgers.
KFC
Finger licking good chicken!
Pulp Juice Bar
Serving 100% natural juices, Pulp is the perfect choice for health-concious travellers.
Subway
For the sub of the day..
Krispy Kreme
If your a donut type of person or just wanting a tastey treat.
Taste of India
Offering authentic delicacies from across India such as butter chicken, hyderabadi biryani, masala dosa, kebab roll, samosas and lassi.
Relax and Refresh at Terminal 2 DXB
Aside from Marhaba Lounge which is also located at Terminal 1 and several prayer rooms we also have Emirates Lounge at Terminal 2.
Emirates Lounge
Kick back and enjoy the executive lifestyle in the world-class Emirates Lounge.
Services at Terminal 2 DXB
Other services situated at Terminal 2 are as below:
ATM's
Currency Exchange
Medical Centre
Police
Lost Baggage
Oversized Baggage
Thrifty Car Rental
AVIS Car Rental
Hertz Car Rental
Dollar.
ALWEFAQ Car Rental
Baggage Services
Shopping at Dubai Airport Terminal 3
Terminal 3 has many of the shops that terminals 1 and 2 has with the addition of a few more and is bar far the most glamourous of the terminals. Terminal 3 was exclusively for Emirates flights only up until recently where Qantas can now use the terminal.
An overview of what is available at Terminal 3 over and beyond terminals 1 & 2 is below.
Fashion & Watches
Many of the multi-brand stores in terminal 3 stock brands such as Chanel, Salvatore, Armani and Hugo Boss. Whats more it's all duty-free! Watches can be bought from leading designers such as Cartier, Rolex and OMEGA too.
Alcohol & Tobacco
The Clos is the place to shop for those French wine connoisseurs out there. Here you will find amazing ranges of wines, port and Burgundy. Dubai has an allowance of 4 litres per person of alcohol which can be taken out of the country duty-free.
Perfumes & Cosmetics
For those wanting to shop for beauty products there are also many more stores which will spoil you for choice. Many of the duty free shops pack together travel sized kits to take away which is a great touch and easy to pack.
Designers such as MAC, Estee Lauder and Clinique can be found.
Dining at Terminal 3 DXB
Some of the most famous cafes and restaurants in the world are situated at terminal 3. A full list below:
Costa Coffee
As seen around the airport in many spots throughout terminals 1,2 and 3.
Subway
For the sub of the day and situated all around the airport.
Burger King
For the burger lovers out there.
Giraffe
The UK chain family friendly restaurant with international flavours.
Delizie
Translating to Delicious, Delizie serves traditional Italian foods such as pizza and pasta.
Desi Lunch Box
This Mumbai-style street food restaurant is the place to eat for anyone wanting indian food to Indo-Chinese.
PAUL
People eating here can enjoy croissants and coffee whilst overlooking a Zen garden. Making it hard to believe your actually in Dubai airport.
Shake Shack
For all of the milkshake and juice lovers out there, with New York style burgers on top.
Caviar House & Prunier
A seafood bar serving a variety of sea food dishes from caviar to smoke salmon. Champagne can also be enjoyed here with a light bite from the sea.
Wafi Gourmet
A Lebanese restaurants with sandwiches, cold mezze and pastries.
Services at Terminal 3 DXB
Some of the best services are below with a list of all at the end of this section.
Zen Garden
Landscaped with palm trees and situated at both ends of terminals 1 & 3, Zen Garden is the ultimate place to chill in the midst of the hustle and bustle of Dubai airport. The garden also has hidden mist machines to help you feel relaxed.
Timeless Spa
For those with time to kill who can't resist further pampering whilst in the UAE, check out Timeless Spa. First class ticket holders flying with Emirates can use the spa for free!
G-Force Health Club
A gym, shower rooms, suanas and jacuzzis as well as a co-ed pool are available to use at G-Force Health Club. An hour at the health club costs around 800 AED.
Baby Services
As well as the various baby changing facilities which are of top quality, Dubai airport also provides free to use baby strollers for right up until you board the plane. This means that you can check yours in to baggage and roam freely with less to carry.
Transfers
Anyone who has been to Dubai airport knows how large it is. The airport has recently began to provide buggy transfers between shops and the carousel.
Further list of Services Available at Terminal 3 DXB
ATM's
Currency Exchange
Oversized Baggage Collections
Lost Luggage Collections
Medical Centre
Thrifty Car Rental
AVIS Car Rental
Dollar.
Hertz Car Rental
Al Habtoor Limousines
Alamo Rent a Car
National Rent a Car
Budget Rent a Car
EuropCar
Sixt Rent a Car
Buying Gold at Dubai Airport
Buying gold is not advised at the airport unless it's a last minute thought or you had forgotten to get some from Dubai's gold souk. Dubai airport gold is more expensive than purchasing in the city.
Dubai Duty Free has a range of brands including Bvlgari, Cartier, Tiffany & Co, and Rolex. Gold bars can be purchased from terminals 1 & 3 with a range of 18 to 24 carat available.
For more information on buying gold in Dubai check out our guide on The Best Places to Buy Gold in Dubai.
Enter The Dubai Aiport Draws
When you pass through Dubai Airport, if you have time, make sure you enter one of the fantastic prize draws they have. There are chances to win BMW's, Mercedes and even up to $1,000,000!
Conclusion
That's all for the guide on shopping at Dubai Airport. Terminal 3 is where it's at and is the main terminal for Emirates (and now Qantas) flights.
Thank you for reading, we hope this has given you the information you needed. Make sure to come back for more on Travel & Living in Dubai & Abu Dhabi. Follow us on Pinterest and Youtube.