Beyond those humongous shopping malls, luxury hotels and mind-bending architecture, Dubai has something more to offer. These are the unputdownable Escape Rooms in the city. The stimulating world of escape games will challenge your senses at the utmost level for sure.
Here is our list of best escape rooms in Dubai. We will also discover what makes Dubai escape rooms so special, how much do they cost and where you can spot them across the city.
Most of Dubai's escape rooms utilize prolific imagination and world-class technologies so that players can never have a dull moment. We are picking up the top escape rooms in Dubai so that you can skip the screening part to get started. 
1. Brain Game Dubai
If you wish to challenge your brain with intricate problem-solving puzzles and come out as the winner, then we have got Brain Game Dubai for you.
This Jumeirah-based escape room consists of six different theme-based rooms – Stalker, Seven, The Others, Chocolate Factory, Forever Alone, Last Laugh and The Others. All these rooms are epic and they are perfect to put you on an equally epic journey to take an intriguing mission.
Each of these rooms comes with varying difficulty levels. Brain Game Dubai has room for everyone. All you have to do is to bring your team (2 – 6 players) and put your best foot forward to solve the riddles to escape. All you have is 60 minutes in hand and your IQ level to chalk out a successful escape. 
Detailing in each of these escape games will blow your mind. This feels like you are on a real-life mission to save yourself and your team too.
Age Restriction: Children under the age of 12 can participate in the game only with an adult's supervision.
Location: Jumeirah Terrace Building, Rooftop, Jumeirah 1, Dubai
Timings: Sunday to Wednesday from 12.30 PM – 10.00 PM, Friday & Saturday from 12.30 PM – 12.00 AM.
Price: Starts from AED 240 for 2 players. You need at least a team of two to play the game.
2. Phobia Escape Games
Looking for some really creepy escape games in Dubai? Phobia Escapes Games are just for you.  They are one of the longest-serving escape rooms in the town curating a hoard of grey-matter stimulating games.
Phobia's escape rooms are completely new and absolutely unique. You need a team of 2-5 people to get started. 
The reality doesn't look real at Phobia Games. Their immersive rooms will trap you and your teammates in the House of Maniacs, an underground bunker, modern museum, detectives's apartment or some other unusual place. You have to find a way out within 60 minutes to win the game. 
Age Restriction: Children below the age of 14 can play only if they are accompanied by an adult.
Location: 
Sherlock vs Jack the Ripper, Live and Battle of Wizards at Shop S-07, X1 Tower, Jumeirah Lake Towers, Dubai
Vault, Impossible Mission and Dark Room at Red Diamond Building, Office F-112, Jumeirah Lake Towers, Dubai
Timings: Everyday from 11.00 AM to 12.00 AM.
Price: From AED 115 per person.
3. NoWayOut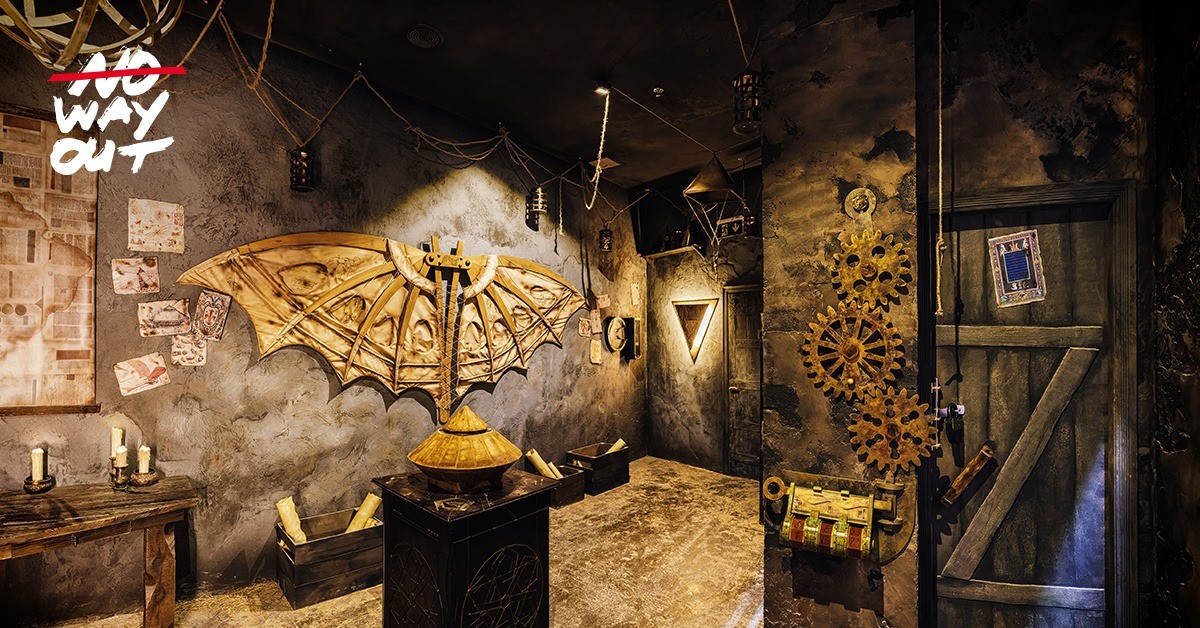 NoWayOut is probably the best escape room in Dubai where you will be overloaded with mysteries and puzzles to find an escape route. They have designed escape rooms that are based on different storylines and intriguing themes with varying levels of difficulty.
The Ring is undeniably the favourite room in NoWayOut. It takes you on an exploration journey where you do crime scene investigation and resolve crime mysteries.  On the other hand, the School of Magic forces you to solve the Dark Lord's riddles to save the world. 
NoWayOut has crafted some exclusive movie-based escape rooms like Da Vinci, Psycho, Maniac and The Ring. Houdini room is an amazing place to dodge traps, handcuffs and tricky puzzles to ensure your survival. Each room gives you 60 minutes to overcome the hurdles. 
NoWayOut requires a group of 2 – 6 people to play the games. It also allows guests to host corporate events, hen & stag parties, marriage proposals and birthday parties. This is certainly an interesting mode to celebrate!
Age Restriction: Children aged 15 years or more can play independently. 
Location:
Timings: Monday to Thursday from 12.00 PM – 12.00 AM, Friday & Sunday from 10.00 AM – 01.00 AM.
Price: Starts from AED 140 per person. You can choose the Bundle Offers to save more on a large group of people.
4. Escape Reality Dubai
For real-life gaming experience, Dubai has something extraordinary for you – the Escape Reality. This place excites every ounce of your grey matter with its thought-provoking escape room concept. Escape Reality pushes you to try out-of-the-box methods, poke, crawl and roll to figure out an escape route.
Based on hugely popular TV shows, movies, folktales and real-life historical events, Escape Reality rooms focus more on interactive gaming experiences. You enter their escape room as a mere participant but leave as a hero in the battle against time.
An enticing collection of eight escape rooms let you explore different themes depending on your capacity to overcome hurdles. Jangala, Enigmista, Fibonaccci, Alcatraz,  Nosferatu, Machina, Apocalypse along with their most celebrated Iron Kingdom room will always keep you on your toes.
Location: 1st Floor, Indigo Sky, Next to FAB metro station, Sheikh Zayed Road Exit 41, Dubai
Timings: Sunday to Thursday from 12.00 PM – 10.00 PM, Friday & Saturday from 12.00 PM – 11.30 PM.
Pricing:
Thursday to Saturday AED 140 per person
Sunday to Wednesday AED 120 per person
For large group of people, they offer discounts.
5. Brainscape Live Games
There's rarely anything similar to Brainscape gaming experience!  Their live escape games are engaging, fun and exceptionally brain-stimulating. At this gaming station, you will be locked in a room and the only key to figure out an escape route is your intelligence.
All escape rooms here are unique and offer an unmatched gaming experience. The Lost Pharaoh Room is a cursed place that doesn't let you escape until you discover the name of the Pharaoh whose tomb a dead explorer was trying to find out.
Other rooms of Brainscape Games include The Da Vinci Code, based on a best-selling book by Dan Brown and a Hijack Room that assign you with a task to prevent an airplane hijack before it's too late to save the innocent passengers.
Brainscape Games brings the best of your logical thinking, observational skills and lateral thinking. Be it your day-out with family, friends, colleagues, students or your partner, their games help you to bond better with mind blogging and adrenaline boosting activities.
Note: Brainscape allows both offline and online team building.
Age Restriction: There is no hard and fast rule regarding the minimum age of players. children above the age of 10 can easily play the games. An adult's company is a must for a group of children under the age of 16.
Location: 203, Building 12, Bay Square, Business Bay, Burj Khalifa District, Dubai
Timings: Open all days of the week from 10.00 AM to 10.30 PM.
Price: It costs more or less AED 155 per person. They offer a whopping discount of 20% from Sunday to Wednesday.
6. Escape Hunt
Welcome to the immersive world of unprecedented mission at Escape Hunt in Dubai.
This is the very first VR escape room in the city packed with best-in-class digital adventure. You have to work as a team to find clues and solve puzzles leading to your escape from the room.
From treasure hunt to overly ambitious heist – you can pool out anything if your brain assists you at Escape Hunt. This is a whole new world where you and your team need to take that leap of faith instigated by intuition.
Prison BreakOut, Jack the Ripper and The Bank Job are all the Escape Hunt Dubai has got. These brilliantly designed rooms revolve around a specific theme and you can easily guess what the game is all about from their names.
In all these three highly immersive escape rooms, you have to run against time to save your life. 60 minutes of pulse-racing adventure is guaranteed with every escape game you sign up for.
Age Restriction: Games are suitable for children aged 7 years and above however an adult must accompany a kid aged between 7-14 years.
Location: RT26 Galleria Mall, Next to Adventure Zone, Al Wasl Road, Jumeirah 1, Dubai.
Dubai Mall or Business Bay is the closest metro station.
Timings: Open every day from 11.30 AM to 10.00 PM.
Price: Starting from AED 145 per person.
7. Countdown Challenge
Do you enjoy solving puzzles? Countdown Challenge gives you a chance to decide the fate of your friends or teammates with your puzzle-solving skill. They offer rare escape room experiences and mysteries, more intensified with twisted team puzzles.
You have got five different escape rooms to choose from The Basement, Last Will, Stolen, Escape Plan and Crime Evidence. Each of them comes with a different difficulty level. You can pick the one that suits your puzzle-solving skill best.
All escape sessions typically give you a time frame of 60 minutes to escape the room and emerge out as an invincible winner. You can build a team of maximum 10 members to play the game.
This space can also be booked for corporate events, birthday parties, proposals and other private events.
Age Restriction: Games are also suitable for children who have got skills to solve puzzles. It's better to accompany your kids if they are not able to take the challenges by their own.
Location: Jumeirah Beach Residence, The Walk, Bahal 1, Plaza Level, Dubai
Timings: All days of the week from 03.00 PM to 12.00 AM.
Price: Cost of a game ranges between AED 280 and AED 1400 depending on the number of players, the time of the day and the day of the week.
8. Hungarian Games
This is a brilliantly unique place in Dubai where escape gaming has been elevated to a different level. Hungarian Games design their escape rooms based on 'Flow Theory' that suggests a person's inner strength and abilities improve under stress. Get ready to take those challenges head-on and win them over.
You can pick from their impressive range of theme-based escape rooms – The Haunted Room (where your soul is in grave danger at the stroke of midnight), Studio 113 (where your mind splits), Jail Break to recover the stolen artifacts, 4th Element (the modern-day Indiana Jones quest) and Crime Scene (to play the role of a murder investigator).
This place also features Open Space Games and Golf Simulator along with a Scandinavian Gourmet Store Cafe. You can host birthday parties or a team-building activity or participate in co-working at Hungarian Games.
Age Restriction: There is no such restriction. If you can take the challenges, you are good to go.
Location: Warehouse 35, Behind Time Square Centre, 8th Street, Al Quoz Industrial Area 1, Opposite Al Serkal Avenue, Dubai
Timings: On Weekdays from 12.00 PM to 08.00 PM; On Weekends from 11.00 AM to 10.00 PM.
Price: Starts from AED 120 per person
Conclusion
Dubai's gaming world is one of its kind that guarantees a steep adrenaline rush. You will be amazed to see how things can challenge your abilities to do the best in those 60 minutes. These are not just games but thought-provoking life lessons.
Thanks for reading! Make sure to come back for more on Travel & Living in Dubai & Abu Dhabi. Follow us on Pinterest & Subscribe to the YouTube channel too!