If you're in Dubai or you plan on visiting soon, you should not miss the golden opportunity (pun intended) of buying the famous Dubai gold. In fact, no trip to Dubai is complete without a visit to the Dubai Gold Souk.
Today we take a look into the best places to buy gold in Dubai.
Being a tax-free region, Dubai records the most prosperous gold trade in the world and because of the sheer amount of business that Dubai Gold deals with, the prices are very low, making Dubai Gold popular across the world.
Why is Dubai Famous for Gold?
Dubai gold is popular for its purity, price, and designs. If you want authentic and certified gold, Dubai is the place for you. Apart from that, the gold prices in Dubai are very low, mostly owing to the fact that Dubai is a duty-free zone. So, if you are wondering why Dubai is famous for gold, this, right here, is a major reason.
The making charges levied on gold ornaments can be manipulated through bargaining, which can give most customers an edge over the market. There are also other factors that contribute to the high demand for Dubai gold, including the fact that there are a huge variety of unique Arabian designs that are bound to impress.
Facts to Check Before Buying Gold in Dubai
While gold in Dubai is authentic in its true sense, it is still a good idea to brush up on some key information when buying gold in Dubai.
The 24 karat gold is the most authentic, with the darkest yellow color, heaviest designs, and best gold content. Lighter variants of 18 and 22 karats are also typically available. Most shops in Dubai will house the choicest 24K designs, and a larger number of 18K and 22K ornaments, that have more variety but less purity of gold content.
A VAT charge of 5% is levied on jewelry sold anywhere in Dubai but 85% of this fee can be reclaimed under the tax reclaim for tourists scheme at Dubai airport.
Tip: Inspectors from Dubai Municipality regularly audit gold sellers and check their quality and scales etc. It is not a good idea to buy from street vendors.
What Colours of Gold are Available in Dubai?
You will also find Pink Gold, White Gold, and Green Gold in the numerous Gold shops of Dubai, but they are alloys of Gold with Copper, zinc, silver, and nickel respectively. The quantity of solid, authentic gold in these ornaments is considerably lower.
When to Buy Gold in Dubai?
Of course, you can buy Gold in Dubai whenever you visit. But try to schedule your stay in Dubai with the Dubai Shopping Festival because that is the best window for you to buy lump-sum quantities of gold at the best prices– or, try the Dubai Summer Surprises for the greatest deals.
Places to Buy Gold in Dubai
Dubai being famous for its gold, it's safe to assume that there are plenty of places to buy gold in Dubai! The best places to buy gold in Dubai are listed below. Each of these places is known for its varied design, authenticity and the quality of the jewelry they're selling.
Dubai Gold Souk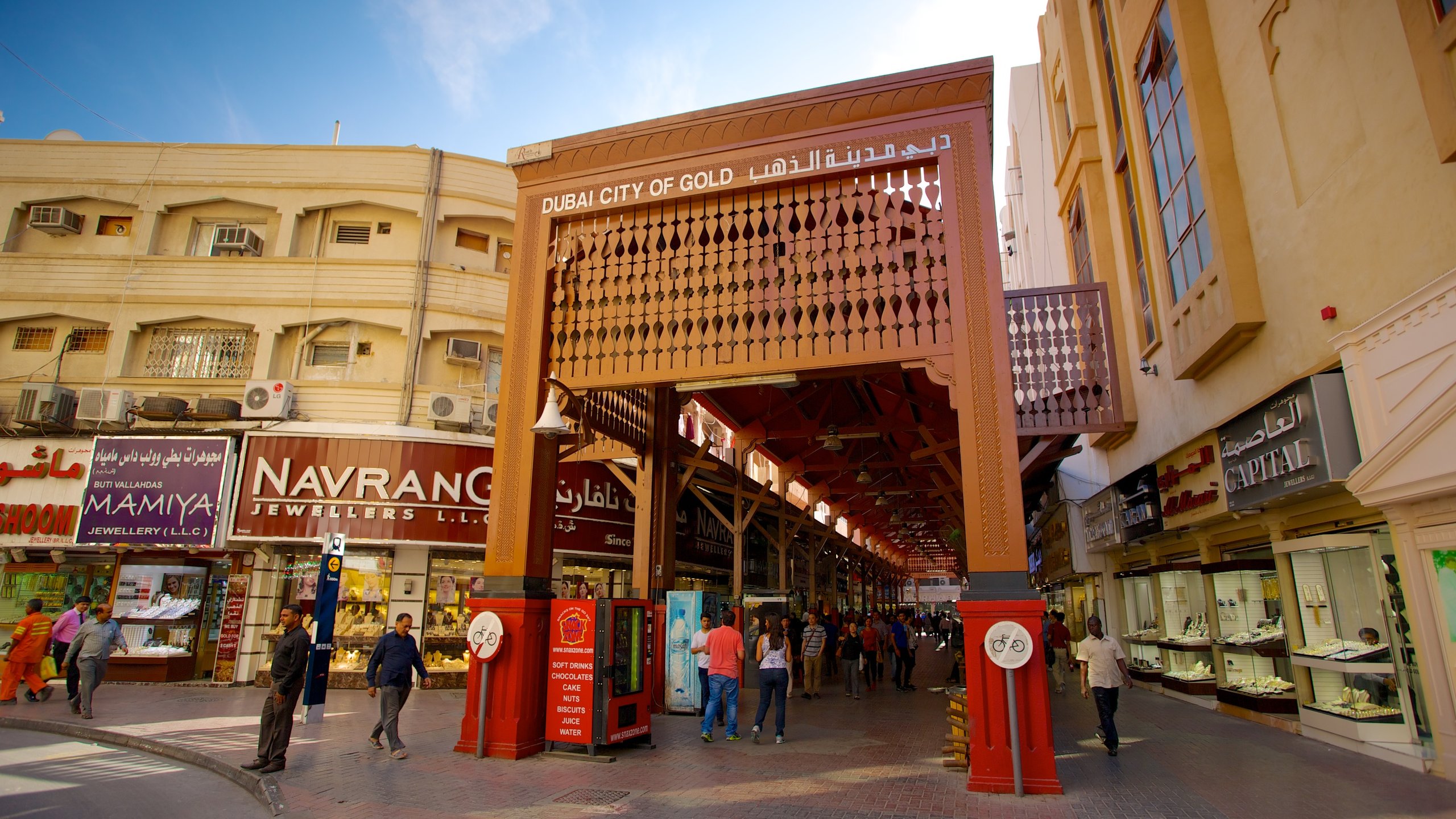 The one-stop you must make in your trip to Dubai is to the Dubai Gold Souk. There are a plethora of gold shops in this traditional market located in the Al Dhagaya locality of Dubai's commercial district of Deira! The gold souk in Dubai has over 350 jewellery traders, each with a variety of jewellery designs.
You must check out the Dubai gold souk bangle designs, as they are one of a kind here.
Tip: Always barter on the price at souks. Shopkeepers will initially set their prices high to cover making costs. The weight of the gold and the daily price fluctuations are non-negotiable but the extra on top for making charges are. Pay by cash for better discounts.
Dubai Gold Souk Location
Opening Hours
Saturday – Thursday 10am to 10pm
Friday 4pm to 10pm
Many stores are closed between 1pm and 4pm.
Gold and Diamond Park

The Gold and Diamond Park is another place you can visit apart from the Dubai gold souk. Here you can purchase precious stones, gems, silver, gold, platinum, and high-end personal accessories.
It's a plush air-conditioned mall entirely dedicated to the exhibition and sale of jewellery – housing close to a hundred Gold stores that you can choose from!
The added bonus here is that there are some specialty stores that will customize and craft their designs according to your personal specifications so that you can have just what you want.
Gold and Diamond Park Location
Opening Hours
Saturday – Thursday 10am to 10pm
Friday 4pm to 10pm
Joyalukkas
As a lover of gold, you probably are well acquainted with Joyalukkas' fame for adhering to qualitative standards of excellence. You can find Joyalukkas stores throughout Dubai, as well as within the Souk and the Mall.
Joyalukkas Location
Damiani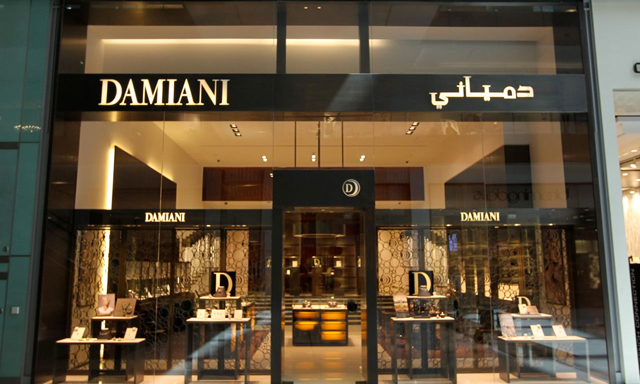 The reputable Italian brand sets high standards for designs and craftsmanship. Damiani, located in The Dubai Mall, caters to the demographic that values finesse and exquisite designs. Besides, their collection of gems and precious stones is also worth your attention.
Damiani Location
Atlas Jewelry
This brand chiefly draws the attention of the considerable number of Indian expatriates in Dubai. Atlas Jewelry has been around for over 35 years, founded in 1981. Do drop in to check their collection!
Atlas Jewelry Location
Kanz Jewels
Along with Atlas, Kanz Jewels is another brand that houses an impressive collection of both western and Indian designs of Gold jewelry. Found in 1991, you will find beautiful gems, pearls and bridal collections in the showroom.
There are various other shops as well, such as ARY Jewelers, Bhima Jewellers LLC, and SMS Jewellery trading LLC. Therefore, if there's one thing we can guarantee, it is that there will be no shortage of gold shops for you to choose and purchase gold from– and that greatly contributes as a reason behind why Dubai is famous for gold.
Where is the Best Place to Buy Gold in Dubai
The Dubai Gold Souk, or simply, Gold Souk is a traditional gold market in Dubai. In my opinion this is the best place to buy gold in Dubai. The gold from the Gold Souk is also lower in price compared to most other places. In fact, prices of Gold in the Souk are one of the lowest around the world!
You can buy both gold bars, and ornaments at the Gold Souk– that is really up to your taste and preference.
What is Duty-Free Gold
In straightforward terms, Duty-Free Gold is a quantity of gold that you won't have to pay added taxes for. The entirety of Dubai is a tax-free zone– which kind of explains the bottom-grazing Gold prices in Dubai.
Now, while the gold you buy in Dubai may be duty-free, that doesn't change the duty regulations for gold in your country. So if you are planning to take some of Dubai duty-free gold back home, you have to ensure that the gold can be normally worn by you, to avoid any added taxes.
Dubai's duty-free gold may not be duty-free everywhere, so keeping certain such considerations in mind can go a long way in helping you.
Traveling with Gold from Dubai to Your Home Country
If you intend to take the gold you purchase back to your home country, wearing your gold would be the safest and the most cost-effective option. So, buying your gold in the form of wearable ornaments would be the best way for you to go about purchasing your gold in Dubai.
Different countries have different rules when it comes to allowing passengers who are bringing duty-free gold inside the country. Checking the customs regulation of the country you are visiting is advisable before carrying gold with you. Apart from that, you should also keep your purchase receipt handy.
Being a highly valued commodity, some countries require there to be absolute transparency when it comes to traveling with gold. Even in the absence of customs duties, some countries expect you to maintain transparency.
Taking gold into the U.K
The first thing the passengers are expected to do is declare if the gold they're bringing in is:
For the purpose of resale
Over amount stated by the duty-free allowance
Whether they are restricted or banned
Find more information on their official customs website.
Taking gold into the USA
No duty is imposed on gold coins medals or bullions. However, when carrying these items, they need to be declared to the concerned Border Protection Officer (BCP).
A FinCEN 105 form needs to be filed, the total value of the gold exceeds $10,000.00
Find more information about the rules and regulations here.
Taking Gold into India
Indians are among the majority of the customers who buy gold in Dubai. While you may buy whatever you like, there are some regulations one has to follow to bring gold inside India. So, before travelling, make sure you check the rules and regulations properly. Here are some basic rules one needs to follow to bring Gold in India from Dubai
1 Kg limit on imported gold.
A tax of 12.5% is levied on gold bars and coins.
If the limit crosses 1 Kg, 36.05% tax is levied.
Conclusion
Buying Dubai Gold is an experience indescribable in words – you have to be there in person to experience it. The Gold Souk is a great place to just walk about too! It's sheltered from the heat and sun, and the sheer brilliance of the view of thousands of Gold shops lining the Souk, with their dazzling displays of ornaments and customised jewellery, is a treat to the eyes.
Furthermore, you can have made-to-order jewellery that will match up to your expectations and taste in finesse and panache. Apart from the Gold Souk, you can visit the other malls as well. If you are in a hurry you can still buy gold at Dubai airport, however buying from the airport does traditionally cost more.
Lastly, remember to check in with your country's regulations and rules about travelling with duty-free Dubai gold back to your home country from Dubai.
Thank you for taking the time to read about The Best Places to Buy Gold in Dubai. We hope this has helped give you good information and inspiration for buying gold in Dubai.
Make sure to come back for more on Travel & Living in Dubai & Abu Dhabi. Follow us on Pinterest and Youtube too