Dubai is a huge city to explore and thus why knowing How to Use Public Transport in Dubai is so important.
Dubai, is known for luxury shopping, aesthetic sense of architecture and a worth experiencing nightlife scene. The city welcomes millions of tourists every year from all the corners of the world, covering an area of 4,114 square kilometres.
When you step into a new city, there are two things that can worry you the most; the language and transport.
Below we have worked hard to put together a Full Guide to Getting Around in Dubai. Therefore, you can enjoy the many attractions Dubai has to offer without the stress symbolising dark circles and wrinkles.
For those who would rather watch than read, we've put this article into a brief video below!
A Brief Look at Public Transport in Dubai
Dubai, being a tourist rich country, is well connected by air, road and railways. All modes of transport within the city are controlled by the Roads and Transport Authority (RTA), an agency established by the Government of Dubai in 2005.
In peak tourist months, public transport faces a lot of congestion but in other months it runs smoothly for both residents and tourists. Apart from on-ground railways, there are facilities of underground Metro Railways which offer a more comfortable ride to its passengers.
Dubai, being a peninsula also encourages water as a mode of transport for travelling from one part of the country to the other. Additionally, this can offer a scenic route of travel for tourists and a chance to view some of the marvels of the city from a unique angle.
The most popular ways to travel around Dubai are:
Bus
Metro
Tram
Taxi
Water Taxi
Palm Monorail
Abra's and Dhows
Seaplanes & Helicopters
Car Rental
Bike Rental
Nol Cards for Travel
The word 'Nol' may sound uncommon to people from other continents. However, it is an Arabic word meaning "fare" or "transport cost".
Nol Cards are digital cards which are used by both the citizens and tourists for cash-free travel. Public transport in Dubai has recently been catapulted by the introduction of the Nol card.
Nol cards can be used for all available modes of transport; like metro, buses, tram and waterways. There are special concession schemes available for senior citizens and students too. Moreover, this card is easy to use by tourists who may have little knowledge about the currency of the country.
To get a Nol card, hop into the nearest tram or metro station. Make sure you maintain a minimum balance of AED 7.50 on your card. 
For more information on Nol Cards and Metro prices visit the website here.
The Best Method of Public Transport in Dubai?
The Dubai Metro is the first urban train network in the Arabian Peninsula. It is a fully automated driverless underground railway system. The Dubai Metro operates on two different routes (red and green lines for financial and residential areas respectively), providing commuters with convenient means of travel across the emirate of Dubai.
The entire city is connected by a well-designed network of metro rails which are frequently used by locals as well as tourists. Furthermore, the Metro runs seven days a week.
Terminal 1 and 3 of Dubai International Airport also houses a metro platform for visitors. You can get yourself a Nol card and avail the facility of travel by metro from the airport too.
Website: Dubai Metro Official Website
Car Rental in Dubai
A spin-off from public transport in Dubai; car rental. The best trick to a comfortable and hassle-free journey is to book a car from the airport itself. If you are into immense sightseeing at a very short time, then there is no better option than rented cars.
You can pre-book cars from online sites that are available or also book cars from the Dubai International Airport campus when you reach there. Although it is not cost-effective, a journey on rented cars renders privacy and a comfortable atmosphere while travelling to your destination.
Cars are also available for rent when you visit one tourist spot to the other and also from hotel to a tourist spot and vice versa. 
For a Full Guide on Renting a Car in Dubai Check Our Guide.
Taxis in Dubai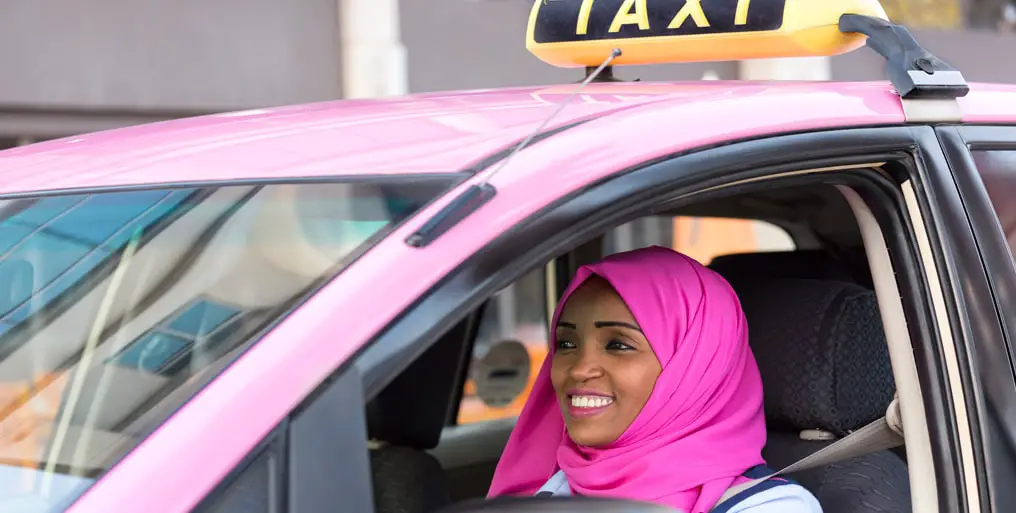 Taxis are widely available in all streets of the city. They are mostly cream coloured which circulate in the main areas but you may also get to see some with pink stripes.
Pink and white taxis in Dubai are driven by female drivers and cater to the travel needs of women and children. This was something very uncommon in the Arabian Countries a few years ago.
There are more than three thousand taxis of all the five operators running in the city. Getting a taxi is easy nowadays with the facility of online booking options but it's better to have the Nol card. Many taxi drivers in Dubai now refuse to take cash, especially since the emergence of COVID19.
One of the great things about using a taxi in Dubai is the cost. Compared to most other major cities around the world, taxi rides in Dubai are one of the cheapest!
| | |
| --- | --- |
| City | Average Taxi Cost Per Km |
| Dubai | 1.85AED |
| London | 11.50AED |
| New York | 5.77AED |
| Sydney | 7.30AED |
Buses in Dubai
The streets of Dubai are filled with many buses travelling on different routes. Furthermore, there is the facility of both air-conditioned and non-air-conditioned buses and there are well-maintained bus shelters for the passengers to wait.
Travelling across the city of Dubai on buses is highly cost-efficient and you can literally enjoy the ride whilst protecting your wallet. Another point to remember is that buses in Dubai do not accept fares in cash. You have to have a Nol Digital Card to travel by bus.
No mode of transport can flush your eyes with the paradise of the city as the street buses do. So, as an one-time visitor, you should not let go of a chance to travel in Dubai by bus. 
Website: RTA Website for information on bus routes and prices in Dubai
Dubai Railways
Etihad Rail is the official railway that has been running in the countries of United Arab Emirates (UAE). The construction of railways is aimed at developing the quality of transport with a focus on affordable and equitable access for all.
Being a tourist, you cannot afford to miss a trip to the Dubai Railways among the local people of the city to breathe the aroma of the city more. Although on ground railways are less in number in the city of Dubai, yet they connect important places to visit. It is cheap and affordable to travel to the city by railways.
Website: Etihad Rail Network Website
Dubai Water Taxis
Dubai is surrounded by water on three sides. Moreover, it has a highly active network of transport that runs on water. There are two major commercial ports in Dubai, Port Rashid and Port Jebel Ali. These ports are used for the import and export of business goods.
The main attraction of the waterways is the Dubai Water Bus System implemented in recent years by the Marine Transport Agency. These water buses are a fully air-conditioned and covered boat service across several famous destinations.
The very recent addition is the water taxi which is an attraction to both Asian and European country folks. These water taxis run every day from 10am to 10pm and can accommodate ten people at a time.
Water Taxis in Dubai can be had for small trips for as little as 1AED per person. However, depending on the type of taxi you choose and whether you are hiring it private, these costs can go up to as much as 400AED per hour; which is absolutely justified for an adventurous water ride. 
For more information on water taxis in Dubai check out the website here.
Dubai Tram
Along with other transportation services and vehicles, there comes the tram.
The Dubai tram is one of the famous tramways used by the majority of local people and tourists alike. It is operated by the private company of Serco. It runs for a total of 14.5 kilometres (9.0 miles) from Dubai Marina to Palm Jumeirah.
The tram passes through 11 stations and has an average speed of 20 km/hr but can travel speeds of up to 50km/hr. Furthermore, the Dubai tram runs on electricity. The tram has been linked with Dubai Metro by Dubai Roads and Transport Authority.
Tram fares are just 3AED per trip irrespective of the distance travelled which is a great advantage to the people who are wanting to participate in some hop-on, hop-off sightseeing. The tram has a majestic length of 44 metres in length capable of carrying 408 passengers at a time. 
Conclusion
Now that you have an overview of the picture of public transport in Dubai it is much easier for you being a first-time tourist. You can now rest easy that getting around Dubai is both cheap and easy.
The main thing to do before travelling to see the magnificent city of Dubai is to buy a Nol Card and keep sufficient balance on it. Apart from travel, this card is used in shopping malls and food courts too. This can also help you not to worry about the currency and being biasedly charged for being a tourist.
Take your backpack, stuff the necessary things of daily use and book the next flight to Dubai; it will be a trip worth remembering!
Thanks for reading. Make sure to come back for more on Travel & Living in Dubai & Abu Dhabi. Follow us on Pinterest and Subscribe to our YouTube channel too!
Public Transport in Dubai FAQs
Do Bus and Taxi Drivers Speak English in Dubai?
Although Arabic is the common language of the country, people do understand English, so you will not face a massive problem even without a translator. 
Do I need to Carry Any Documents Whilst Travelling Around Dubai?
Your Visa, Passport and if you are a student or a senior citizen, then remember to carry your age proof certificate or school ID proof details. Also, remember your Nol card!
How Do I Travel From Burj Khalifa to Burj Al Arab?
The best method is a rented car, but if you want a cost-efficient way then take the public bus. Travel time is around 45 minutes. Buses running on line 81 will charge you a fare of AED5 to AED7 which is pocket change to most!
Are Public Buses and Metro's Overcrowded in Dubai?
Yes, at peak hours of the day they remain crowded by both locals as well as foreigners. Moreover, holiday months add to the crowd of public transport. 
What is The Cheapest Means of Transport in Dubai?
The answer is no doubt public buses and Abra Boats. Fares as low as 1AED from one stop to another. 
What is the Most Time Efficient Mode of Transport in Dubai?
The Dubai Metro is up there with the worlds most cost and time efficient mode of transport.