The UAE is an extremely respectable country with Muslim background. Drinking alcohol out in the open and not wearing your shirt in public are two of the main sins here and a huge mark of disrespect. However, many people are led to believe that Dubai's nightlife is non-existent due to stricter rules than most places in the west.
Let us show you right now how far wrong those people are! So what is nightlife like in Dubai?
First of all, Dubai proves to us all that cities can be clean and respectful and still enjoy a good nightlife; It's just that the west don't seem to have mastered this yet.
Dubai continues setting the bar high with everything it does. It's not just nightclubs and posh hotel lobby bars that brings Dubai to life at night though; some of the most famous artists around the world visit on a weekly basis, from 50 Cent to David Guetta.
Rooftop bars at the best luxury hotels, nightclubs and mega beach discotheques are just to name a few of the many fantastic places Dubai has to offer people looking for a vibrant nightlife.
Check out the short video below from DubaiNight.com which will give you a taste of what's on offer when out at night in Dubai.
Information on Dubai Nightlife
The drinking age in Dubai is 21 and there is a strict policy on this so make sure you don't forget to bring out your ID.
Furthermore, due to various licencing laws, alcohol is only allowed in certain premises. This will be either inside hotels or clubs and there will be no drinking off premises or taking anything out into the streets.
Police in Dubai will not tolerate drunk and disorderly behaviour so please make sure you conduct yourself in the best possible manner whilst also having a great time. Tens of thousands of people manage to do this every week so we are sure you can too!
Make sure you grab a cab at the end of the night to prevent you banging against the walls on your walk home and being stopped by police!
What Days are Nightclubs Open in Dubai?
The regular working week in the UAE starts on a Sunday and ends on a Thursday. Thus, Thursday's are Dubai's version of other countries' Fridays. Due to this, most clubs open their doors or are at their busiest on Thursdays and Fridays.
A lot of hotels and bars in Dubai host ladies nights and this seems to be a growing thing around the UAE hotspot. Ladies nights are usually hosted on Tuesdays and Wednesdays and most of the time the venues offer free food and drinks!
What Time do Nightclubs Open in Dubai?
Most nightclubs in Dubai open up around 9pm and close their doors at 3am. There is a ban on clubs staying open beyond 3am in Dubai but certain places hold a special licence for event nights and do open until 4am.
What is the Dress Code in Dubai Nightclubs?
Dress codes in Dubai nightclubs are like most other cities. People will be turned away at the door for turning up in jeans or shorts. Women are ok wearing dresses and mini-skirts (but not too mini), and men are expected to dress smart but can be casual too.
There is a strict policy on large groups trying to enter hotel bars or nightclubs in Dubai so make sure you break off into couples. Do not be surprised to be turned away for being loud and inappropriate before entering the premises.
Where to go Clubbing in Dubai?
Next we take a look at where you can enjoy Dubai's nightlife. Most hotels have fantastic bars and rooftop terraces to enjoy Dubai club nights which we will take a look at. Then, we have Madinat Jumeirah, Jumeirah Beach, Dubai Marina and Nasimi Beach.
Jumeirah Beach Residence Nightlife
1. Bliss Lounge at The Sheraton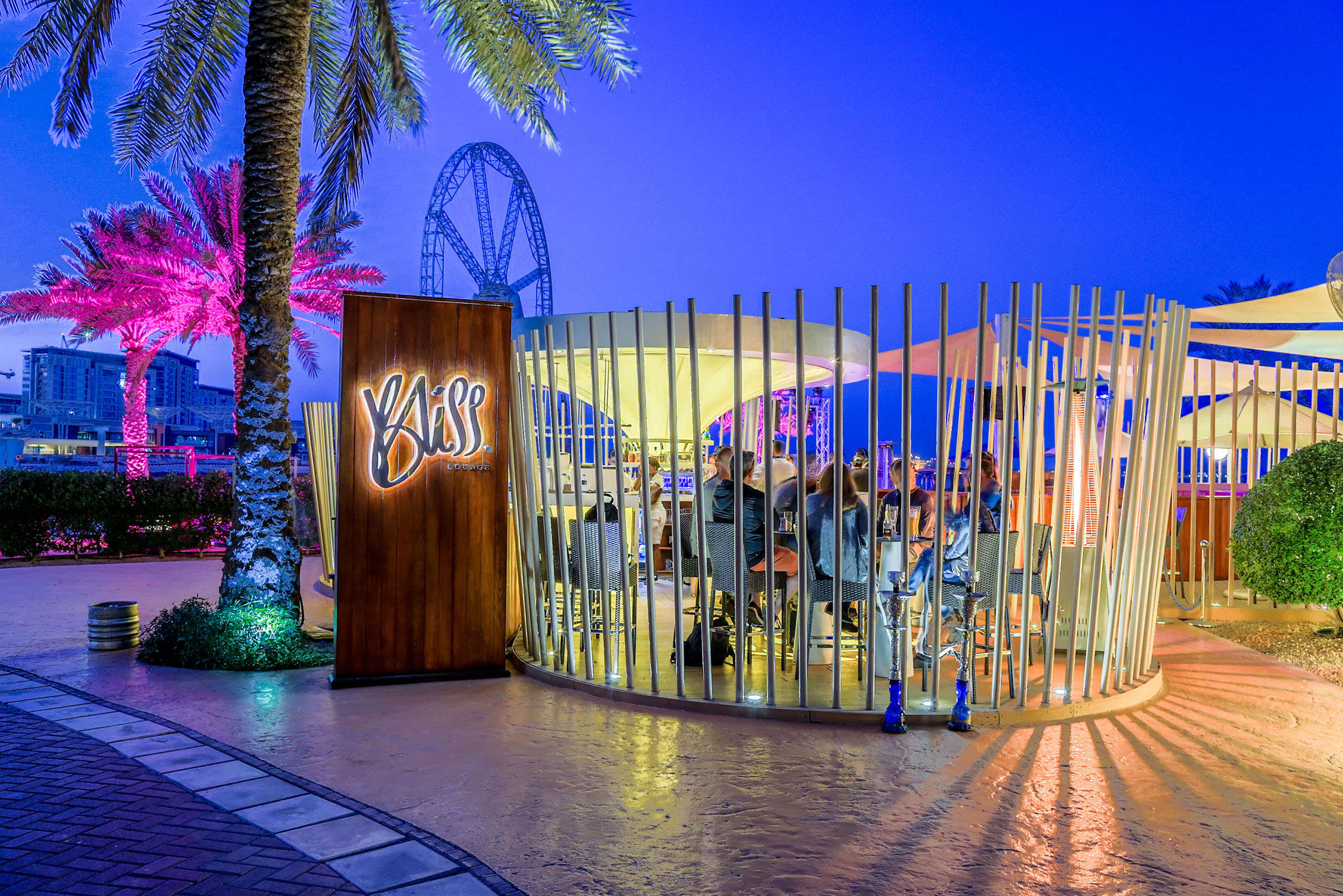 In no particular order we start of with Bliss Lounge, which is situated at The Sheraton Hotel on The Walk, Jumeirah Beach Residence. Furthermore, this classy beach bar overlooks the new Bluewaters Island and extends it's dance floor out onto the perfect white sands of Jumeirah Beach.
A speciality bar in cocktails, Bliss Lounge plays chilled house vibes well into the night and is the perfect place to kick back and have a few chilled drinks with family or friends. In addition, kids are welcome on the premises until 10PM.
They host gents nights on Saturdays where gents can buy house beverages with mixers for 25 AED. Ladies nights at Bliss Lounge are on Wednesdays.
Bliss Lounge at The Sheraton Location
Timings
Lunch: 12:30 – 17:00
Dinner: 18:00 – 1:30am
Kids Welcome Until 10PM
Happy Hours: 16:00 20:00 (Everyday)
Gents Nights: 20:00 – 2:30am (Saturdays)
2. BiCE Sky Bar
Next up, located on the 10th floor of the Hilton Hotel, BiCE Sky Bar. This bar hosts Italian food and a huge selection of wines and cocktails. Probably one of the best bars on JBR for a view of Bluewaters Island, The Palm and JBR The Walk at night all lit up in its' fantastic glory.
There's something trendy about the atmosphere in this bar that makes it a date-night worthy destination for fine food, wine and a view. BiCE serve Italian food from their Ristorante and drinks can be had at the Sky Bar but make sure to book a table if you want to visit either as this place is very popular. You can book a table HERE.
BiCE Sky Bar Location
7 Days a Week: 19:00 – 23:30
3. Lock Stock and Barrel
Barsha Heights has a Lock, Stock and Barrel but I personally prefer the one at The Walk on JBR. This place concentrates its energy on bar party nights with good live music and sports on TV.
Lock, Stock and Barrel JBR also provides top quality street food from all corners of the globe and has a huge selection of beverages to suit most palettes. If you're looking for a lively bar atmosphere then this is the place to visit. The bar is located at Rixos Premium Hotel and pretty much half way down The Walk.
Lock Stock and Barrel Location
Sunday – Thurs: 16:00 – 3:00 am
Friday: 12:00 – 3:00 am
Saturday: 14:00 – 3:00 am
4. Inner City Zoo
The other club located at Rixos Premium Hotel is Inner City Zoo. This nightclub is one of the most exciting in JBR and prides itself on bringing out the wild side of people. The club hosts dazzling performances from the Inner City Girls throughout the night to the sound of urban beats. Ladies nights are always a hit too on Tuesdays and Wednesdays.
The club is designed incredibly with a fine mix of lounge areas to sit and drink with friends to an electric dancefloor just a few footsteps away. Inner City Zoo has a friendly atmosphere whilst at the same time being incredibly edgy, which makes this place one of the best night club spots on JBR.
Inner City Zoo, Dubai Location
7 Days: 23:00 – 3:00 am
Website: Inner City Zoo Dubai
5. Stereo Arcade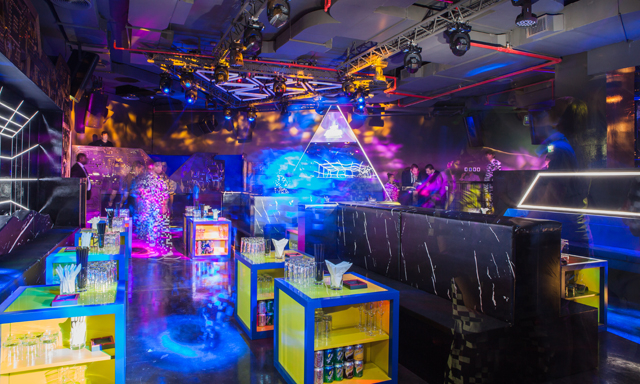 Located at The Double Tree by Hilton and one for the casual clubbers. Did I just say casual clubbers? This place mixes clubbing with casual vibes in a chilled out setting. Neon lights direct you to the dance floor and the retro drinks tables actually have drinks and glasses inside them!
Stereo Arcade still has some of the best resident DJ's around JBR and at weekends the music is turned up a little more and so is the atmosphere. In addition, here is a retro arcade where you can chill with drinks playing the old 80's and 90's games from Mortal Combat to Pac Man. RnB and Hip Hop are the main music vibes here.
Stereo Arcade Location
7 Days: 18:00 – 03:00 am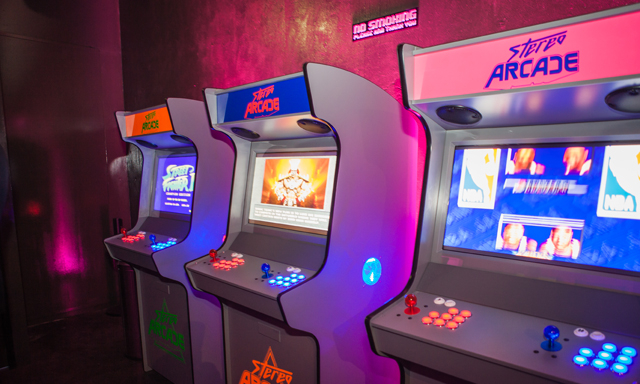 Dubai Marina Nightlife
Just a stones throw behind the hustle and bustle of Jumeirah Beach Residence we have the swanky city feels of Dubai Marina. The marina is home to many fancy yachts, amazing skyscrapers, hotels, restaurants and bars. One of the best places to grab a photo at night when everything is lit up.
1. Zero Gravity
Located in the Sky Dive Dubai drop zone at the end of Jumeirah Beach Residence; Zero Gravity hosts incredible views looking back towards JBR and Bluewaters Island. As host DJ's play chilled beach vibes throughout the day and long into the night you can relax by the pool and pool bar and take in the arabian sunshine.
There is an ultra modern two-tier restaurant here and several trendy terraces which aids the daytime chilled pool vibes to night time party theme transition seamlessly.
This venue serves brunch and lunches and also dinner under the stars if desired. Furthermore, once the sun starts to descend the venue transforms into a state of the art nightclub with international DJ's performing here every week.
Zero Gravity Dubai Location
Sunday-Monday: 10:00 – 21:00
Tuesday: 10:00 – 12:00 am
Wednesday: 10:00 – 21:00
Thursday: 10:00 – 3:00 am
Friday-Saturday: 10:00 – 21:00
2. Bar 44
A place for the "sophisticated drinker", Bar 44 servies up some of the best cocktails in Dubai Marina. In addition, there's a stunning range of single malts and champagne on offer too. Wine lovers are also welcomed here as the wine menu leaves absolutely nothing to be desired.
Many flock to Bar 44 once the sun descends as the go to chic bar in the area. Located on the top floor of Grosvenor House Tower One, this venue boasts fantastic views of the marina below and the promenade of JBR.
Bar 44 Dubai Location
Sunday-Friday: 19:00 – 3:00 am
Saturday: 19:00 – 12:00am
3. Buddha-Bar
Located the other side of the water to Bar 44 is Buddha-Bar. The bar has recently had a makeover and the new stunning interior will have you in awe. The food is inspired by tastes of Japan, China and Thailand and is by far the best asian restaurant to eat at on Dubai Marina.
For drinks, relax at one of the stunning lounge bars upstairs whilst sipping cocktails from the endless list available.
Buddha Bar Dubai Location
Thursday-Friday: 19:00 – 2:00 am
Saturday-Wednesday: 19:00 – 1:00 am
4. Shades Dubai Marina
Situated on the 4th floor of the Address Hotel and at the heart of Dubai Marina. Shades offers unrivalled views of the water and many yachts that sail by.
Head here at the weekend for brunch and a saxophonist for the feel of a trendy date. There's a chill out lounge here which also serves mediterranean food as well as refreshing smoothies, but you're really here for the cocktails and beers by its infinity pool overlooking the Dhows in Dubai Marina.
Shades – Dubai Marina Location
Saturday-Wednesday: 09:00 am – 2:00 am
Thursday-Friday: 09:00 am – 1:30 am
5. Atelier M at Pier 7
Anyone who knows Dubai Marina knows that Pier 7 is the place to be long into the night. Not many people know about the extra floor at Pier 7 which is floor 7M. Just above the swanky french and italian restaurant, Pier 7 hosts Atelier M rooftop bar.
Sit and relax whilst enjoying some shisha or take advantage of the special drinks offers they have on Sundays and Mondays.
Atelier M Location
Souk Madinat Dubai Nightlife
For a taste of the old town of Dubai, head to Souk Madinat. Located north of The Palm Jumeirah and at the foot of The Burj Al Arab, this place is best to hit for chilled vibes, casual drinks and vibrant food.
1. Bahri Bar
Sit back and enjoy the breathtaking views of Burj al Arab whilst soaking up the soulful beats of the house DJ (Weds-Sat 20:00). Bahri Bar is one of the most popular bars to hit when visiting Souk Madinat.
Like most places where you can drink in Dubai, you can also have dinner and shisha. However, for drinks, the main reason you'll be hitting Bahri Bar is because of its fine selection of wines.
Bahri Bar Location
7 Days until 2:00 am
2. K Lounge
K for Karaoke! Situated at the back of Souk Madinat towards the exit this bar is great for those livelies who love a sing song.
K Lounge Dubai Location
Website
3. Al Fayrooz Lounge
This gorgeous indoor terrace with unrivaled views of the arabian gulf and Burj al Arab serves the best afternoon tea in town. Plus by night the bar livens up and serves drinks until the early hours.
Al Fayrooz Lounge Location
Jumeirah Beach Nightlife
Jumeirah Beach, not to be confused with Jumeirah Beach Residence (The Walk), is an up-market area on the coast of Dubai.
This place is dotted with nightclubs all along the streets. Every night, this particular area in Dubai awakens in a fresh aroma of celebration. From live music to dance shows, from bright light to the dark pubs, Dubai Jumeirah Beach opens up a new window for the tourists at night.
Here are the top 5 nightclubs in Jumeirah.
D & A Jumeirah Beach Hotel- This hotel and nightclub are designed obeying the style of British Gastropubs. The open terrace and the astonishing view of Burj Al Arab Jumeirah make your night more exciting.
Uptown Bar, Jumeirah Beach Hotel- This spacious nightclub is located on the 24th floor of the Jumeirah Beach Hotel. You get to see a striking skyline from the top of this nightclub.
Beach Lounge, Jumeirah Beach Hotel- This is the perfect place for an escapade from the busy city life of Dubai. The azuring waters, the calm beaches and the peaceful setting make this nightclub different from the others.
360° Jumeirah Beach Hotel- This nightclub entertains every aspect. Be it good food or the interior decoration, the 360° Jumeirah Beach Hotel stands well ahead of other nightclubs in Dubai.
Gold on 27, Burj Al Arab Jumeirah- This incredible night bar allows you to visit the best hangout place in Dubai at night for an affordable cost. The decoration resembles gold and hence the name, Gold on 27.
Other Locations for Dubai Nightlife
Having looked at the three main tourist destinations for nightlife and a few places to check out in each, we now break down a further list of some of the best nightclubs Dubai has to offer in other locations.
1. Nasimi Beach
For the ultimate beach party by day or night, Nasimi Beach is the place to be. Located at The Atlantis Hotel on Palm Jumeirah this beach club hosts a relaxing bar with soulful beats by day and dance vibes with strobe lights by night.
You can choose whether to drink by the pool or the sea and the selection of wines, cocktails and tap beer are plentiful. Some of the biggest DJ's in the world come here to play so it is well worth checking out the schedule on their website to see if you need to book a ticket.
Nasimi Beach Location
Daily: 10:00 – 20:00
2. Barasti Beach Bar
How could I forget this one. Situated at Le Meridien Mina Seyahi Hotel and with views of Palm Jumeirah this place is the most popular nightclub in town. The setting gives the bar a magical touch as you can dance on the beach long into the night, entertained by some of the worlds best DJ's.
If you want to make a day of your trip here you can as Barasti serves burgers, fish & chips and tapas during the day and then gradually evolves into a party venue by evening.
Barasti Beach Bar Location
Sunday-Wednesday: 10:00 – 1:30 am
Thursday: 10:00 – 3:00 am
Friday: 09:00 – 3:00 am
Saturday: 09:00 – 1:30 am
3. Q43 Dubai
This international bar located in Dubai Media city serves fusion food by day and transforms into a packed party place by night. Q43 hosts some of the best parties in Dubai and can become extremely packed over the weekend period.
Q43 Dubai Location
Weds,Thurs & Sundays: 16:00 – 2:00 am
Monday-Tuesday: 16:00 – 3:00 am
Friday-Saturday: 17:00 – 3:00 am
4. Soho Garden
A cosmopolitan enclave, Soho Garden offers a diverse mix of pool lounging and party experiences. Thousands of musicians, DJ's and dancers flock to the eclectic playground here at Soho Garden which make is one of the top places to visit when looking for vibrant nightlife in Dubai.
Soho Garden Dubai Location
Saturdays and Sundays: 10:00 am – 2:00 am
Website
5. Billionaire Mansion Dubai
This one stop shop built by Billionaires Lifegroup in Dubai hosts dining, lounges a nightclub and a shisha terrace.
BOA is the nightclub situated on the 32nd floor of Dubai's Al Habtoor City. Celebrities travel to this club in their tens and host DJ's travel to play from all over the world. The club can host up to 1,000 people making it one the biggest in Dubai.
Billionaires Mansion Dubai Location
7 Days a Week: 20:00 – 3:00 am
6. Sensation Club Dubai
Sensation Club is One of the most popular night clubs in Dubai. This club witnesses the highest footfall per week. The best part of this club is that it remains open six days a week, Monday to Saturday. Hit this place up to enjoy the peak of nightlife in Dubai.
The Sensation Club is found in the heart of the Sheikh Zayed Road. Furthermore, make sure to pre-book a table as this place is busy most nights! Then hit the massive dance floor with your friends and party all night.
From world-class drinks to pools of music and party mood, Sensation Club is the best tourist destination for people who want to party in Dubai. This place hosts some of the best DJs in the city so you will be carried away in a wave of the latest music.
If you are wondering what to do this boring Monday evening, check out the Sensation Club events. Every Monday, the club organises Hip-Hop nights for the guests where the dance floor rocks.
Enjoy Dime Night on Tuesdays and Persis Nights on Wednesday. A desi nation night on Thursdays and a massive party night on Friday is all ready to keep you entertained throughout the week. 
The good news for the ladies is that there are no entry fee. For men, each ticket costs 20 EURO exclusive of all drinks. Guests are expected to wear a casual dress at the bar.
Sensation Club Dubai – Location
Monday – Saturday 11am – 3am
Website: Sensation Club Dubai 
7. BASE – Dubai
Base is located in the Dubai Creek area, not too far from Ras al Khor Wildlife Sanctuary.
This place was awarded the best night club in Dubai a few years back. Since that day, this club has seen an exponential increase in the number of visitors.
Whats more, the open rooftop with the ambient atmosphere at the club presents you with the perfect example of nightlife in Dubai. The entire place is visually appealing to all. Furthermore, there is an upside-down pyramid, which displays an array of colours. 
Base Dubai vibrates with some of the best singers and DJs across the world. Artists such as Jennifer Lopez, 50 Cent and Jason Derulo all perform here. Add to this some of the best DJ's in the world such as David Guetta and Axwell and you have yourself a top night out in Dubai.
A night full of live music under the open sky is what makes this place different from others. Base has an enormous capacity of 2000 people.
Entry fees vary over the days of the week and surge on special occasions. The entry remains free for ladies.
The light, ambience, performance of programs by top-class singers, a party under the open sky is what makes this place well ahead of all its competitors.
If it wasn't for the lounge setting and sophisticated bar experience, you may consider Base Dubai, to be a concert or festival.
BASE Dubai Location
Thursday – Saturday 10pm – 4am
Website: BASE Club Dubai
8. Boudoir
Boudoir is set on the Dubai coast, just north of La Mer beach and is one of the most expensive clubs around.
The ambience of the club and its surroundings are the major reasons why locals and tourists head to this place to enjoy the night. The club can accommodate approximately two hundred people at a time and is known for the perfect ambience.
Boudoir has organised top-class programs with International celebrities for the last two decades. The Boudoir Club is also well-known name in the arena of music and dance.
Every Tuesday, ladies night is organised where ladies move their feet to hip hop songs and sip on unlimited champagne. However, Wednesdays are also special in this club because they organise a special Urban Night. 
Casual, stylish dresses are preferred both for ladies and gentlemen. There is no dress code as such.
Boudoir Club Dubai – Location
Tuesday – Saturday 8pm – 1am
Website: Boudoir Club Dubai on Trip Advisor
COVID19 – What Nightclubs are Open in Dubai?
Dubai, like most other cities, suffered a heavy downfall in tourist revenue following the onset of COVID 19 and the norms of worldwide lockdown. However, as the situation gets better, a few clubs are opening their doors to welcome people back in.
Check the brief list below to see which clubs are open (November 2020).
White Beach at Atlantis, The Palm
Drift at The One&Only Royal Mirage
Wavebreaker Beach and Grill at The Hilton Dubai Jumeirah
Barasti Beach Bar at the Le Meridien Mina Seyahi
Beach by Five at Five Palm Jumeirah
The Penthouse
Secret Room
Sky 5
Other Things to do at Night in Dubai
Dubai is much more than significant monuments, expensive shopping and posh hotels. Take an escapade from your trip with a memorable night in Dubai. This night will certainly be the best of all nights in your life. 
Apart from the night clubs that we have already discussed, there are more perspectives of enjoying a night outdoor in Dubai. We have converged the best of all outing plans for you to explore more from this land. Check these super seven plans for merriment at Dubai during the night.
Dubai Marina: A Walk to Remember
One of the best places to visit in the city during the evening, Dubai Marina.
The Dubai Marina is stretched by the banks of the artificial canal. During the night, the water glitters with the reflection of light and presents a worldly view to the tourists. 
A stroll along a the Marina followed by a delicious dinner at a comfy restaurant is going to set your mood for the night. This place can really set the occasion. If your away as a couple and feeling the special occasion, I can think of worse places in the world to drop onto one knee! In fact, if it's a proposal you're looking for you can check out my Guide on Where to Propose in Dubai here.
Dubai Marina also plays host to some tourist shopping areas alongside the water. Many of the shops stay open until late so you need not worry about rushing.
For more information on Dubai Marina check out our guide.
Dinner at Atmosphere
You must have fantasised about dining in the highest restaurant in the world right? Well, this is going to be true with dinner at Atmosphere, the highest restaurant in the world, located on the top of The Burj Khalifa.
This has got to be one of the best things to do at night in Dubai. The views over the city whilst relaxing with dinner and wine will blow your mind.
The best part of this restaurant includes the world-class cuisine, cosy interiors and aesthetic setup.
The restaurant remains open from 7am to 11pm every day. Book your tables beforehand to avoid any last-minute disappointment. Furthermore, make sure you bring your credit card. The approximate cost of dining for two people is around 1200AED. 
The Walk at Jumeirah Beach Residence
Aside from the brilliant night clubs and hotel bars, The Walk on JBR is one of the best places to hang out at night. The Walk stretches for approximately 2 kilometres and is well enveloped by shops, food outlets, cafes, boutiques, Jumierah Beach and much more.
There is something different happening around JBR all of the time. For example, there are entertainment windows. These windows are there for a live performance of music, dramas and other shows. Sometimes the fair comes to town, or there may be a firework display on the beach, just because! The Walk JBR is a true reflection on what visiting Dubai is all about.
For more information on The Walk at JBR you can check out the full guide here.
Jump on a Dhow Cruise
It's a stunning idea to flow in a vessel coupled with the gentle waves of the water underneath. Dhows were originally attributed to the fishermen and sailors, but over the years have become tourist friendly.  
The royal boats, mesmerising lights, and the sophisticated interiors are a certain boost to your nightlife in Dubai. Often all these are accompanied by live music and dance shows on the Dhow itself. 
These Dhows are available from two locations; Dubai Marina and Dubai Creek. These two locations itself are referred to as Paradise of the Nation and a water journey across them will fill your heart with pleasure.
What better way to see Dubai at night than from the water? Enjoy the sights as you nibble contemporary Arabian dishes on the vessel.
The dhows are available from 9pm to 11pm every day. But, you have to book them well in advance. The cost of this fairy tale like night is 160AED for adults and 100AED for children.
Window Shopping at Dubai Mall
One of the must visit places in Dubai, The Dubai Mall. The Mall is open from 10am until 12am every day. So if your looking for something different on a night in Dubai, head to the mall.
The Dubai Mall has everything such as; retail, ice rink, restaurants, cinema, water fountain show, games centres and more!
For a more information check out my post on Things to do at Dubai Mall.
The Burj Khalifa
Burj Khalifa in Dubai offers one of the best views of the sunset in the world. When you are in Dubai for your next vacation, do not forget to head here for sunset.
Reach the bottom of the tower a few minutes before the sun goes down and watch the sun disappear from the horizon. Then, take the lift and reach to the top of the tower within a few minutes to experience the second sunset of the day.
For a better nightlife experience, stand at the top of Burj Khalifa for the next one or two hours and you will see how this busy city transits itself from the day time to the night time. Plug into your earphones and enjoy the game of light that the city plays after the sun sleeps over the horizon.
The tower remains open on all seven days a week. On Thursday and Friday, the tower remains open from 10 am to 12am for tourists to enjoy the prolonged nightlife.
On all other days, the tower remains accessible from 10am to 10pm. A view of the sun setting from the top of Burj Khalifa will cost you in the region of 250AED per person.
Desert Safari in Dubai
A wonderful idea for those who are not into parties, you can dive into a desert safari. The United Arab Emirates has a major portion of deserts, so why not utilise that to experience something different.
A starry night, brightly burning bonfire, and traditional dishes are enough to set your mood for the safari. If you are planning this for a group of people, then it is certain enjoyment will know no limit.
You can plan for a sessions like belly dancing, wild music or mimicry to make this night more memorable. Set up camp and you are done for the night. Crumble inside the small tents and enjoy this once in life experience.
Desert Safari's generally run from 4pm to 9am. The cost for the safari for a couple is approximately AED 130 depending on tour operator, which is within the affordable limit of most tourists.
Best Places to Stay for Dubai Nightlife
You must be on your toes to save some extra bucks during your trip to Dubai. The best way to do that is to book your hotel near to those places where you want to hang out. Cost and time of transportation can be cut down in this way.
In my opinion, the best place in Dubai for nightlife is Dubai Marina. This tourist-centric district is situated between the Jumeirah and the Palm and is dotted with vibrant spots for nightlife enjoyment. Whats more, the range of hotels to meet every budget and need are endless. The Walk at JBR is just a stones throw away too.
From world-class bars featuring DJs to quiet beaches, Dubai Marina has everything you need for perfect nightlife. Let us have a quick recap of the various things that you can do and enjoy at the Marina itself.
The Zero Gravity dance floor all set for a rocking dance party.
Take a stroll along JBR.
Nibble traditional cuisine at Azure Beach.
The all-time famous bar, Stereo Arcade for a full night party.
An adventurous night at Inner City Zoo.
Listen to live music from International DJs at The Stock and Barrel Club.
But before you decide on residing in the marina, you should decide the hotel and pre-book a room or two, depending on your needs. We have noted down the top 5 hotels in that area below.
The Best Places for Couples Nightlife in Dubai
Once you are in Dubai with your spouse, you will certainly be in deep search for the best nightlife places for couples. We have briefed the best nightlife places for couples that you can enjoy during your trip to Dubai. Scroll through these to know more about the lesser-known couple places in Dubai.
Pierchic Bar, Madinat Jumeirah
Pierchic is one of the most romantic places in the heart of Dubai. The ambience of the place coupled with the silence of the night brings a fantastic backdrop for romantic music. The sound of the sea beating against the shore, the gentle waves and a tune of soothing music playing in the deck give a cosy feeling for a perfect romantic set up.
Visit this place at night to enjoy some quality time in the lap of nature.
Pierchic Bar Location
Villa Beach
If you are crazy about a romantic dinner date on a beach in some far off land, then Villa Beach beckons you. With the perfect couple seating setup across the cold sand along the Arabian Sea, your date night just turned more perfect.
Moreover, if you or your partner belongs to the group of the foodie, then Villa Beach is the one-stop destination for you. You get to nibble some really tasty food in a sophisticated setup with your spouse in the Villa Beach.
Villa Beach Dubai Location
Miracle Garden
With your spouse by your side, you must be on toes to recreate those wonderful romantic moments that you have seen in movies and shows. The most popular among them were some garden landscapes where colourful flowers bloomed, and well-maintained gardens form the backdrop of every proposal.
The Miracle Garden in Dubai is the most extensive in the world with all types and colours of flowers. You will get a handful of perfect places to propose to your spouse. Remember to carry your camera along with you, the pictures taken here are going to be etched in your memory forever.
Dubai Miracle Garden Location
Dubai Nightlife During Ramadan
During the month of Ramadan, the city of Dubai and its people follow some strict norms. Apart from prayer timings, the people in the city also obey rules regarding working hours. Schools, colleges and offices mostly remain closed and people often restrict themselves from moving out during the day time.
A short while ago bars and nightclubs used to remain closed throughout Ramadan, but now the government has become lenient and keeping the viewpoint of tourists in mind. Shops and bars are allowed to open their windows after sunset.
The music in clubs and bars are not allowed to be too loud. Furthermore, bars have to take special care when choosing songs that are being played at this time.
A recent regulation has been issued, which says restaurants are allowed to serve food to the non-fasters. The restaurants open after sun sets and are allowed to serve customers till midnight. 
Since nightlife in Dubai does not revolve only around bars and restaurants, we have tried to put up here how other nocturnal attractions modify themselves in Dubai during the month of Ramadan. 
The beaches in Dubai remain low on people count to both tourists and locals. Other activities like horse riding and desert safari all remain open for tourists. Shopping malls remain mostly open after sunset. So, during the evenings you have no worries about finding entertainment.
If you have on board dinner in mind, even then there is no worry of backing up. Many cruises allow dinner on board, but there are some restrictions on the food that you will be informed beforehand.
Read this guide for more about visiting Dubai during Ramadan.
Ladies Nights in Dubai
Why should men have all the fun? Ladies, gear up for fun-filled nights in the most renowned clubs of Dubai, that too at an affordable price.
Almost all the nightclubs in Dubai offer special discounts on all their food and drinks to women on a particular day of the week. So gather all your girl-friends along and plan a dashing ladies night in the city's best clubs.
Although many clubs provide the facility of ladies night, you have to choose the best out of them. Take a look at the offers that various clubs are offering to the ladies below.
Kicker Sports Bar- Every Monday from 7 pm to 11 pm at a cost of 305 AED for two people.
Nara Pan Asian- Every Tuesday from 7 pm to 11 pm at a cost of 300 AED for two people.
Perry and Blackwelder's- Every Wednesday from 6 pm to 11 pm for 300 AED for two people. 
Level 43 Sky Lounge- Every Tuesday from 7:30 pm to 11:30 pm at a cost of 450 AED for two people.
Mitra Bar- Every Wednesday from 7 pm to 11:59 pm at a cost of 240 AED for two people. 
The City Grill- Every Sunday from 7 pm to 1 am at a cost of 470 AED for two people. 
Dubai is the only city in the United Arab Emirates that organises ladies nights every week. This event was mainly introduced to bring the Islamic ladies to the public front.
Hotels in Dubai with Nightclubs
Aside from the above, check out this list of other top hotels in Dubai with great nightclubs.
What Nightclubs are Open Till 4am in Dubai?
For those of you who like a late night, see below for the list of night clubs open until 4am in Dubai:
BASE Dubai
WHITE Dubai
Drai's
Sky 2.0
Toy Room
Conclusion
Thank you for taking the time to read about Nightlife in Dubai. We hope that this guide has given you some good insight and inspiration when planning your nights out in Dubai.
As you can see from our guide, Dubai surprised you at the start with its' quality and quantity of night clubs. Then we wandered further into the realms of what Dubai really can offer at night aside from clubbing.
Thanks for reading! Make sure to come back for more on Travel & Living in Dubai & Abu Dhabi, follow us on Pinterest and Youtube too.