Dubai is for most, their favourite tourist destination in the Middle East. This city has always been the playground of rich and famous. The whole city is dotted with endless tourist attractions and luxury hotels to keep you engrossed throughout your trip. Talking of hotels, one of the best in the world is situated here, Atlantis The Palm.
Apart from shopping malls and duty-free shopping, which makes Dubai stand apart is its mesmerizing architectural specimens. Dubai is the land of iconic buildings and hotels. However, nothing can beat the popularity of Atlantis The Palm. This place is not just meant to offer people majestic accommodation but to offer a whole new world of unprecedented luxury and indulgence.
Here we take a look at this iconic luxury hotel, things to do here, the facilities and rooms and of course, the cost of staying here.
Where is Atlantis The Palm
For those visiting Dubai for the first time you may wonder, Where is Atlantis the Palm?
Atlantis The Palm is the most iconic landmark situated at the top centre of Palm Jumeirah. The hotel is positioned at the outer ring of this artificial island and offers spectacular views of both the island and the sea. See below for the exact location of the hotel.
How to Reach Atlantis The Palm
Now you know where the hotel is located, you need to know how to reach Atlantis The Palm. Below I've put together a quick guide on how to reach the hotel via metro and taxi.
Getting around Dubai is relatively easy and this dazzling city boasts various modes of transport. The major part of Dubai's transportation is carried out by Dubai Metro, Dubai Taxi, Dubai Tram and Dubai Trolley. Each of them covers only a specific part of the city except the Dubai Taxi that runs across every nook and corner of Dubai.
How to Reach Atlantis The Palm by Metro
Let's cut straight to the point. There is no direct way to reach Atlantis, The Palm by Dubai Metro. However, you can reach the nearest point of the Palm Jumeirah Island by Dubai Metro. You can then jump on The Palm Monorail.
Below is a summary of how to reach Atlantis The Palm by metro from Dubai Airport.
Dubai Metro comes with two routes – the Red Line and the Green Line. The Green Line spans across Etisalat through the highly populated regions of Deira and Bur Dubai and ends at Dubai Creek. On the other hand, the Red Line runs through the most length of Sheikh Zayed Road till UAE Exchange (Jabel Ali).
From Dubai Airport Terminal 3 take the red line to Dubai Marina. This will take you around 45 minutes. Once at Dubai Marina change over and take the tram to Palm Jumeirah. This runs every 5 minutes. This will take you to the foot of Palm Jumeirah (Palm Gateway). From here take a 5 minute walk to The Palm Monorail. This will now lead you to within a few minutes walk of the hotel.
This method is not just cheap but it allows you to enjoy scintillating views of the island, thanks to its elevated track. A taxi ride can't do justice to the beauty of the island.
How Much Does it Cost to Reach Atlantis the Palm by Metro
All in all you are looking at no more than 25 AED per person for this journey from Dubai Airport to Atlantis The Palm.
How Much is a Taxi from Dubai Airport to Atlantis the Palm
Dubai Taxis run all through Dubai and even beyond its periphery. You can take a taxi directly from your location to reach Atlantis the Palm. Approximate cost of a trip from Dubai Airport to Atlantis the Palm is 100 AED.
Things To Do at Atlantis the Palm
Apart from enjoying your stay at masterful suites and spacious guest rooms, Atlantis The Palm is overloaded with a series of exciting things to experience. Let's take a look at them below.
1. Shop Until You Drop
If you are a shopaholic and staying at Atlantis, then you are at the right place to shop your heart out. Everything you need, Atlantis has brought all of them under one roof. Without leaving the luxurious comfort of your hotel, you can literally go on a shopping spree at Atlantis.
This beachfront resort houses luxurious boutiques, confectioneries, restaurants and global brand outlets. The primary goal of Atlantis shopping centre is to make every high-end international brand and luxurious thing available at your fingertips.
Collections of this shopping centre ranges from garments, jewellery, watches and perfumes to lip-smacking confectioneries. You can even spot an ATM here that dispenses gold bars!
2. Dine Underwater
Doesn't this sound ridiculous and equally impossible? But this is a hard reality at Atlantis. Thanks to Ossiano restaurant, you can plan for an extraordinary dining experience which is simply an out-of-this-world experience.
Walls of this marine restaurant are actually ceiling-to-floor glass boundaries of a marine aquarium. This luxury restaurant doesn't just serve diners with their sumptuous cuisine and impeccable service but allows the guests to be amazed with the stunning underwater scenes.
You may also surprise your loved one with a personal message conveyed by a trained scuba diver while you two are enjoying both the ambience and the food!
3. Take a Helicopter Ride
To give your luxury stay a little push, Atlantis offers an exclusive and customised helicopter ride for its residents.
In collaboration with Alpha Tours, the hotel allows you to take this breathtaking ride over the sparkling skyline of Dubai. Enjoy its marvellous landmarks from a slightly elevated and different vantage point. You can choose from three different tour packages – Dubai Skyline Premium Tour, Dubai Skyline Tour and The Ultimate Arrival & Departure Experience.
4. Unwind at ShuiQi Spa
After a fun-filled day, if you are looking for a place to unwind, come to ShuiQi Spa. This luxury spa is built to pamper you with immaculately designed spa massage sessions.
The spa comes with a variety of personalised treatments combining a holistic wellness approach and alternative medicines. ShuiQi Spa and Fitness is best to rejuvenate your body and mind amidst luxurious and calming surroundings.
5. Make Friends with Sea Lions
When you are at Atlantis, how is it possible not to get personal and up close with sea lions. These adorable marine creatures have been kept in a specially crafted niche called Sea Lion Point.
Book an engaging and interesting interactive session to meet sea lions along with their cute puppies. Sea Lion Photo Fun will help you to capture those beautiful moments. When you are at Sea Lion Point, you will get plenty of opportunities to kiss and cuddle with those amazingly friendly creatures.
Be ready to pay anything between $100 – $165 to enjoy your day with sea lions. You can enquire about the actual price of the sea lion interactive sessions from the assistance desk at Atlantis. Despite the price, the experience is worth the expense.
6. Relax on a Private Beach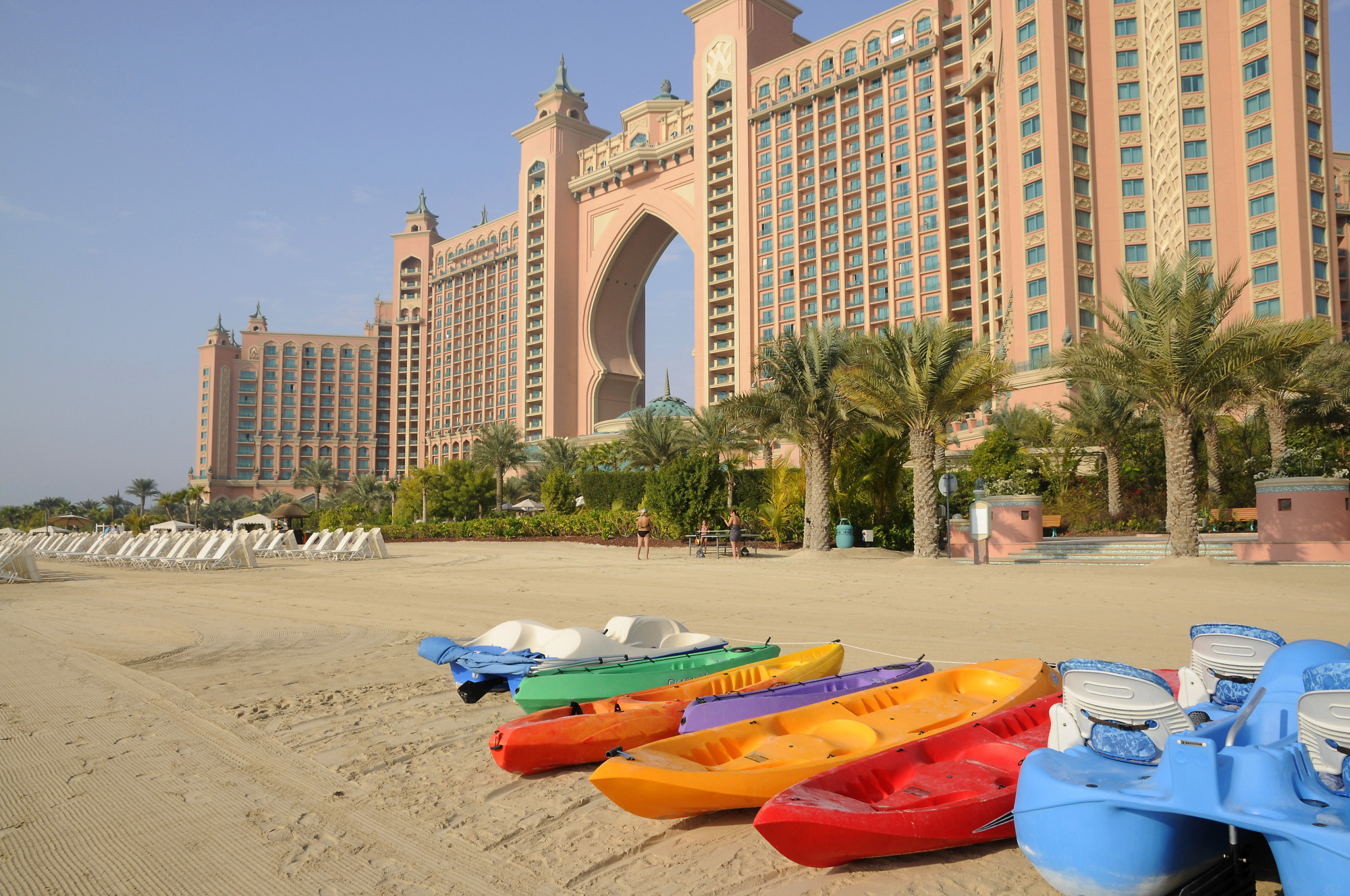 Atlantis The Palm is one of the best beach resorts in the world and there is no doubt you are going to have a great time at their private beachfront and poolside.
The hotel features a gleaming coastline stretching for almost 1.4 kilometres. This golden sand beach is loaded with a hoard of beach activities and water sports. Sleep, swim, sunbathe or just lay down to get into a perfect laid back beach mood.
Additionally, if you get bored, you can take out a canoe or a pedalo onto the pristine arabian waters.
7. Discover the Secret of The Lost Chambers of Atlantis
Atlantis will help you to revive the myths of Atlantis, the Lost Greek City with a specially designed water lagoon called The Lost Chambers.
This underwater aquarium is surely one of the best attractions in Dubai. Above all, this aquarium encloses 65000 marine inhabitants including eels, seahorses and sharks. You can choose to go on an interactive diving show to know more about those creatures and their interesting facts.
You can book your ticket for an expedition to The Lost Chambers from a wide range of options. It starts at $20 and can shoot up to $150 depending on what kind of activities you are including.
8. Pump your Adrenaline at Aquaventure Waterpark
When it comes to adding more thrill and adventure to your Dubai trip, Atlantis has it all. Aquaventure Waterpark promises to take you to a world of exciting rides and activities in the water.
Above all, the park encloses more than 30 slides and lots of attractions to make your visit memorable. If your heart is seeking more thrill, then take a ride along with its world record-breaking slides. For some safer activities with kids and family, head for Splashers Island. And animal lovers can seal their bonds with dolphins, sea lions and sharks at animal points.
Ticket for Aquaventure Waterpark costs AED 365 for adults. For children aged 3 – 12 years, it costs AED 290. Entry is free for children below 3 years of age.
9. Meet the Dolphins
At Atlantis, you will be at lost when it comes to choosing your activity as there are plenty of them.
How about meeting those intelligent and friendly dolphins at Dolphin Bay? You do not just meet the dolphins but you can grab a rare opportunity to play and swim with them.
Dolphin Bay is one of the best well-maintained habitats in the world for these beautiful marine creatures. If you aren't scared of taking a plunge, then go underwater with a specialized marine animal trainer and meet dolphins right at their home.
10. Indulge in the Fantastic Restaurants
Atlantis, The Palm is surely a paradise for foodies. If your passion is food, then you will get plenty of scope to tickle your taste buds with endless arrays of dishes – be it local or global.
The list of restaurants that Atlantis houses is lengthy for sure. Below is a list to help you in planning a perfect gastronomic splurge.
Nobu: This restaurant serves sublime Japanese-Peruvian cuisine under the supervision of chef Nobu Matsuhisa.
Hakkasan: This Michelin-starred restaurant is famous for its trademark dishes like orange-infused Hakkatini, Peking Duck and amazing cocktails.
Gordon Ramsay's Bread Street Kitchen & Bar: This star restaurant serves modern British dishes in a stunning warehouse setting.
White Restaurant: Famous for Mediterranean cuisines and drinks. It is perfect to cherish a sun-soaked afternoon in an open-air terrace.
Seafire Steakhouse & Bar: They are the ones who serve their own brand of cattle. This modern steakhouse is best known for American beef and delightful seafood.
Ronda Locatelli: Menu of this world-class restaurant is cured by celebrity chef Giorgio Locatelli and you can expect freshly prepared stone-baked pizzas, plates of pasta and more from its heavenly menu card.
Wavehouse: This restaurant is unique for sure and it is a stunning amalgamation of food, music, bowling, drinks and a state-of-the-art wave machine.
Kaleidoscope: Just like the name, this restaurant allows you to choose from its wide range of global dishes according to your preference. They redefined how complex food can be comforting too.
Enjoying a sumptuous meal at Atlantis restaurants can cost approximately $70 – $100 for one person. Charges fluctuate highly depending on the special menu you choose to binge upon. However, the quality and service is second to none and worth the expense.
New Year Eve Special Events at Atlantis
Dubai knows how to make grand celebrations but Atlantis The Palm knows the best. If possible, then never miss celebrating the New Year Eve with Atlantis.
The celebration is surely an extravaganza that will be etched in your memory forever. Fireworks light up the sky and let the world know that another New Year is knocking at their doors. It is that time of the year when Atlantis presents the greatest dazzling show on the earth while allowing you to mark a new and fresh beginning.
The hotel has many different options on offer for New Years Eve Gala Packages. These packages range from dinner in the underwater restaurant Ossiano to a Gold Package which includes all you can eat steak!
For more information on Atlantis new years eve package you can visit their page here.
Atlantis The Palm Room Types
This hotel is surely the most extravagant playground for tourists of all ages. However, your guide wouldn't be complete without checking out the many different room types.
1. Palm View Room
These spacious rooms come with a comfortable area of 45 – 47 sqm which is enough to accommodate a large bathroom along with a separate bath.
The rooms reflect sleek and contemporary designs inspired by the ocean. You can have partial or full views of Palm Island and Dubai's skyline from your balcony.
Palm View Rooms can be reserved with a choice of one king or two queen-size beds. These rooms are ideal for couples or small families to enjoy a blissful stay at Atlantis.
2. Ocean View Room
If you need too much of Vitamin 'sea', then book one of those Ocean View Rooms at Atlantis. They offer sweeping views of the expanding Arabian Gulf right at the top of the hotel.
To match the theme of the ocean, these rooms sport modern yet clean-cut interiors to reflect the majesty of the sea.
The rooms measure about 45 – 47 sqm paired with a balcony, spacious bathroom and one king or two queen beds. The 24-hour room service menu is included as a complimentary service from the hotel.
3. Executive Suite
When you are looking to inject more luxury into your vacation in Dubai, go for Atlantis's Executive Rooms. They are spacious and come with a sperate dining and living area.
Additionally, each room features a floor area of approximate 101 sqm incorporating a workspace and a kitchenette. Executive Suite is ideal for people who love to bring their home wherever they go.
4. Terrace Suite
Soak in more sun and more enthralling views of Arabian Gulf and the city with the Terrace Suite at Atlantis. Such a suite comes with a floor area of 94 sqm which is large enough to include everything you and your family may need. Interior of these rooms is dominated by the colours of the ocean.
You have the option to book Terrace Suites with one bedroom or with two bedrooms. If your family is a little bigger, then it will be best to choose the two-bedroom suite. Every Terrace Suite features a freestanding bathtub, vanity sinks, walk-in shower, balcony and connecting room.                                                                                                        
5. Regal Suite
Royalty comes free with the Regal Suites of Atlantis. These lavish 164 sqm rooms offer stunning views of both the city and the sea.
Paired with a sweeping balcony and an awe-inspiring master bedroom, the rooms have their own majlis lounge to make you feel more majestic. Regal Suites sports warm Arabian colours which almost brings the ocean to your room. Each room includes a spacious living room, bedroom, balcony and palatial ensuite bathroom with marble flooring.
6. Imperial Club Rooms
As the name suggests, Imperial Club Room brings a world of luxuries to you. When you book an Imperial Club Room, you are entitled to get free airport transportation along with a dedicated team of caretakers.
Breakfast is complimentary and you have access to the lounge on a private beach and your kids can enjoy their time at Kids Club.
These rooms measure about 45 – 47 sqm and sit at the 11th – 15th floor of the hotel. You can book Imperial Club Rooms with an option of queen or king-sized beds.
7. Royal Bridge Signature Suite
The Royal Bridge Signature Suite speaks nothing but ultimate standard of luxury. This room features three massive bedrooms, one lavish lounge, games room, media room and one 16-person dining room.
The interior of the room showcases a beautiful blend of intricate Arabic designs and modern plush styles. Royal Bridge Rooms sprawl over an area of 924 sqm making it ideal for big families.
Furthermore, with the room reservation, comes a dedicated team of butlers and chefs who will be at your service 24 hours a day!
8. Underwater Suite
Nothing can be so exciting like living in a room surrounded with deep blue water along with hundreds of marine creatures.
Underwater Suites are perfect for people who relish natural surroundings. If you have kids in the family, then this room will nothing but heaven for them to learn so much about the ocean.
Each room is well furnished with plush interiors. These 165 sqm rooms come with one king-size bed, 2 queen size beds, bathrooms and one sitting area. With Underwater Suites, you get 24-hour private butler services to make your living more luxury.
9. Presidential Suite
Spreading across a floor area of 220 sqm, The Presidential Suite is everything about grandeur and luxury. This room gives you splendid views of The Palm and the Arabian Gulf. Each Presidential Room includes a private lounge, large dining area and dedicated workspace.
Additionally, the sprawling balcony of the room gives you opulent scope to treat your eyes with Atlantis beachfront. It comes with complimentary adjoining room and 24-hour butler service.
10. Grand Atlantis Suite
When you are looking for a royal place to stay and get treated with unmatched amenities, take a look at the Grand Atlantis Suite. This spacious suite features an area of 429 sqm. Each of these suites offers spectacular scenic vistas of the Palm and the Arabian Sea.
In addition, the interior of these rooms also draws inspiration from the ocean and marine-themed fountains placed inside the suite welcomes every guest to extraordinary indulgence.
Furthermore, the suite consists of two bedrooms, bathrooms, a balcony and a separate dining area. When you are travelling with a big family, it is best to keep them at Grand Atlantis Suite.
How Much Does it Cost to Stay at Atlantis The Palm?
So, now you're fully engrossed in how fantastic Atlantis The Palm is, you want to find out how much it is to stay here? Well do not worry as our separate price breakdown has you covered in this article here.
Conclusion
As you can see from the guide above, Atlantis The Palm is one of the best hotels in the world to stay. Staying at this hotel may not cost you much initially for a standard room but by the time you endure in all of its endless experiences this may change. I'd recommend a stay here for the medium and high budgets.
Thank you for taking the time to read Your Guide to Atlantis the Palm. I hope this has given you all of the information you require for your trip to Dubai's Atlantis the Palm. For more travel information and tips on Dubai check out my blog. You can also follow me on Pinterest and Youtube.