Dubai's rich culture, mesmerizing sightseeing attractions, plethora of shopping options and perfect climate is ensuring the city is fast becoming an ideal place for weddings.
Whats more, Dubai has so many luxurious destinations to tie the knot. If you're wondering Where to Get Married in Dubai, then you have come to the right place.
The primary purpose behind hosting destination weddings in Dubai is to allow guests to enjoy the festivities while taking a relaxing holiday. And let us not forget the extended honeymoon that comes included for the couple.
Of late, many weddings are being hosted in Dubai. So, if you're planning to get married anytime soon, then consider saying "I DO" in Dubai.
Where to Have a Wedding in Dubai?
Now let us take a look at some of the many options for a Wedding in Dubai. Below are 13 of our favourites!
1. A Fairmont The Palm Wedding
Irrespective of whether you wish to have an intimate wedding ceremony or get married in grandeur, Fairmont the Palm is one of the best places to get married in Dubai.
Located out on The Palm Jumeirah, the vibe here is calm and relaxing. There's a private beach to enjoy as well as multiple venues to host your wedding in Dubai.
The available options include the outdoor Sea View Garden with the Dubai Marina skyline in the backdrop, an Arabian-themed wedding at the Palm Courtyard, or a sophisticated and stylish ceremony inside the Palm Ballroom.
The Fairmont The Palm wedding package includes 1 night's free stay at Fairmont, a three-tier wedding cake, and an unmatchable menu curated by the Executive Chef to suit the taste buds of your guests.
Website: Fairmont The Palm Wedding Packages
Fairmont Location & Wedding Capacity
Location: Palm Jumeirah, Dubai
Capacity: 350 to 500 guests
2. Tie the Knot at The Emerald Palace Kempinski
If a royal wedding is on the cards, then the Emerald Palace is the place for you. This place is certain to add a touch of elegance and luxury to your Dubai wedding.
You can have your dream wedding at this location by either opting for the rich and decorative indoor spaces or simply settling for the vast and spacious garden area. Don't miss out on the breath-taking décor and lighting that boosts the standard of this place. A must-have for any wedding.
What's more, there is the beautiful beach area to choose from too. Here, the breeze and calming sands will come to witness your wedding.
Another great reason to get married at the Emerald Palace is that they host Bachelor and Bachelorette parties!
Website: Emerald Palace Wedding Packages
Emerald Palace Location & Wedding Capacity
Location: Crescent West, Dubai
Capacity: 30 to 2000 guests
3. Le Royal Meridien Beach Resort
Themed-weddings are very in-thing in today's times. Le Royal Meridien Beach Resort bestows upon you this unique opportunity of hosting a traditional or contemporary wedding. The choice is yours.
Located on the famous Jumeirah Beach, this picturesque location will help you to preserve memories of your big day by making way for some stunning wedding pictures. Hosting an Indian wedding? Your rich Indian attire is sure to stand out in the pictures all thanks to this attractive landscape.
The gorgeous couple can either head to the beach or find their way amidst the lush green garden for more photographs. The professional and warm staff at this beach resort will not leave a single stone unturned to make your experience a delightful one.
A wedding of your dreams will unleash at Le Royal Meridien.
Website: Le Royal Meridien Wedding Packages
Le Royal Meridien Location & Wedding Capacity
Location: Al Mamsha St, Dubai Marina, Dubai
Capacity: 150 guests and above
4. A Luxury Wedding at Burj Al Arab
Despite the expense of the worlds only 7 star hotel, The Burj Al Arab has to make the list. If you're fortunate enough to have a health bank then read on, if not, skip to number 5!
This is your opportunity to host your wedding on a helipad, about 212m above sea level by planning your destination wedding at Burj-Al-Arab Jumeirah.  This 7-star hotel presents an array of unique, exciting, and customized features that will make your big day even more special.
Here, the couple gets to enter their wedding in style, in either the hip Rolls Royce Phantom or a classy Italian chopper. Even better, is the made-to-order wedding cake, where you get to choose the flavours.
Yet another out of the box add-on presented by this hotel is the presence of a wedding architect, who is responsible for bringing together a dreamy wedding for you. Likewise, an aromatic fragrance is created especially for your wedding celebrations.
Excellent hospitality and liberty to click your wedding photos before a gorgeous background is what awaits you at this class-apart property. If you have a widespread budget, look no beyond Burj-Al-Arab Jumeirah.
Website: Burj Al Arab Wedding Packages
Burj Al Arab Location & Wedding Capacity
Location: Jumeirah St – Umm Suqeim 3, Dubai
Capacity: 50 to 300 guests
5. An Oberoi Beach Resort Wedding
The 5th choice on our list of Places to Get Married in Dubai, The Oberoi Beach Resort. The Oberoi is actually located just a short drive outside Dubai in Al Zorah, but nevertheless provides a fantastic wedding venue.
Get to choose from multiple wedding venues such as the poolside, grand hall, or the outdoor courtyard. The beach is the most popular place to marry at this resort though, and being based outside of Dubai carries a calming influence to it with the towering skyscrapers in the backdrop.
If good food sits on the top of your wedding checklist, the world-class chefs at this hotel will leave you spellbound with the food quality, variety, and taste. Your guests will have a time of their life munching on one of its kind, delectable desserts.
Website: Oberoi Beach Resort Weddings
Oberoi Beach Resort Location & Wedding Capacity
Location: Al Zorah, Ajman
Capacity: 30 to 2000 guests
6. Get Married at Jumeirah Beach Hotel
Weddings are special, which is something the staff at Jumeirah Beach Hotel thoroughly understands. 
The moment you decide to collaborate with this hotel to bring in your big day, their team of wedding planners will sit down with you to understand your preferences. Here, they strive to lift the aesthetics and aura of your wedding celebrations.
From the red carpet, wedding cake, classy table linen and floral sets to premium food options, this hotel has much more on offer for the wedding of your dreams.
A wedding by the beach or amidst the beautiful floral gardens is what you get to choose. This hotel is close to Burj-Al-Arab. With Jumeirah Beach Hotel get your wedding professionally managed.
Website: Jumeirah Beach Hotel Wedding Packages
Jumeirah Beach Hotel Location & Wedding Capacity
Location: Jumeirah St – Umm Suqeim 3, Dubai
Capacity: 150 to 800 guests
7. Crowne Plaza Dubai
Get ready to be showered with undivided attention by planning your wedding at the Crowne Plaza Dubai. This spacious and stylish venue makes sure that your guests are welcomed with warmth.
Enjoy friendly service and easy-going surroundings at the Crowne Plaza. Their list of offerings includes a bespoke menu, floral décor, entertainment activities, and photography services planned especially in line with your expectations.
For over 20 years now, this location has hosted multiple weddings. From audio-video screens to bridal makeup rooms, everything is tastefully arranged at this location.
The Crowne Plaza Dubai has 3 different wedding packages available which are namely Silver, Gold and Diamond. Wedding packages here start from as little as 165AED!
Website: Crowne Plaza Dubai Weddings
Crowne Plaza Location & Wedding Capacity
Location: Sheikh Zayed Road, Dubai
Capacity: Up to 1,000 guests
8. Get Married with Armani
If you're looking for style, glamour and backdrop then look no further than the Armani Hotel. Take your vows at the foot of the Burj Khalifa and facing the Dubai Fountain if you choose. This place takes getting married in Dubai to the next level.
Depending on preference, you can choose between the lush outdoors or the elegant ballroom for your Armani Hotel wedding. Whats more, you will be pleasantly surprised to be treated to a sumptuous multi-tier wedding cake, baked by some of the world's best pastry chefs.
As a part of the wedding package, you get to enjoy overnight accommodation that includes the luxury spa facilities.
If you're someone who believes in unique and custom offerings, then this place promises you that. Giorgio Armani himself makes personalized picks for the couple to be. This is indeed the USP of this place.
Overall, The Armani Hotel comes out as a perfect place to make new beginnings.
Website: Armani Hotel Weddings
Armani Hotel Location & Wedding Capacity
Location: Sheikh Mohammed bin Rashid Blvd – Dubai
Capacity: Up to 600 guests
9. Dubai Polo & Equestrian Club
Who wouldn't like to add a countryside vibe to getting married in Dubai? If you're someone who would like to host your wedding on these lines, then the Dubai Polo & Equestrian Club is what you should be booking right away.
As you take your wedding vows, you will be delighted to be greeted by lush green polo fields that will be more than happy to be a part of your celebrations.
Irrespective of whether you prefer a day or night wedding, this club is apt for you. A day wedding looks perfect facing the polo fields, while a night wedding would be all dreamy under the beautiful starlit night sky.
However, the highlight of this club certainly remains the horse-drawn carriage in which the lovely bride gets to make a grand entry, an entry that will be etched in her memory forever.
Get married in an ambiance that supports grace and elegance only at the Dubai Polo & Equestrian Club.
Website: Dubai Polo & Equestrian Club Weddings
Dubai Polo & Equestrian Club Location & Wedding Capacity
Location: Al Qudra Road, Next to Dubai Studio City, 7477 – Dubai
Capacity: Up to 500 guests
10. Get Married in Dubai at The One & Only Royal Mirage
What better way of remembering your special day than hosting your wedding at the picturesque One & Only Royal Mirage.
You'll be lost for words as soon as you come across the breathtaking interiors of this beautiful resort. From well-defined arches, domes, towers, courtyards, green lawns to spick-and-span flowerbeds, this resort has much more than just this on offer.
Natural daylight pours onto this resort making your day wedding brighter than you would have ever imagined. The Royal Ballroom, which has a royal Arabesque setting, makes room for an awe-striking cocktail party or night wedding.
Myriad candles and private dining is the highlight of this resort. However, the cherry on the cake remains the fascinating entrance, which opens with Moorish wood doors that leads to a walkway that is lined by well-lit Palm trees on the side.
Picking the One & Only Resort makes for a perfect setting when getting married in Dubai.
Website: The One & Only Royal Mirage Weddings
One & Only Royal Mirage Location & Wedding Capacity
Location: King Salman Bin Abdulaziz Al Saud St – Dubai Marina – Dubai
Capacity: Over 200 guests at the Amphitheatre
11. Al Maha Desert Resort & Spa
A private wedding celebration in the desert, away from all the noise and chaos is what awaits you at none other than the Al Maha Desert Resort. This place offers you the Dubai wedding vibe that you may be looking for.
Al Maha Desert Resort allows you to get hitched in an aura where sand dunes stand tall in a backdrop built for star gazing. Whats more, don't miss the stunning desert sunset that adds the much-needed spark to your special day.
If you would like to have an outdoor venue when getting married in Dubai, then you need not look any further. This scenic spot is sure to leave you astounded.
With plenty of desert activities to be explored at this resort, your guests are sure to have a fun time.
A wedding that you have always dreamt of is what you will experience at the Al Maha Desert Resort.
Website: Al Maha, Dubai Wedding
Al Maha Location & Wedding Capacity
Location: Dubai Desert Conservation Reserve – Al Ain Rd – Dubai
Capacity: Up to 300 guests
12. Raffles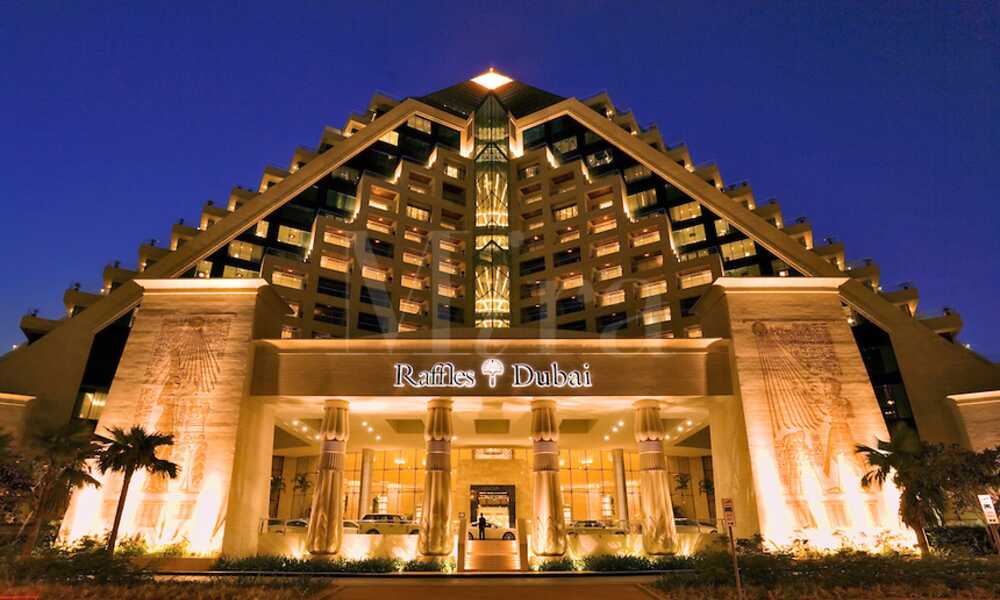 A place that offers you the liberty of hosting either a small and intimate or grand and lavish wedding affair is Raffles. If you're coming from India then this venue is pitch-perfect to carry out every wedding ritual that is crucial for the sacred culmination of an Indian wedding.
Raffles offers you a dedicated wedding specialist, who takes this once in a lifetime journey with you, guiding you at every step. The support continues on the day of the wedding too.
You can choose a theme and décor of your choice at this place. Whatever your requirement, it is sure to be complemented by the tasteful dark wood interiors that make Raffles class part.
Based on your preferences you can have your wedding food menu customised at Raffles Dubai.
Furthermore, you can host your wedding either at the ballroom; a cocktail party at the adjoining terrace or other wedding functions at smaller spaces within this venue such as the Luxor and Giza.
Website: Raffles Dubai Weddings
Raffles Location & Wedding Capacity
Location: Wafi – Sheikh Rashid Rd – Umm Hurair 2 – Dubai
Capacity: 100 to 350 guestsn
13. The Ritz-Carlton
You can now make your wedding day even more special and unforgettable by hosting your big day at The Ritz-Carlton. Here, you will be bestowed with one of its kind opportunity to have your Dubai wedding professionally managed.
You can have every little detail customized to your preference with the help of event planners, an in-house florist, and a creative culinary team, who will together help you to host a wedding of choice while keeping the Arabic vibe high and going.
Despite being one of the most affordable destination wedding venues in Dubai, this place stands out for its extraordinary and flawless services.
From taking your wedding vows while facing the exquisite beach to being spoilt with a booming landscape, lush green lawns, and traditional décor, this venue certainly has a lot in store not just for the couple, but also for the guests in attendance.
Let us not miss the lavish and luxurious suite, limousine service, and spa treatments that the wedded couple will be pampered with.
Wedding packages at The Ritz Carlton Dubai start from just 280AED per person.
Website: Ritz Carlton Dubai Wedding Packages
Ritz Carlton Location & Wedding Capacity
Location: 26 Al Mamsha St Jumeirah Beach Residence
Capacity: 800 to 1,000 guests
How Much Does it Cost to Get Married in Dubai?
The cost of getting married in Dubai can vary significantly with location and number of guests, especially If there's a bridezilla involved!
Based on the options above and the packages which are published, you can expect to pay anywhere between 250AED and 500AED per person to get married in Dubai. This is obviously without the cost of flights and accommodation too.
When you add the cost of travel to your wedding in Dubai, the cost can increase substantially. However, you have to off-set that cost by remembering that you won't need to pay for a honeymoon, as you're in Dubai!
Below is a table of the cost per person of each of the Dubai wedding destinations above. Some of the hotels only have prices available on request. It is also important to check before booking as many places have a minimum guest / spend amount.
| | | |
| --- | --- | --- |
| Hotel | Basic Wedding Package | Higher Wedding Package |
| Fairmont The Palm | 305AED | 425AED |
| Le Royal Meridien | 300AED | 500AED |
| Jumeirah Beach Hotel | 250AED | 470AED |
| Armani Hotel | 400AED | 500AED |
| Raffles Dubai | 260AED | 500AED |
| Ritz Carlton | 280AED | 500AED |
| | | |
| Average Wedding Cost | 299AED | 482AED |
| | | |
How to Get Married in Dubai
If you are serious about marrying in Dubai then now check out this full guide on How to Get Married in Dubai. There are a few things you need to know before you can marry over here so make sure you read this first.
Conclusion
If your wedding is on the cards, then make sure you fly to Dubai with a bunch of your family members and close friends. The idea should be to bring in the D-day festivities in style.
The many destination wedding venues in Dubai will make sure that your wedding is a lavish affair and equally or more enticing, had you taken your wedding vows in your home country.
Hopefully this article has answered your question on Where to Get Married in Dubai, but don't forget, Dubai has hundreds more hotels you can explore; these are just the best!
If you've gone through our list and still looking for inspiration then check out our Top 10 Beach Wedding Destinations in the UAE.
Thanks for reading! Make sure to come back for more on Travel & Living in Dubai & Abu Dhabi. Follow us on Pinterest & Subscribe to the YouTube channel too!