Dubai is not only fast becoming the world's most visited holiday destination but is also proving why it can rival the likes of Florida for kids. Yes we said it, FLORIDA! So, here are our top 31 Things to do with Kids in Dubai. Travelling with family? We've got you covered.
Why is Dubai starting to rival Florida for Kids? Well, if you take into account the year round sunshine, minimal amount of rain (no hurricanes), and the fact that Dubai is constantly expanding and adding new excursions and tourist attractions every day, then you can begin to see why.
Our ultimate guide on Things to do with Kids in Dubai is going to give you all the information you need when planning a family trip here.
Dubai's weather is extremely consistent with January being cool and dry but the summer months are raging hot. However, towards Christmas the weather is just perfect.
Temperatures in Dubai move up slowly and consistently until the middle of the year and back down again towards the end of the year. This is great for families as you can nearly guarantee no unexpected change in climate.
1. Wild Wadi Water Park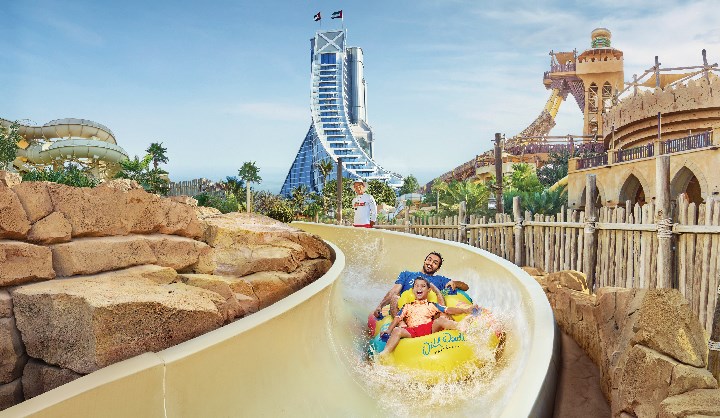 Wild Wadi Water Park is most definitely the best water park in Dubai. As a result this place is one of the top things to do with kids in Dubai. Situated at the foot of the worlds most renowned hotel, the Burj Al Arab, Wild Wadi Water Park makes for a great full day out with the whole family.
Wild Wadi is themed around the tale of Juha, a known character from the Arabian folklore.
Admission: Below 1.1 meters 249AED
Above 1.1 meters 299AED

Tip: Booking online will save you money.
Trip Advisor Rating: 4.5/5
2. Aquaventure Water Park
In our opinion, the second best water park in Dubai, is Aquaventure. Set at the top of The Palm Jumeirah at the Atlantis Hotel this water park has everything for all ages. Above all this waterpark is home to Dubai's longest lazy river and comes with access to 500m of private beach.
Animal lovers will feel at home here too as you can get up close and personal with Dolphins, Sea Lions, Sharks and Stingrays. Young families can take advantage of the shallow pool and water park at Splashers Island whilst older kids try the 30 different slides and attractions.
Admission: Tickets can be bought here.
| | |
| --- | --- |
| 1 Day Super Pass for Adults | AED 320* |
| 1 Day Super Pass for Kids | AED 260* |
| 2 Day Mega Pass for Adults | AED 350* |
| 2 Day Mega Pass for Kids | AED 290* |
| 0 – 2 years of age | Free |
Tip: When staying at Atlantis Hotel The Palm, complimentary park access and Lost World Aquarium is free. It is worth considering if travelling with a large family to book a family room and stay the night. Family rooms are around the 1300AED mark depending on dates. For example if travelling with 2 adults and 2 children, staying the night would actually save you money should you visit Aquaventure and Lost World Aquarium.
Trip Advisor Rating: 4.5/5
3. Lost Chambers Aquarium
The Lost Chambers Aquarium is also based at The Atlantis Hotel on Palm Jumeirah. Dubai is host to the UAE's largest aquarium and an impressive one at that. Another reason to stay at the night at The Atlantis Hotel is that access here is also free.
Explore the untold mysteries of the ocean and have the children learn amazing facts about the 65,000 different marine life in the aquarium. In addition for more entertainment and learning take a look behind the scenes or book snorkelling, diving and Aquatrek.
Admission: Adults: 100AED
Children 80AED
Tickets can be bought here.
Tip: Visit The Lost World Aquarium for free as part of your Aquaventure ticket admission. Even better, stay the night as above and access both for free.
Trip Advisor Rating: 4.5/5
For more information on the Top 5 Aquariums in Dubai visit the guide here.
4. Legoland Dubai
The ultimate theme park for toddlers to early teens and in the sun. Where better to visit in Dubai with the children than Legoland.
The perfect day out for families with children of ages 2 to 12. Legoland is not only a theme park but also a water park too. Your time at Legoland Dubai will fly as there is so much to do and see for the kids.
In addition there are 60 rides, water slides shows and Lego building experiences to enjoy. For those wishing to extend their experience there is also Legoland Hotel Dubai coming soon in 2020.
Legoland Dubai Admission Costs
| | | | |
| --- | --- | --- | --- |
| TICKET | LEGOLAND | LEGOLAND WATER PARK | DUAL TICKET |
| 3+ YRS | 275 AED | 275 AED | 295 AED |
| UNDER 3 | FREE | FREE | FREE |
Tip: Buy the dual park tickets, for an extra 20AED to use the water park too. Food costs inside the park are expensive so make sure you read our guide on the cost of Legoland Dubai for useful hints and tips.
Trip Advisor Rating: 4/5
5. Emirates Park Zoo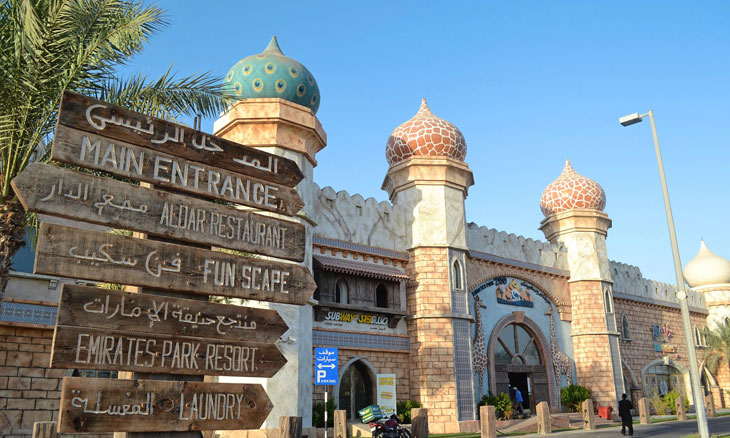 Emirates Park Zoo is situated in Abu Dhabi, a short 1 hour and a quarter taxi ride from Dubai. This Zoo is better than Dubai Safari Park and well worth the travel.
Here you can take part in a whole host of activities from Elephant encounters to driving adventures around the park. Children can also ride camels and help to feed the animals.
What's more, the zoo also has a resort hotel. If you don't want to travel to and from Dubai in the same day then opt to stay the night here to split up your journey. Zebras, Giraffes and Tigers are just steps from your room.
The rooms at the resort offer amazing views of the cave or wild animals and the guests can enjoy luxurious pool areas and pool bars too. Kids can also learn more about animals during educational fun shows and activities led by Animal Specialists in the zoo, and much more.
A full review of the resort can be found HERE.
Admission: 40AED
Tip: If your spending the whole day in Abu Dhabi or even plan to stay the night at the resort hotel, make sure to buy the dual ticket which gives you the Abu Dhabi city tour as well.
Trip Advisor Rating: 4/5
6. Dubai Mall
One of the best places to go for adults and children is Dubai Mall. Dubai Mall isn't just for shopping as you may think. Anyone who has visited knows exactly what we're talking about. For instance the tallest building in the world (Burj Al Arab) is here.
On top of the thousands of shops there are hundreds of eateries, an aquarium and zoo, the Burj Khalifa, water fountain show, VR Park, Ice Skating, Kidzania and more.
You can read a full guide of Things to do at Dubai Mall here.
Trip Advisor Rating: 4.5/5
7. IMG World
IMG Worlds of Adventure features four different epic adventure zones. Two of the four zones represent renowned global brands Cartoon Network and MARVEL, while IMG Boulevard and the Lost Valley – Dinosaur Adventure zones are original concepts created by the IMG Group.
IMG Worlds of Adventure is the world's largest themed indoor theme park and covers 1.5million square feet.
The park has a lot to offer from roller coaster rides to spine-tingling attractions based on the four themed zones. The theme park is home to a lot of world firsts, has a variety of retail stores and eateries plus a 12 screen state of the art cinema.
Admission: 299AED
Tip: If you are lucky enough to visit Dubai two or three times a year then the annual membership pass is well worth the money at 398AED. Even if you loved this place and wanted to come back again during your stay it is still worth buying the membership.
Trip Advisor Rating: 4/5
8. Motiongate Dubai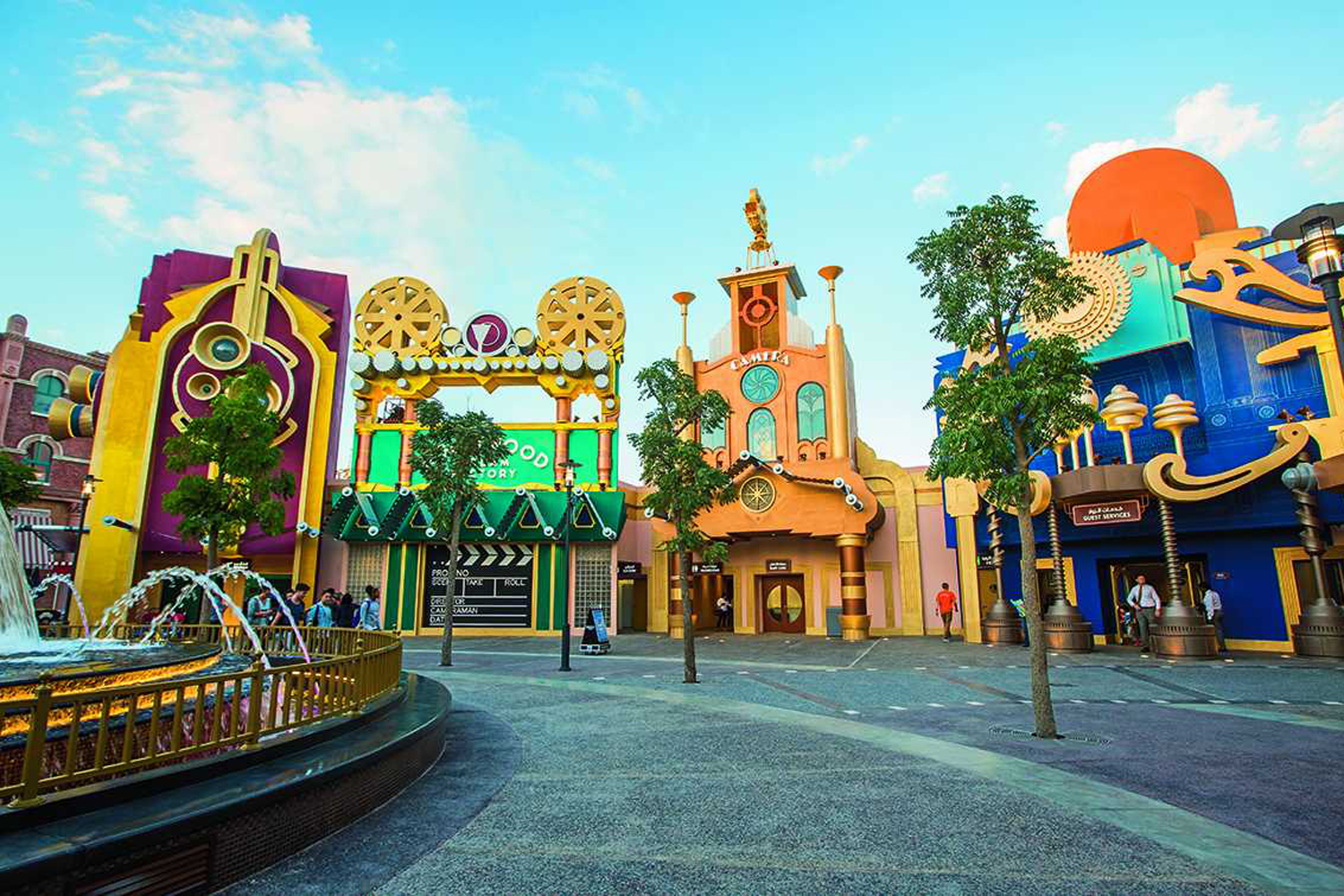 Motiongate theme park takes you through world famous motion picture studios, such as Dreamworks Animation, Colombia Pictures and Lionsgate.
There are 5 different studio zones for kids to explore and 40 themed rides. In conclusion, Motiongate is a fantastic family day out. For a full list of attractions including the 4D Underworld and Kung Fu Panda Academy click here.
Admission: Adults and Children 135AED
Tip: If travelling to Dubai with kids and are planning on undertaking a lot of excursions and activities make sure you book the all parks annual pass for 595AED. This will grant you access to Legoland, Legoland Water Park, Motiongate and Bollywood Park.
Trip Advisor Rating: 4/5
9. Bollywood Park
Covering a huge 3 million square feet and situated in Jebel Ali, Dubai this world first Bollywood Park will host 16 rides and attractions, covering 5 movie-themed zones.
Some of Mumbai's major film studios are featured here such as Mumbai Chowk, Hall of Heroes and Regal Plaza. Each area captures the emotion, music and visuals associated with world famous Hindi films.
Admission: 175AED per person
Tip: If your planning an extended family stay make sure you purchase the all parks annual pass for 595AED as above.
Trip Advisor Rating: 4/5
10. Dubai Garden Glow
Dubai Garden Glow features four unforgettable themes which light up the world with sparkling colours and incredible art. Dubai Garden Glow features the Dino Park, Glow Park, Art Park, Ice Park and Magic Park.
One of the best themes for the kids is the Dino Park which has around 120 animatronic dinosaurs. After that the Ice Park is the next best with marvelous glow in the dark ice sculptures to explore.
Admission: 55AED each
Tip: Booking online in advance saves around 5AED per person.
Trip Advisor Rating: 4/5
11. Ras Al Khor Wildlife Sanctuary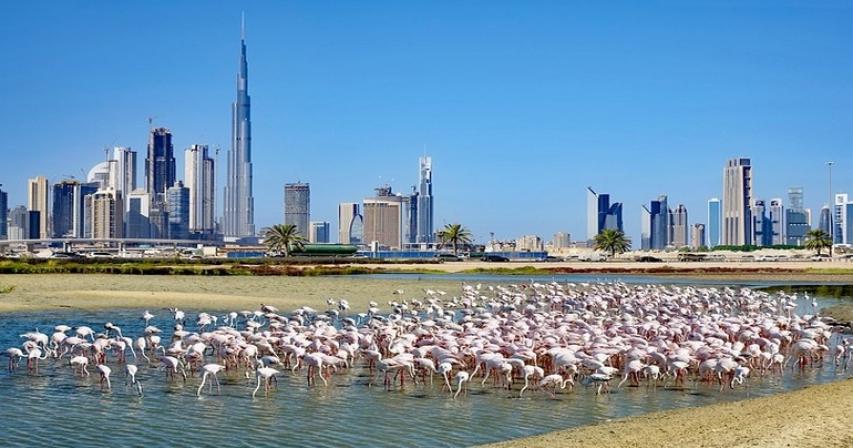 Ras Al Khor Wildlife Sanctuary is a great day out away from the hustle and bustle of busy Dubai. Just a few hundred meters outside the city lines you will find stunning birds nesting in the wetlands.
Knowns as the Cape of the Creek, this sanctuary covers over 6km. In addition there are a variety of salt flats, intertidal mudflats, mangroves and lagoons. As a result the flamingos steal the show but the sanctuary is also home for crustaceans, mammals, fish, Osprey, Reef Herrons and Sandpipes. Similarly three bird hides are located on the perimeter of the sanctuary which are free for the public to access during set daylight hours.
Admission: FREE
Trip Advisor Rating: 4/5
12. Laguna Water Park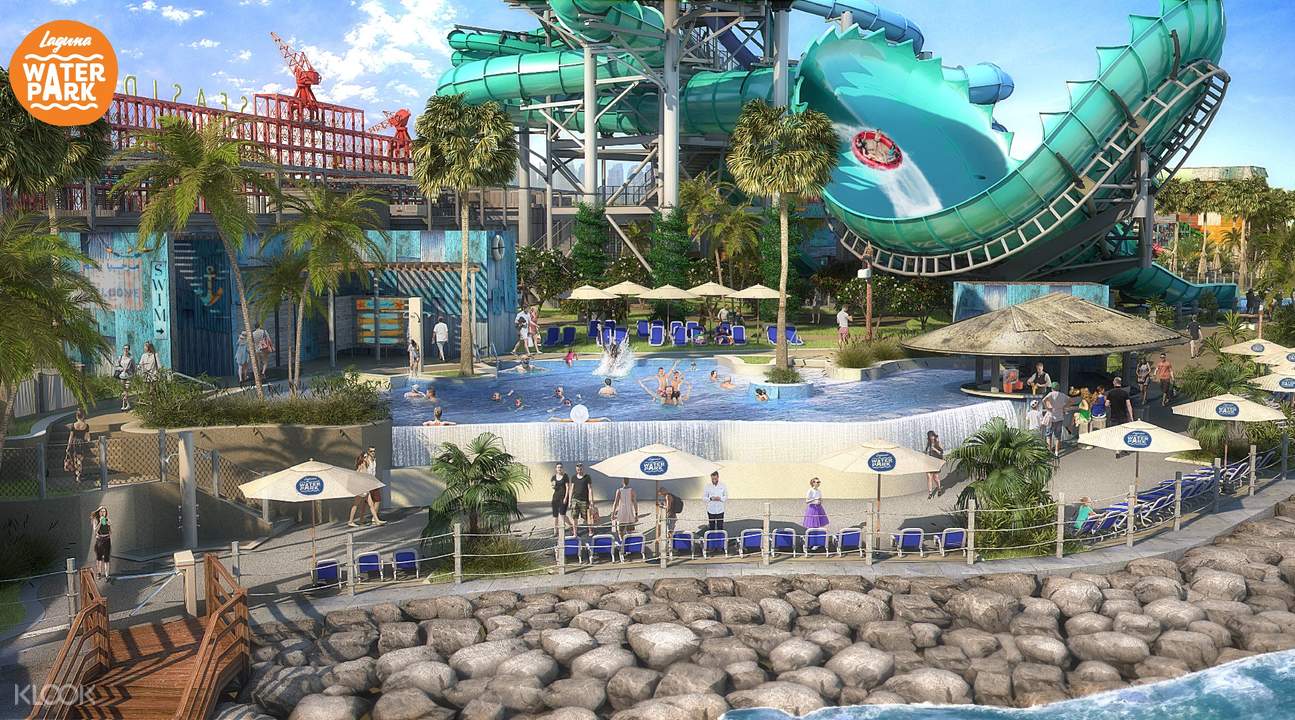 Laguna Water Park is nestled in between Dubai's towering skyline and La Mer beach front. However, this water park has a more chilled outlook compared to Aquaventure and Wild Wadi and has a seaside feel to it. With direct access to the beach you can choose between the five active splash zones or the chilled atmosphere of La Mer Beachfront.
As well as having an infinity pool and lazy river for relaxing, there are attractions such as The Flow Rider and mad racer or for small children the splash pad is the perfect place to be.
For anyone needing to keep up the daily fitness routine, there is also an outdoor gym here.
Admission: 160AED Tickets can be bought online here.
Tip: The WaveOz surf experience is a must. Fins on the surf boards give you greater control on the wave and a more extreme experience.
Trip Advisor Rating: 4/5
13. Children's City
Children's City in Dubai is an educational based city for children of all ages. Above all there's many things to do here that will keep the kids occupied for a few hours. Kids can discover and learn in an entertaining format, explore and play here.
In conclusion the city is home to several aspects of education including the human body and sciences, nature, space exploration and more, plus indoor and outdoor activities for all the participate in.
Admission to Children's City Dubai
| | | |
| --- | --- | --- |
| Category | Details | Fees |
| Children | 2-15 years old  | 10 AED |
| Under 2's | FREE | FREE |
| Adults | From 16 years onwards | 15 AED |
| Family | Include two Adults and two Children  | 40 AED |
| Schools | Includes a minimum of 20 students Includes a minimum of 20 students (free entrance for two accompanying persons) | 5 AED per student |
| Tourist and private groups | Include a minimum of 20 persons Includes a minimum of 20 students (free entrance for one corporate / tour accompanying person) | 10 AED per person |
Trip Advisor Rating: 4/5
14. Oli Oli
Oli Oli is a specifically designed interactive play park and museum for children of ages 11 and under with the centre hosting 8 galleries with 45 interactive exhibits. Located in Al Quoz 1 on Sheikh Zayed Road there are also plenty of restaurants close if the children are hungry.
Some of the photos of Oli Oli do not do the centre justice as this is one of the best activities for kids to do in Dubai and is highly rated on Tripadvisor. Check out the brief video below to get more of an insight.
Admission: Child 120AED (for 2 hours) (For each additional hour 30 AED)
Adult 40AED (flat fee) 
You can buy tickets here.
Trip Advisor Rating: 5/5
15. Jumeirah Beach Residence Fairground
The Walk at Jumeirah Beach Residence is the place to be for all ages in general. Whether it's the beach, the restaurants, hotels, bars or general entertainment that's going on in the area. What's more you can read a full guide here on Jumeirah Beach but what's great for kids is the small fairground situated in between the retail stores, just a stones throw from the beach.
Admission: No charge but you will need some money for rides and attractions.
16. Bounce
There are three bounce locations. Abu Dhabi has one, and Dubai has two. Festival City Mall and Al Quoz are the two Bounce locations in Dubai.
Bounce has many different activity areas with Free Jump, Slam Dunk, Dodgeball and The Wall just to name a few. This place is a huge air conditioned warehouse and is bound to keep the kids busy (and worn out) for a couple of hours.
Admission: From 55AED but vary with location and ticket type.
Trip Advisor Rating: 4.5/5
17. Mattel Play Town
Play Town is a unique kids entertainment and education centre. Targeted towards toddlers and young children, this place is a great family day out in Dubai.
Kids get chance to meet their favourite Mattel cartoon characters including Barney, Bob the Builder, Angelina Balerina, Fireman Sam and Thomas the Tank Engine. In addition each section has it's own theme based on the cartoon characters and tv show. After all that, they can head to the 4D cinema Thomas & Friends in action.
Admission: 55AED
Tickets can be bought here.
Trip Advisor Rating: 4/5
18. Musuem of Illusions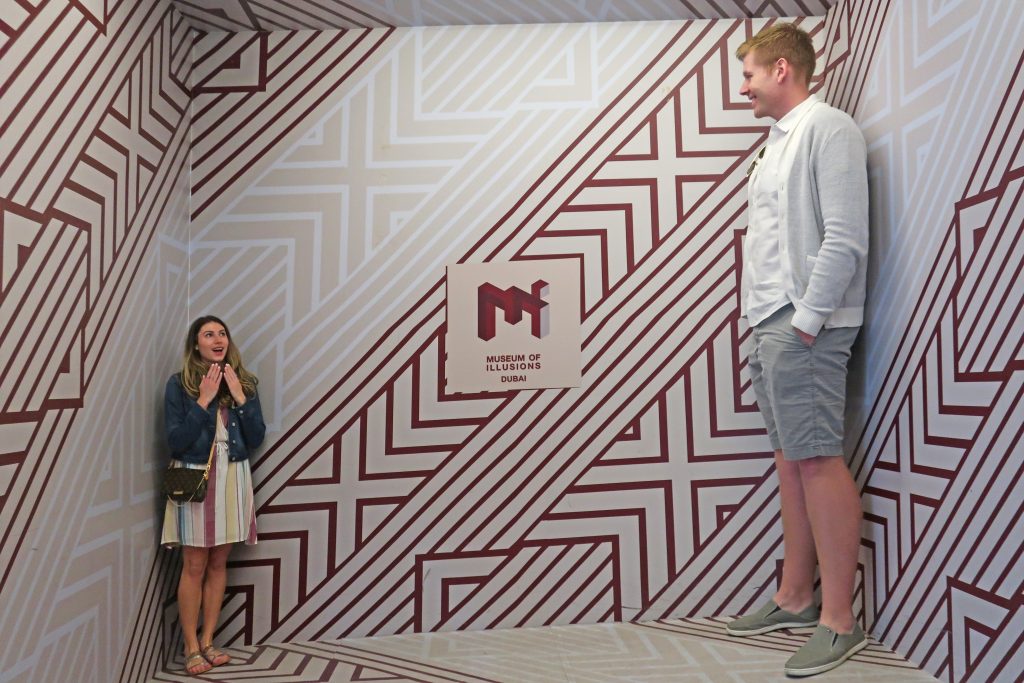 Visit the amazing Museum of Illusions in Dubai which is bound to have kids of all ages entertained and excited. The museum offers a sensory, educational and visual experience for its' users which is bound to keep the children in awe. This is a place for children to learn and for older members of the family to enjoy too.
The vortex tunnel will have you falling over your feet even though its not moving, then there is the infinity room where you can cut yourself loose, and much more.
Admission: 80AED
Tickets can be bought here.
Trip Advisor Rating: 4.5/5
20. Green Planet
The Green Planet in Dubai is suitable for children of all ages. The Green Planet is the UAE's first bio-dome. There are over 3,000 different plants and animals which reside here. This enclosed ecosystem offers visitors an incredible exploration day out. Kids are bound to be entertained and educated during their visit here.
Sloths, Toucans and Tree Porcupines are to name but a few of the species living in The Green Planet. Thousands of South American plants and vines also blossom here. This place has a high Tripadvisor rating and is well worth a day out.
Admission: Tickets start from 100AED and can be purchased online here.
Trip Advisor Rating: 4.5/5
21. Hub Zero
Hub Zero is Dubai's new indoor gaming town. There is everything from climbing walls and driving simulators to retro arcades and even karaoke! This interactive gaming experience gives kids the chance to find some home from home when on vacation.
Maybe you've dragged them around Dubai Mall for too long and fancy treating them for an hour. However, the centre isn't just targeted at older kids and has activities and attractions for kids of all ages.
Admission: 84AED You can buy tickets online here.
22. Magic Planet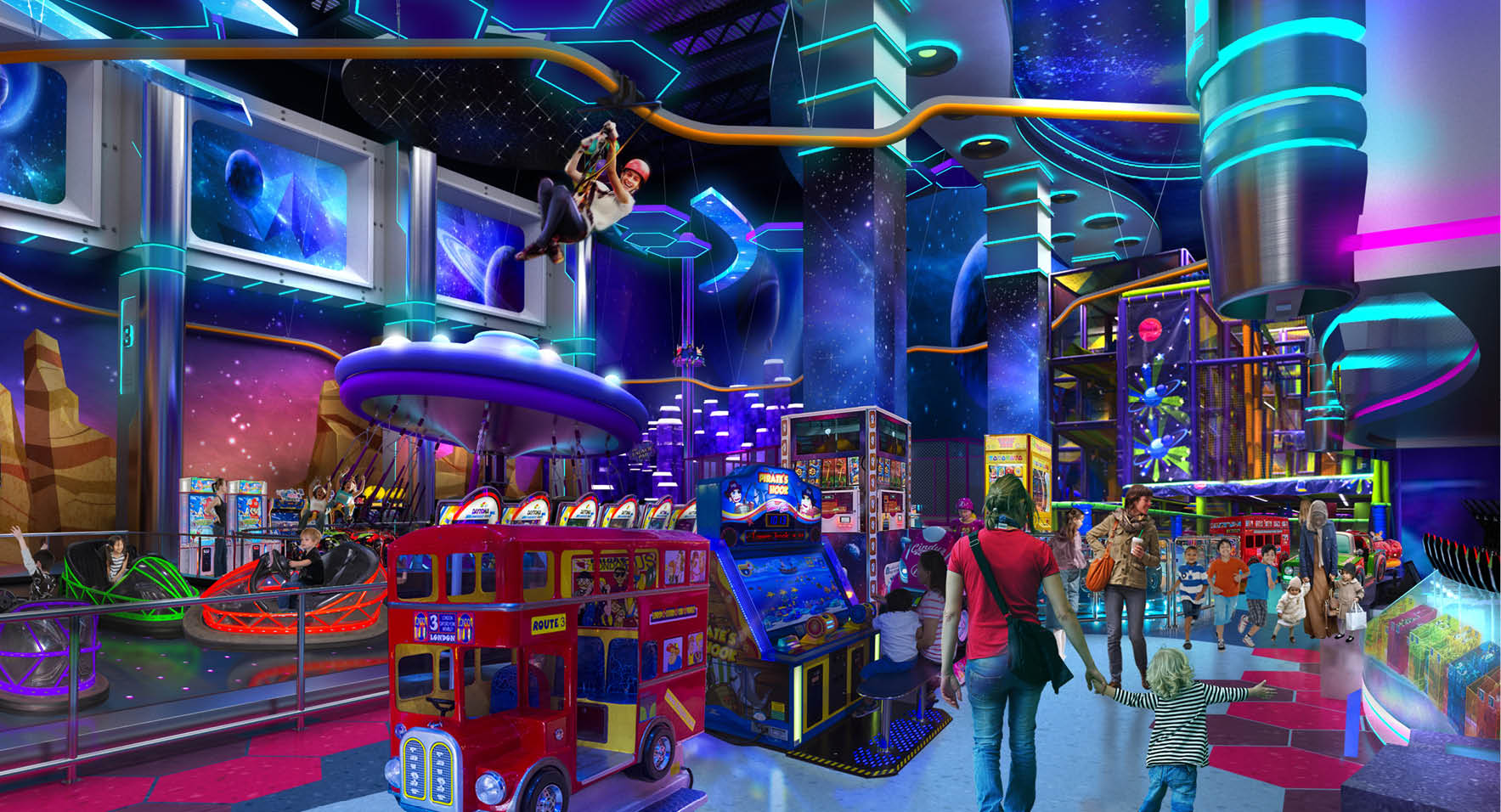 Magic Planet is located inside the Mall of the Emirates and has games, rides, attractions and soft play for children of all ages. In addition there's a bounce arena for small children, race car simulators, a climbing wall, bowling and much more. When your having a day at The Mall of the Emirates and the kids need a break from mum and dads retail therapy then bring them here.
Admission: Free to enter but you will need to top up your cards to use for games and activities.
Trip Advisor Rating: 4/5
23. Jet Skiing
One for the teenagers this, but Jet Skiing in Dubai is by far one of my favourite things to do. This is bound to keep the adrenaline junkie in you suppressed. There are many Jet Skiing places to use, for a full list and guide you can check out my blog post on Jet Skiing in Dubai here.
Admission: Varys upon location and time.
The Vacation Builder Rating: Brilliant!
24. IFly Dubai
IFly Dubai gives users a real taste of skydiving freefall. Fliers can be adults and children of ages 3 and above. This is a great activity to do when you want to offer the kids an experience that is something different.
Admission: Prices start from 150AED but varys. Check here for a full list.
Trip Advisor Rating: 4.5/5
25. Yas Island
Another fantastic place to be when visiting Dubai is Yas Island. Like the Emirates Park Zoo, Yas Island is situated in Abu Dhabi but is more than worth the short travel from Dubai.
Yas Island has a whole host of attractions which can easily occupy the kids for days on end. Some attractions include Ferrari World, Yas Waterworld, Warner Brothers World and Fun Works to name but a few. For a full guide to Yas Islands Attractions you can read more here.
Explore Free Dubai
The previous 25 things to do with kids in Dubai is briefly touching the surface of what this fantastic city has to offer. There is much more to explore, see and do and a lot of it is free. Below I've put together a brief list with photos to show more of what can be done in Dubai with kids for free.
26. Dubai Fountain Show at the Burj Khalifa
27. Kids Playgrounds on Jumeirah Beach
28. Day out at La Mer Beach
29. Explore Souk Madinat
30. Visit the Free Museums in Dubai
31. Picnic at Dubai's Free Parks
Thank you for reading 31 Things to do with kids in Dubai. We hope that this guide has given you all of the information and inspiration that you require when planning family activities in Dubai.
Make sure to come back for more on Travel & Living in Dubai & Abu Dhabi. Follow us on Pinterest and subscribe on YouTube too.