The ultimate theme park for toddlers to early teens and in the sun. Where better to visit in Dubai with the children than Legoland Dubai. One of my favourite days out; bringing back the big kid in me. But if you're on this page your wondering How Much Does Legoland Dubai Cost? Well read on as we have you covered with this full guide to the cost of a day at the theme park.
The overall cost of a day at Legoland for two adults and two children stands at around 1690AED. This includes transportation, park tickets, food, drink and souvenirs.
Legoland Dubai features more than 40 rides, and 15,000 different Lego structures to explore. Whats more, there are six themed islands to explore which are; Lego City, Adventure, Kingdoms, Imagination, Factory and Miniland.
Legoland Dubai Tickets Price
Entry ticket prices to Legoland Dubai are as per the table. However, remember that booking online in advance and selecting specific dates rather than flexible tickets can result in discounts.
Prices here are based on a dual ticket entry to Legoland Dubai and Legoland Water Park Dubai. Single tickets to each are 275 AED so it is well worth spending the extra small amount for entry to both.
| | | | |
| --- | --- | --- | --- |
| TICKET | LEGOLAND | LEGOLAND WATER PARK | DUAL TICKET |
| 3+ YRS | 275 AED | 275 AED | 295 AED |
| UNDER 3 | FREE | FREE | FREE |
Legoland Dubai Park Entry Costs
You can buy LegoLand tickets here.
Food Costs at Legoland Dubai
Like most theme parks, restaurants are at the plenty but my advice is try and resist as the food here will leave you wanting and hurt your pocket too. There are fast food restaurants and cafeterias scattered around the park so you will be fine if your desperate but try and plan ahead if possible.
TIP: There is a Cafe at the entrance which sells sandwiches, crudites, fruit bowls and other healthy options. This will save you some money and kit you out for the day as unfortunately you aren't allowed to bring your own food into the park.
Alternatively, before or after you enter/exit the park you will find the Riverland Restaurants just across the street which present more value for money and the food is nicer all-round.
TIP: There is a cooking station that sells pre-packed lunch boxes for kids to take away and baby food too! Prices as low as 20 AED for the pre packed lunches.
PERSONS
ENTRANCE
CAFE
IN PARK
RESTAURANTS
RIVERSIDE
RESTAURANTS
2 ADULTS
ALLOW 100AED
ALLOW 200AED
ALLOW 150AED
2 ADULTS +
2 CHILDREN
ALLOW 150AED
ALLOW 300 AED
ALLOW 250AED
Cost of Eating Out at Legoland Dubai
Price of Toys at Legoland Dubai
Legoland Dubai has three toy shops to browse. These are; Minifigure Market where you can buy miniature figurines or build your own, Pick-a-Brick which operates similarly and The Big Shop, which is the biggest Lego shop in the middle east and stocks just about everything.
Toys at theme parks are expensive but when travelling with young children you are bound to be hounded for a souvenir, however, some of the smallest figurines start at around 40AED. So I would allow 100AED per child if your going to treat them, it's up to you, will you crumble from the pressure of "Daddyyyy" / "Mummmyyy"…. If so, take plenty!
The Total Cost of a Trip to Legoland Dubai
To consolidate the above I've put together the table below. This will give you a rough idea of How Much Legoland Dubai Costs.
Given the cheap cost of transport in Dubai, whether that's with the monorail or taxi; I've included travel costs too. Travel is based via taxi from Jumeirah Beach Residences to Legoland.
PERSONS
TRAVEL
ADMISSION
FOOD
SOUVENIRS
TOTAL
2 ADULTS
60AED
590AED
150AED
ZERO
800AED
2ADULTS
2CHILDREN
60AED
1180AED
250AED
200AED
1690
AED
Overall Price of a day at Legoland Dubai
Where to Stay at Legoland Dubai
If you really want to spoil the kids then why not stay the night too? This brand new hotel, opening in 2020 is situated opposite the theme park.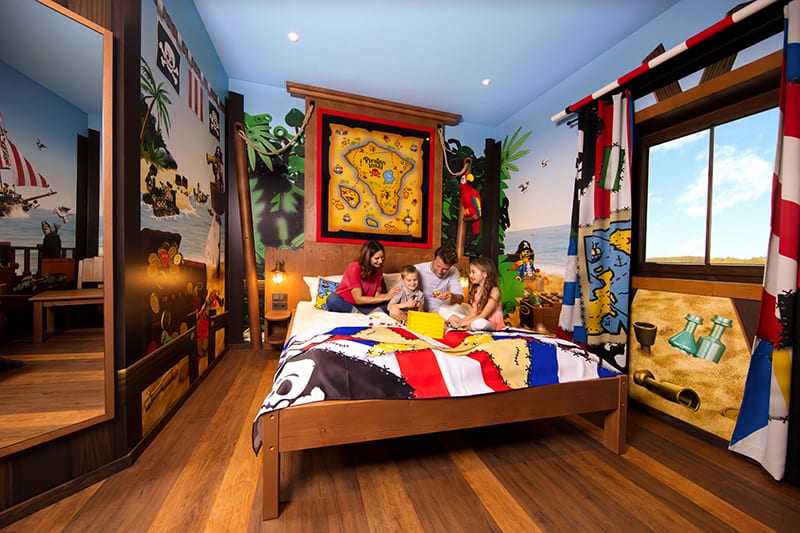 Keep an eye out for the official release date and take advantage of reasonable rates before they soar as in general most newly opened hotels offer reasonable rates until the popularity increases. You can look at the latest on the development of the hotel here.
Is Legoland Dubai Worth It?
The simple answer to this is YES! Like most attractions in Dubai, they're extremely reasonably priced. Whats more, there is so much to see and do at Legoland Dubai that the ticket cost will give you a full family day out!
Conclusion
Thank you for reading my post on How Much Does Legoland Dubai Cost. I hope this has given you a good idea of the true cost of a visit.
Once Legoland Hotel opens its doors I will update this post and include the cost of an overnight stay.
For everything Dubai & Abu Dhabi follow our blog here, follow us on Pinterest and subscribe to our channel on Youtube.