Dubai is a globally-acclaimed travel destination and the city is doing everything possible to make travelling quick and effortless across the town. Getting around in Dubai is cheap and easy. What's more, the introduction of the Nol card has made travel around Dubai even more effortless.
NoI Card is wisely designed particularly for the people who commute in public transport modes in Dubai. This electronic ticketing card can be used for all types of public transport in Dubai.
If you're new to the "City of Gold", then you are going to need to know how to use it. Check our quick guide below for all you need to know about NoI.
What is a Nol Card?
The Nol card is an electronic smart card which can be used to pay for all modes of public transport around Dubai.
This was first introduced to make paying for public transport hassle-free. However, in recent times the use of the Nol card has extended to all types of travel including taxis and even paying for petrol!
Where Do I Buy a Nol Card?
Nol cards are available from your nearest ticket office at Dubai metro and bus stations. Once you have your Nol card you can add a balance to it. You must make sure to keep a minimum balance of 7.50AED on the card at all times.
There are other convenient ways to get your Nol card. apart from Dubai Metro and bus station. You can purchase the card at ticket vending machines, RTA customer happiness centers, authorized sales agents, or online.
For more information on locations to buy a Nol card check the RTA website here.
Types of Nol Cards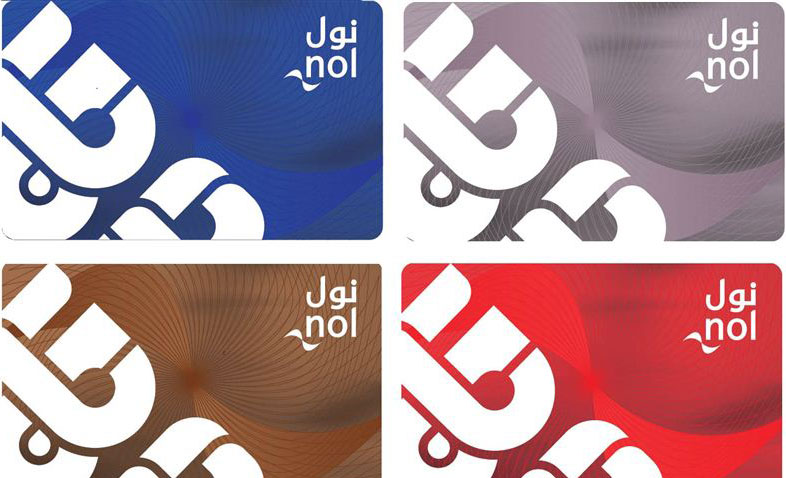 Price: 25AED with a balance of 19AED
Valid For: 5 Years
Used for: Gold class seats on RTA Transport, Trams, Buses, Taxi, Water Taxi, Rail, Metro
Price: 25AED with a balance of 19AED
Valid for: 5 Years
Used for: Trams, Buses, Taxi, Water Taxi, Rail, Metro
Price: 70AED with a balance of 20AED
Valid for: 5 Years
Used for: Trams, Buses, Taxi, Water Taxi, Rail, Metro
Extra Benefits: Balance recoverable if you lose the card or it's stolen | Required for concession fares
Price: 2AED
Valid for: 90 Days or 10 Trips
Used for: Metro, Buses, Trams
The red card is mainly aimed at short-term visitors to Dubai. If you are staying in Dubai for more than a couple of days and planning to move around a lot we recommend one of the other cards.
The same ticket can be used for Metro, Tram and Buses – there's no need to get another ticket. However, with Nol Red Ticket, you cannot change modes of travel using the same ticket. So Red Ticket can only be used for Bus only or Metro only.
Customized Card
Dubai RTA has recently introduced a customized card. You will need to contact them through their website and can choose between several different designs.
Price: 30AED
Valid for: 5 Years
Used for: Trams, Buses, Taxi, Water Taxi, Rail, Metro
Benefits of Using a Nol Card in Dubai
The introduction of Nol has contributed to making Dubai one of the easiest places on earth to travel around. Coins are a hassle to carry around and are also dirty. Some of the benefits of using a Nol Card are highlighted below:
Can be used to pay for public transport and car parking
Cuts out the need to carry extra cash
Special fares for different concession types of Nol blue card (for Students, Senior Citizens and residents and people of determination)
Low-cost fares and flexible transfers across different modes of transport
Micropayments
NoI Plus Program
How to Check Your Nol Card Balance?
There are two different ways of checking your nol card balance.
Go to the RTA website from your mobile or desktop, click on check nol balance, type in card number and security code.
If you're already in a metro station, hand it over to the ticket office and they will swipe and check it for you within seconds.
Can I Use my Nol Card for Shopping?
Amazingly, the answer to this is yes. As the world progresses, so does Dubai and at a rate better than most other cities. The Nol card can now be used to shop at major retail outlets such as; Almaya, Carrefour, Lulu, AllDay, Zoom, Circle K, Gloria Jeans, Burger King and more! You can click on Dubai RTA link to check out where you can pay with a NoI card.
Can I Use My Nol Card to Pay for Food?
Again, the answer to this question is yes! A growing number of Dubai restaurants are now accepting nol cards for payment. This number has seen exponential growth since the emergence of Covid-19, creating a cashless and safer society.
The card can also be used at a variety of pharmacies, coffee shops and petrol stations..
Where Else Do I Need to Use my Nol Card?
In 2017, it became mandatory to use a NoI card to gain entry to many public parks. Parks such as; Al Mamzar Beach Park, Creek Park, Mushrif Park and Zabeel park are among the most popular where Nol Cards Must be Used.
Dubai Transport Zones & Fares by Nol Card
The below table details the cost of travel between each transport zone in Dubai depending on the type of card you have.
PRICE(AED)
SILVER
GOLD
BLUE
(PERSONAL)
RED
STUDENT/SENIOR CITIZEN
N/A
N/A
50%
N/A
TRAVEL WITHIN 1 ZONE
3
6
3
4
2 ADJACENT ZONES
5
10
5
6
MORE THAN 2 ZONES
7.5
15
7.5
8.5
CHILDREN
FREE
FREE
FREE
FREE
PEOPLE OF DETERMINATION
N/A
N/A
FREE
N/A
Fares Per Zone as of January 2022
For more information on zones and fares and to stay updated on costs visit this page.
Nol Passes
Passes are great when you know that you are going to use public transport in Dubai frequently. Passes allow unlimited travel on all pubic transport, but not taxis.
If you are on a short trip in Dubai and hold a red card you can buy a day pass for 20AED.
For gold card members who wish to travel in more luxury, day passes are 40AED.
Refund of Unused Nol Card Balance
The only card that allows you to apply for a refund is a Blue Nol card. It would be wise if you top up to the amount you think you'll need to use while using any of the other cards other than the Blue one.
Use Of Dubai NoI Card in Abu Dhabi
You can use the Nol card to pay your fare on the Intercity buses that run from Dubai to Abu Dhabi. Except that, you cannot use your Nol on Abu Dhabi's public transport system. You will need a Hafialt Smart Card in Abu Dhabi.
Conclusion
Getting around Dubai has always been cheap and easy. However, since the introduction of Nol Cards this has made it even simpler. Whenever you are visiting Dubai, whether it's for a few days or a couple of weeks, always carry one of these. Nol cards have to be one of the most essential things to have in your wallet when visiting Dubai.
Thanks for reading! Make sure to come back for more on Travel & Living in Dubai & Abu Dhabi. Follow us on Pinterest & Subscribe to the YouTube channel too!