Some popular questions on travellers lips when considering their first trip are; How much is a week in Dubai, How Much Money Do I Need to Visit Dubai or How Expensive is Dubai?
Dubai is seen in many people's eyes as a playground for the rich; but that's not necessarily true for the year round holiday hot spot.
We found the average cost of a week in Dubai, for two people stands at approximately £2,998 / 14,998AED / $4,167 . However, we are going to show you that you can in fact visit Dubai for as little as £1,358 / 6,790AED / $1,887!
Seeing Dubai in our opinion for just under £3,000 is worth every penny! However, there is more to explore here as the cost depends on your class of travel.
How Much Does 7 Nights in Dubai Cost?
Given Dubai's exclusivity and glamour, many assume that it is an expensive trip. We can assure you that this is not always the case and a week in Dubai can be as cheap or as expensive as you want it to be.
Here we break down the costs of a one week holiday for two to the UAE hotspot. Below is a look at a budget trip cost, a standard trip cost and of course, (to take advantage of what Dubai has to offer) we have also put together a cost for a more luxurious holiday.
Dubai has a lot more to offer other than year round sun. For more information on why you should take a vacation to Dubai; check out our other guides to Dubai.
To break down How Much a Week in Dubai is we are going to take a look at the following:
Flights
Hotels
Food & Drink
Excursions
Transportation Costs (Such as taxi, metro etc)
Dubai is considered a city of luxury and is seen as a millionaires playground. Don't be surprised to see Lamborghini's and Ferrari's cruising down Jumeirah Beach as you stroll in and out of the many shops and cafes.
There are more millionaires per square mile in Dubai than in any other city on the planet. However, that doesn't necessarily mean it can't be a holiday destination for every budget.
How Expensive are Flights to Dubai?
The first thing we need to look at is Flight Costs to Dubai.
There are many key aspects to take into account here. Aspects such as airline, time of year, class of seats and number of stops all need to be considered. There are less reputable airlines available for flights to just about anywhere and in-direct flights are always cheaper.
Tip: Kayak.com have a great tool (Explore) you can use to explore flights across the world in the click of a button. This allows you to type in your departure airport and it will generate flights all over the world shown on a world map. This automatically gives you the cheapest flights to that destination.
Budget Flight Costs to Dubai
Pegasus are offering flights from London Stansted to Dubai on 24th November for just £219 / 1,095. This flight has one stopover and will save each person around £100 on the average flight cost to Dubai. November is a great time of year to visit as the heat is a lot more bearable and averages around 30C.
Economy Flight Costs to Dubai
For direct flights in economy class, Emirates are offering flights from £319 / 1,595 on 15th November. £319 is about as cheap as you will find for a direct flight to Dubai in 2020, as explored in a previous blog post (The cheapest direct flights to Dubai).
Luxury Flight Costs to Dubai
Ok so the first two flight costs were drawn up in November, so to keep the influence of time of year away from our costs, lets find a direct flight to Dubai in November, travelling in business class.
Emirates are offering business class special seats on 15th November 2020 for £1746 / 8,730AED per person.
Dubai Flight Costs
| | |
| --- | --- |
| Travel Type | Flight Cost (AED) |
| Budget | 1,095 |
| Standard | 1,595 |
| Luxury | 8,730 |
Dubai Flight Costs
Cost of Hotels for a Week in Dubai
Next we are going to take a look at Dubai's hotel costs for a 7 night stay for 2. Star rating, accommodation type, location and board type are all cost factors here.
To keep this simple we shall use The Walk, on the popular Jumeirah Beach Residence as our location, 3 Star for our budget travellers, 4 star for our standard travellers and 5 star for our luxury travellers.
Board type will be selected at room only as Dubai has far too much to offer for you to stay in and eat hotel food! Believe it or not, most hotel food in Dubai is actually more expensive than eating out!
Budget Hotel Costs for a Week in Dubai
Unfortunately Jumeirah Beach Residence doesn't have any 3 star accommodation! But just around the corner at Dubai Marina there is. The Rove Hotel on Dubai Marina offers a 7 night stay in November at just £615 / 3,075AED per couple.
The hotel is a short walk around the corner to Jumeirah Beach and is in a fantastic location for chiq bars and restaurants on the marina. This converts down to around £44 per person , per night!
Standard Hotel Costs of a Week in Dubai
For a 4 star experience, Hilton Dubai The Walk is available for a 7 night stay at just under £1400 / 7,000AED.
The Hilton is situated in a prime location on The Walk. Positioned on Jumeirah Beach front and in the middle of many restaurants and shops, this is one of our favourite hotels. The price converts down to around £97 per person, per night which is great value for this type of accommodation in this area.
Luxury Hotel Prices for a Week in Dubai
For the luxury Dubai travellers, probably the best hotel on The Walk, The Ritz-Carlton. Not the astronomical price you may expect! A 7 night stay in November here for two is around £2660 / 13,300AED . This price converts down to around £190 per person, per night.
This 5 star resort fronts Jumeirah Beach and is surrounded by tranquil gardens. Situated at the north end of The Walk, the hotel is also in a quieter area but not too far from the action!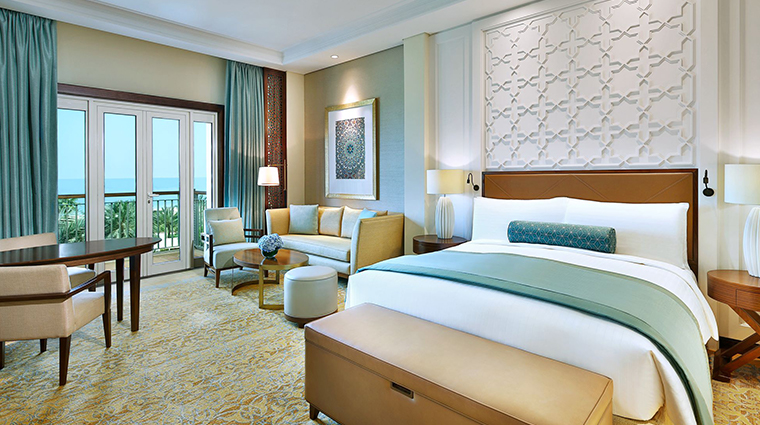 Dubai Flight and Hotel Costs for 1 Week
| | | |
| --- | --- | --- |
| Traveller Type | Flight Cost AED | Hotel Cost (PP) AED |
| Budget | 1,095 | 1,535 |
| Standard | 1,595 | 3,425 |
| Luxury | 8,730 | 6,650 |
Food & Drink Costs for a Week in Dubai
Many people expect Dubai to be a lot like most major cities; very expensive to eat out! This isn't the case though and due to the many different tourist areas of Dubai, each has its' own budget restaurants and supermarkets.
To paint a picture before we begin, we have put together the table below which compares the average cost of a meal for two in Dubai compared against some other major cities.
City
Lunch for 2
(3 Courses Mid Range Restaurant)
Dubai
150AED
London
255AED
New York
275AED
Berlin
164AED
Sydney
222AED
Cost of Eating out in Dubai Compared to Other Cities
As you can see above, Dubai is unexpectedly cheap compared to some other major cities. However, this doesn't mean that certain places are not extortionate and care must be taken in planning your meals out.
Drinking alcohol in Dubai is more expensive with the average pint of lager around £7.50 and a bottle of wine from the supermarket around £12.
Cost of Eating out in Dubai
To give you a general idea of the cost of eating out in Dubai we've put together a brief list; covering Cafe's, Fast Food Chains, High and Low End restaurants.
Big Mac Meal at Mcdonalds in Dubai Media City – 23AED/£5
Large Cappucino to go at Starbucks Mall of the Emirates – 17.75AED/£3.80
Margherita Pizza at La Dolce Vita on Jumierah Beach – 55AED/£11.90
Grilled Salmon Potatoes & Broccoli at The Cheesecake Factory Jumeirah Beach – 110AED/£23
Moussaka at Eat Greek Kouzina at The Dubai Mall – 120AED/£26
Tip: Zomato.com is a really useful site for checking out restaurant menu's and prices around the world.
Food Prices in Dubai Supermarkets
Next, a short list of general food costs in Dubai supermarkets. Your bound to venture into one of Dubai's supermarkets for the odd bottle of water, some fruit; or if your a budget traveller, to buy essential food.
Bottle of water 500ml – 1.50AED/£0.35
Coca Cola 2.5ltrs – 5AED/£1.08
Mcvities Biscuits 200g – 8.50AED/£1.80
Loaf of bread – 5AED/£1.08
Yoghurts 1kg – 5.75AED/£1.24
Whole Chicken – 21.50AED/£4.65
Eggs Dozen – 12AED/£2.60
Avocado 1kg – 10AED/£2.16
Oranges 1kg – 5AED/£1.08
Tip: GlobalPrice.Info also have a really useful website which gives you supermarket costs for many countries all around the world.
Moving on..
For this next section we draw some assumptions. The first being that everyone will eat at a fast food restaurant at least twice in a week. The second being that the budget traveller will make use of supermarkets. The third assumption we make is that the standard traveller will eat at standard priced / rated restaurants in Dubai and the luxury traveller will attend the occasional 5 star eateries.
We will base food costs on eating three times a day and will make a general allowance for snacks and water. We shall take average costs from www.Numbeo.com which has incredible data on the cost of living in specific cities.
Food Costs in Dubai
| | | | | | |
| --- | --- | --- | --- | --- | --- |
| Food & Drink | Breakfast | Lunch | Dinner | Snacks | Total (7 Days) |
| Budget | 16AED | 50AED | 60AED | 50AED | 1232AED |
| Standard | 70AED | 100AED | 150AED | 70AED | 2730AED |
| Luxury | 150AED | 200AED | 300AED | 70AED | 5040AED |
Dubai Food & Drinks Costs
Budget Travellers
For the budget travellers we have based breakfast from shopping at the local supermarket for 1.5trs water (per person, per day), 1Kg of Bananas, 1Kg of Apples, a dozen eggs, local cheese, 1 load of fresh bread, 2ltrs of milk and standard box of cereal. This would be plenty to self cater for two for a week.
For Lunch we have assumed low to mid range restaurants with an average cost of 25AED per person per day. Then onto dinner where we have mid range restaurants at an average of 60 AED per person per day for one course. In the snacks we have included for 1 bottle of water per person per day, 1 cappucino each and 1 ice cream each.
Total cost for the week for two budget travellers stands at around 1,232AED or £267. Extremely cheap if you are careful enough!
Standard Travellers
We have assumed eating out at every meal for the standard traveller. Dubai has too many great restaurants to eat supermarket food all week. Breakfast has a budget of 70AED or 15 English pounds which will get you a good slice most places.
Lunch is priced from Numbeo.com and includes one course at a mid-range restaurant. Then dinner, which includes three courses and drinks at a mid-ranged restaurant. The snack total includes one small fast food meal per person per day, 1 cappucino each, 1 bottle of water each and 1 ice cream each!
Luxury Travellers
For the higher end traveller we have increased the budgets for each meal. The breakfast budget is enough to get you a sit down breakfast at most restaurants. For lunch we have taken the average cost of a meal at a four star restaurant for one course with drinks. Then dinner, which we have included for a three course meal at a 5 star rated restaurant each night. Snacks remain the same as the standard traveller and shouldn't alter too much.
Dubai Excursion Costs
Next we are going to take a lot at some Dubai excursion costs. We have assumed the budget traveller will not participate in paid excursions and will instead make the most of Dubai's free sights. Most of the art museums in Dubai are free to visit, you have endless gorgeous and clean beaches too, not to mention the Abra boats (AED1 but as good as free!) which take you on an Arabic journey down Dubai creek. Again, we have broke down excursion costs for a week in Dubai into three budgets.
Standard Traveller
For the standard traveller we have included the typical Dubai sightseeing tours such as Burj Khalifa, The Dubai Museum, Bastakia (Old Dubai), Aquaventure Water Park, Lost World Aquarium, Ice Skating at Dubai Mall and Shopping at Dubai Mall (assumed spends of 230AED each). This gives you something to do each day.
Tip: It is worth noting that if you plan to visit Aquaventure Water Park at the Atlantis Hotel and you are not staying there then it is actually cheaper to stay the night! You can book family rooms at The Atlantis for around £275 and access to the water park is included. Tickets to Aquaventure are around £280 for a family of four when you take in to account that they also charge you for towels and lockers!
Total costs for the standard traveller stands at 2180AED or just under £500pp, which considering the excursions presented is sound value for money.
Tip: Class yourself as a standard traveller but want to make you journey cheaper? Pick and choose from the list of excursions to reduce your total cost.
Luxury Traveller
For the luxury traveller we have included the same excursions as the standard traveller but added a few extra activities that are well worth participating in whilst visiting Dubai.
Extra excursions include Brunch at the JA Ocean View Hotel, Jet Skiing and 2 hour Yacht Hire around The Palm Jumeirah. It is important to book these excursions online when you can as Dubai has a tendency to increase prices on demand day on day. Each excursion in this post has a link to help you do just that.
Our total cost of excursions for the luxury traveller comes to 4520AED or £980pp. This list is sure to keep most couples occupied and highly entertained for a full week.
Tip: One of the best ways to take part in a number of excursions for a discounted price is to purchase a Dubai unlimited pass. Passes are valid for three or five days, depending on which pass your purchase. Passes start from 1290AED/£280 each and are valid for over 45 top attractions. Attractions included in the pass include Ski Dubai, Wild Wadi Water Park, LegoLand Water Park, Burj Khalifa tour and many more.
Dubai Transport Costs
In this next section we are going to take a look at transport costs in Dubai. There are many ways to get around in Dubai including; Dhows, Metro, Taxi, TukTuk, Rent a Car. Our favourite way to get around wherever possible is to walk and take in the incredible architecture Dubai has to offer.
For us to calculate Dubai's transport costs we have made the following assumptions:
The budget traveller will use the metro minimally and walk whenever possible; especially due to not participating in many excursions.
A taxi to and from the airport with a couple of Metro day passes should be enough.
The standard traveller will also take a taxi to and from the airport to Jumeirah Beach which is easier for baggage but for excursions will use the Metro. We have allowed the standard travellers a Metro Day Pass for the whole week. The luxury traveller will use taxi's throughout their stay. For the luxury travellers we have calculated the cost of a taxi every day to travel 40 km which should be plenty of allowance.
When using the Metro to get around Dubai we will be buying the NOl card which is a day pass for 14AED.
Transport Costs in Dubai
| | | |
| --- | --- | --- |
| Traveller Type | Metro (Total Cost for 2) | Taxi (Total Cost) |
| Budget | 56AED (2 Days at 14AED each) | 120AED |
| Standard | 196AED (7 Days at 14AED each) | 120AED |
| Luxury | ZERO | 645AED |
Dubai Transport Costs Table
Another option for transporting yourselves around Dubai would be to rent a car. However, it is worth noting that renting a car comes with extortionate deposits. If you can do this, it's well worth it as it gives you freedom to roam and fuel is just 50 pence per litre!
Tip: Check out our guide on How to Rent a Car in Dubai or alternatively, Public Transport in Dubai.
When is the Cheapest Time of Year to Visit Dubai ?
So the above information will give you a good idea of how expensive a trip to Dubai is. There is another factor which is a major player though; that is time of year. For all places in Europe, the closer to get to summertime and school holidays, the more expensive it is. This isn't the case in Dubai, partly due to the steaming hot summers.
Travel between May and November for discounts on flights and hotels. The temperatures will soar above 32 degrees either end of this period and in August can see 45 degrees daily. Be clever about it and book for travel in May and November and you will get the best of both worlds, a good deal and good weather that isn't too unbearable.
For this scenario we have based our travel month on November; which is one of the cheapest months to visit. We have also recently written a blog post on The Cheapest Month to Visit Dubai which you can check out here.
How Expensive is Dubai?
Ok, now we have all of the above information on flights, hotels, food & drink and excursions we can look at how expensive Dubai is.
The below is Average Cost to Visit Dubai for 1 Week per couple. Price in AED.
| | | | | | | |
| --- | --- | --- | --- | --- | --- | --- |
| Traveller Type | Flight Cost | Hotel Cost | Food & Drink Cost | Excursion Cost | Transport Cost | Total Cost |
| Budget | 2,190 | 3,075 | 1,325 | £0 | 200 | 6,790 |
| Standard | 3,190 | 3,425 | 2,975 | 5,000 | 350 | 14,940 |
| Luxury | 8,730 | 6,650 | 5,475 | 9,050 | 700 | 30,605 |
Total Cost of 1 Weeks Holiday in Dubai
How Much Does a Vacation to Dubai Cost?
Considering all of the above we would definitely recommend Dubai as an affordable holiday destination. Average holiday costs for a week in Dubai, including spending money for 2 people stands at £2,988 / 14,940AED /$4,153 .
Don't forget, if you wish to visit Dubai on a budget you can still do so for as low as £1,358 / 6,790AED / $1,887!
Thanks for reading our post on The Cost of a Week in Dubai. If you're also interested in visiting Abu Dhabi and want to find out How Much a Holiday to Abu Dhabi is, you can do that here.
Thanks for reading! Make sure to come back for more on Travel & Living in Dubai & Abu Dhabi. Follow us on Pinterest & Subscribe to the YouTube channel too!