Dubai is home to some of the best hotels in the world. However, trying to find the line between luxury and what your bank account can absorb can be difficult. This is why I have put together this guide on 3 of the Best Hotels in Dubai for Medium Budgets.
The hospitality industry in Dubai is marvellous and they are all set to make your journey a memorable one. However, there are just so many to choose from!
Look no further than Jumeirah Beach for a fabulous view of the open sea while enjoying the pulsating nightlife. Similarly, head for Bur Dubai for the inner city vibes. This place is known for its upscale locality and luxury hotels.
Below are our choice of the 3 Best Hotels in Dubai for Medium Budgets.
1. Four Seasons Resort at Jumeirah Beach
When looking for the best hotels in Dubai for medium budgets, your first stop should be the Four Seasons Resort.
Four Seasons Resort at Jumeirah Beach is one of the most exotic places to stay in Dubai. A plush resort with a small oasis and a breath-taking skyline featuring sparkling beachfront views.
This resort is a marvellous tale of unprecedented innovation coupled with impressive hospitality standards. Whats more, the resort is positioned on the plush coastal area of Jumeirah and is close to downtown Dubai. The resort sits on Jumeirah Beach Road, Jumeirah 2 in Dubai. Furthermore, the area is loaded with a hoard of restaurants, luxury shopping centres and entertainment venues.
Rooms at The Four Seasons Resort Jumeirah Beach
This Jumeirah beachfront resort aims to treat their guests with the best of everything. There are three categories of room – Guest Rooms, Suites and Speciality Suites.
Every category is again subdivided into several types of rooms. For instance, it doesn't matter what kind of room you are looking for, Four Seasons Resort certainly has one to suit all.
This luxury beachfront resort has been crafted with care and perfection to create an ambience hard to forget. It took huge inspiration from Dubai's culture along with the motif designed of Arabian arts to decorate the hotel.
Perfect amalgamation of contemporary décor in subtle palettes greens, blues and taupe brings in a part of Arabian heritage and culture right inside your room.
Four Seasons Jumeirah Beach Rooms
All rooms of Four Seasons Resort are bestowed with modern facilities. There's a private beach to enjoy, sand, sea and sun as much as you want. Flat screen televisions in each room will tell you what's happening around without stepping out of the room. In addition, other common amenities include:
Private balcony
Housekeeping
Room service
VIP room facilities
Additional bathroom
Wi-Fi connectivity
Door-step laundry service and more
The Pool area of this upscale resort is surely the best place to hang around. Temperatures in the pool water is maintained rigorously so that you can take a dip there anytime you want.
Dining at Four Seasons Resort Jumeirah Beach
At the Four Seasons Resort, there are many reputed restaurants serving all types of food across the globe. Each of them knows how to treat you with gastronomic delicacies.
You can also order your favourite drink to your table while having a good time with your platter. Here is the list of dining options from the resort –
Sea Fu: This restaurant features an Asian-inspired menu of fresh seafoods. Enjoy your food and witness the splendid beachfront views from this restaurant.
Shai Salon & Terrace: Craving for freshly brewed tea or coffee? Welcome to Shai Salon & Terrace. This place is great to have some tasty snacks on the plate and making yourself at home.
SUQ: This casual and Arabian market inspired restaurant offers you everything from authentic Arabian dishes to international favourites. SUQ features a dedicated kid's zone so that your little angels can also have good time there.
Hendricks Bar: Explore the best collection of gin and sip from some immaculately blended cocktails from Hendricks Bar. This gentlemen's style cigar club perfect to spend the evening with friends.
Aside from these restaurants, Four Seasons Resort encompasses many others bar and dining spots. Namely, Sea Fu Bar, Mercury Lounge, Restaurant Village, In-Room Dining and Folia.
The hotel allows guests to rejuvenate their body and mind by taking a voyage inward with its spas. You have the liberty to choose from their best-formulated spa treatments. Namely body treatments, facial treatments, classic massages, wedding journey, gentlemen's treatments, for mother-to-be and for kids and teens.
Website: Four Seasons Jumeirah Beach
Conclusion
A Four Seasons Resort stay suits perfectly the medium budgets. Average room rates are £170 per room per night.
Mandarin Oriental Jumeirah Dubai
Second in our search for the best hotels in Dubai for medium budgets, we have Mandarin Oriental Jumeirah. This is the place where luxury and grandeur come together equally. Furthermore, this aesthetically designed resort hotel is one of precious gems sitting on Dubai's most prestigious and sought-after neighbourhoods, Jumeirah beachfront.
The Mandarin Oriental Hotel offers an undisrupted access to the most stunning views of the beach, sea and the plush locality.
This 5-star resort is located at Jumeirah Beach Road, Jumeirah 1 in Dubai. You can reach the hotel in just 20 minutes if you take a cab from Dubai International Airport. Alternatively, when landing at Al Maktoum International Airport, your transfer will be 45 minutes to reach the hotel.
Staying at the Mandarin Oriental Jumeirah comes with the greatest advantage. This is in the form of witnessing captivating views of pristine Arabian Gulf lined by the gleaming skyline of the city.
It doesn't matter if you are great fan of architecture or interior décor, Mandarin Oriental Jumeirah is going to have you fall head over heels for sure. This spectacular beachfront retreat is the brainchild of Jeffrey Wilkes who made full justice to make it one of a kind breach hotels in Dubai.
Rooms at Mandarin Oriental Jumeirah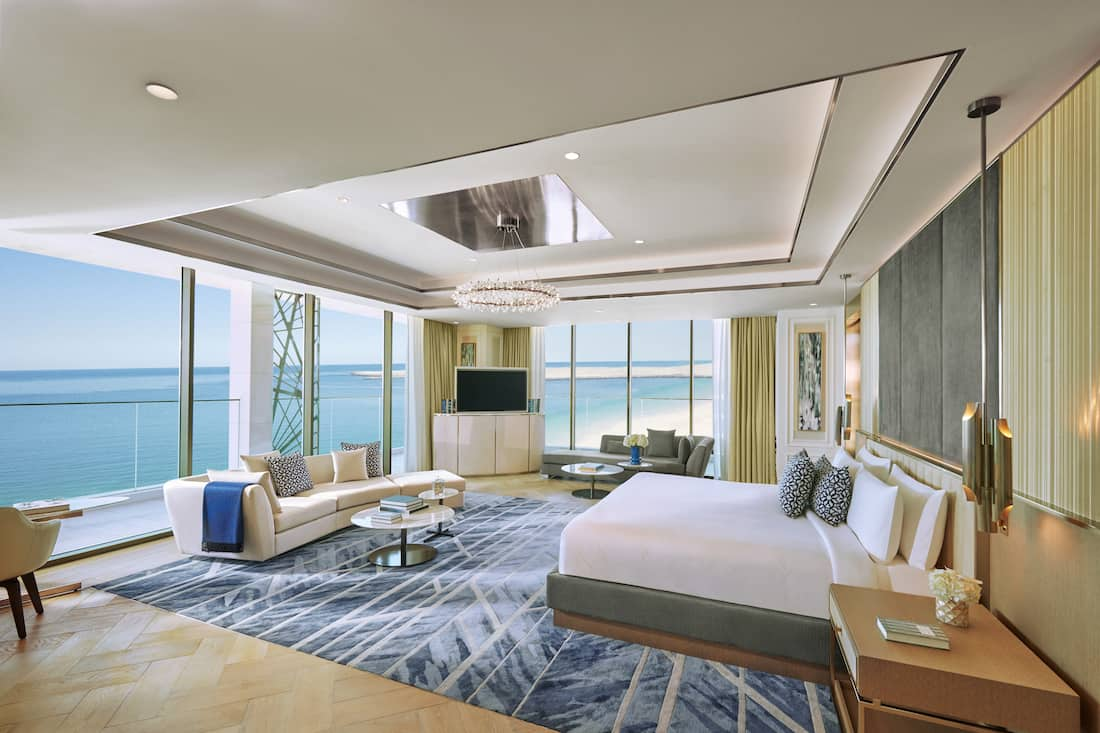 This exotic beach hotel houses as many as 178 spacious rooms, all with private balconies. There are another 78 elegant suites and selective penthouse suites which offer guests a view direct to the city or to the ocean. Choose any of its room and be sure of treated with scintillating views of either Dubai's skyline or its coastal area.
Furthermore, Mandarin Oriental Jumeirah is particularly known for being excellent value for money. When you book a room here, you'll see just why. Each and every room of this immaculately maintained property comes with attached bathroom, flat screen TV, room services, central air conditioning, minibar and VIP room facilities.
Well-behaved and perfectly-trained staff at the hotel know how to make your stay unforgettable. When visiting Mandarin Oriental Jumeirah, be ready to be treated nothing less than royalty.
Additionally every room is equipped with unlimited and free high-speed Wi-Fi so that you can continue with your regular works right from your room.
Apart from spacious rooms and unmatched services, this beachfront retreat has many other ways to elevate your mood and infuse more comfort into your Dubai travel experience.
The hotel offers free parking, babysitting, child-friendly activities and a fitness centre with gym so that you don't have to worry a thing except how to enjoy life to the fullest.
Dining at Mandarin Oriental Jumeirah Beach
Mandarin Oriental Jumeirah is going to make you wonder with its wide range of dining experiences. In addition, this upscale beach retreat is the home to six distinctive restaurants including Tasca by Jose Avillez (contemporary Portuguese), Netsu (the Japaneese Stakehouse), Beluga (for Caviar), Sun Vibe, The Bay, The Mandarin Cake Shop and Noor Lounge.
Likewise, all restaurants, lounges and bars are run by globally acclaimed chefs and mixologists in order to offer diners with dishes and drinks of their choice in a most authentic way.
Whatsmore, you can spot a fully furnished world-class spa which is ready to treat the guests with most extensive lines of beauty and wellness treatments.
While staying at Mandarin Oriental Jumeirah, don't forget to pamper yourself with rejuvenating spa sessions amidst a tranquil ambience. You can also choose your spa treatments depending on the duration of your stay at the hotel and your health requirements.
Travelling with Children
If you are travelling with kids, then Mandarin Oriental Jumeirah has something exclusively designed for your little ones, the Kid's Club. Here your kids are invited to take part in meticulously designed educational activities in a child-friendly environment.
Furthermore, while your kids are playing around with other playmates, they are actually learning new and intriguing things without feeling the stress of learning and memorizing.
Website: Mandarin Oriental Jumeirah
Conclusion
Average room rates at the Mandarin Oriental are just £250 per room per night.
JW Marriott Marquis Hotel Dubai
First of all, if you're looking to stay at the most happening neighbourhood of Dubai, then it has to be the Jumeirah Beachfront area. More importantly, if you are not ready to stretch your budget equally to those highly expensive luxury hotels, there is nothing to worry.
Third on the list for the best hotels in Dubai for medium budgets; JW Marriott Marquis Hotel.
This 5-star hotel is one of the best place to book your accommodation at Jumeirah beach area to enjoy fun-filled time at beach along with pulsating night activities.
Likewise. JW Marriott Marquis Hotel is highly appreciated for its strategic location near the beach. If you want the address, Sheikh Zayed Road, Business Bay, Dubai.
JW Marriott Marquis Hotel is not just a hotel but it is one of the most prestigious landmarks of the city and tallest hotel in the world. This place is quite famous for special business facilities for the most astute travellers. In case your aim to visit Dubai is loaded with lots of professional commitments, then there is no place better than JW Marriott Marquis Hotel to book your accommodation.
Known for combining refined décor and intuitive service, this hotel is the hot favourite amongst business owners and corporate executives.
Rooms at the JW Marriott Marquis Dubai
JW Marriott Marquis Hotel aims to offer its guests with a beautiful home away from their home with help of their stylish rooms and suites. All rooms and suits of the hotel is fitted with plush bedding and offer gorgeous views across the skyline of the city.
Each room is paired with an attached bathroom. Those bathrooms showcase rain showers and marvellous marble fittings. Executive level rooms and suites of JW Marriott Marquis Hotel allows you to enjoy additional space and free access to the lounge.
Moreover, in their attempt to make you feel at home, the hotel authority has equipped all their rooms with efficient air conditioning. Furthermore, a soundproof interior, a coffee/tea maker, iPod charging dock, flat screen TV, high-speed Wi-Fi connectivity and plug-in technology. This hotel also offers allergy-free rooms so that you or your loved ones don't suffer from any type of allergy as soon as you check in.
JW Marriott Marquis Hotel takes care of your passion for working out too. They have a fully equipped gym centre here. You can also have a good time at their sprawling and well-maintained pool side. The hotel allows parents with children to enjoy their own time by taking advantage of the babysitting service.
Dining at the JW Marriott Marquis Dubai
When it comes to serving residents with delicious platters, JW Marriott Marquis Hotel is one of the best in Dubai. Inside the hotel, there are several globally acclaimed restaurants and bars. Kitchen6 is perfect to try some global cuisines from Japan and Middle East. For those perfectly prepared, premium quality stake preparation, you can book your table at Prime68.
When you want to try French delicacies, there is La Farine Café & Bakery and for authentic Indian dishes, Masala Library is here. There are many other fine dining options and bars housed in this hotel.
The Lounge at ground floor, Vault, Tong Thai, Bridgwater Tavern, Positano and Aqua Poolside Grill & Bar are few of them to make your dining experience alluring and exclusive too.
When you want to get rid of those exhaustions caused by hectic business meetings and extensive travelling across the city, JW Marriott Marquis Hotel is there to help you out. The Saray Spa is a wonderful way to relax and rejuvenate your body and soul.
Website: JW Marriott Marquis Dubai
Conclusion
In conclusion, relishing the dream of living with supreme indulgence right at the heart of Dubai and fulfilling your professional responsibilities simultaneously is a rare combination. However, this is possible with JW Marriott Marquis Hotel Dubai.
Thank you for taking the time to read my post on the Best Hotels in Dubai for Medium Budgets. For everything Dubai & Abu Dhabi check our blog here. You can also follow us on Pinterest and subscribe to our Youtube channel.