Dubai isn't short of tourist beaches, but if you are looking for that one place to plan a fun-packed day, then Al Mamzar Beach Park is the answer.
Dubai is one of the most celebrated travel destinations in the world. The city is tailor-made to cater every travel requirement, budget and taste. When you are in Dubai, there is absolutely nothing that can disappoint you and this fabulous beach park has been designed with utmost attention so that you can have a wonderful time without running across the city.
Today we dive deep into everything to do with Al Mamzar Beach Park, to give you the ultimate guide.
For those with lazy eyes, we've put this post into a short video below!
An Introduction to Mamzar Beach Park
Sitting along the pristine gleaming stretch of Deira, Al Mamzar Beach Park is undeniably the most scenic beachfront in Dubai. The park spans across an area of 106 hectares loaded with numerous family-friendly facilities to keep the entire family engaged and super-excited all day long.
There is no place better than Al Mamzar Beach Park to sooth a hot busy day in the city. Relax with an infallible combination of sun rays, soft white sand, deep blue sea and crushing waves.
There are five separate beach areas at Al Mamzar Beach Park. Each one features everything possible to keep kids of all ages glued to several funny and entertaining beach activities. Plenty of lifeguards monitor the whole area in order to secure safety for every visitor particularly at the swimming area.
Families can take good advantage of the sprawling, grassy picnic lawns, pools, public barbecue area and changing rooms to enjoy an unforgettable beachfront day-out.
It doesn't matter whether you stay at Al Mamzar Beach Park for few hours or for a whole day, you've got guaranteed fun at your fingertips.
Al Mamzar Beach Park Location
Al Mamzar Beach Park is situated in Deira, near Mohammed Bin Rashid Al Maktoum Humanitarian & Charity Establishment.
You can reach the beach though the Mamzar Beach Road or via Al Nakheel Road opening at Al Shindagha Tunnel.
Chalet Rental at Al Mamzar Beach Park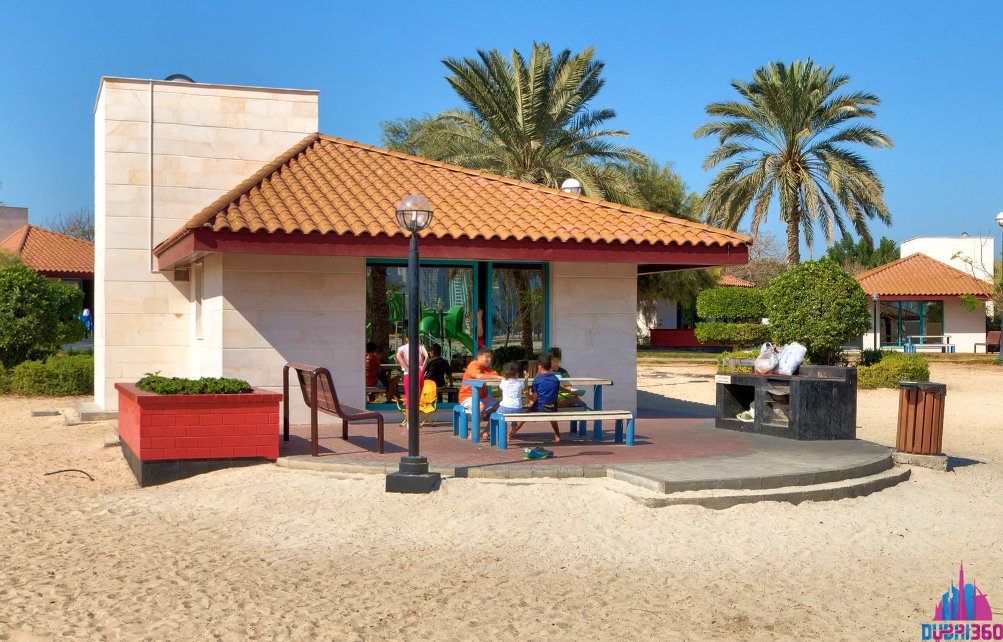 If you are not ready to compromise when it comes to comfort then chalets here won't disappoint you. In their attempt to make your beach holiday more fun and less stressed out, this park features 15 fabulously crafted fully air-conditioned bungalows.
You can spot these bungalows on beach number 4 which is accessible from any part of this huge beachfront park. To rent a chalet, simply contact the parks administration located at the main entrance. Chalets are best for daily use, barbecue parties and taking showers after playtime at the beach.
There are two types of chalets -large and small. Large chalets can be reserved for 200AED along with the park fees. Large chalets are perfect for large families and they can accommodate 12 people effortlessly.
Small chalets are available for AED 150 + park fees. Furthermore, you can also book your chalet right from the comfort of your home with the Al Mamzar App.
This user-friendly app is going to spare you from running to the booking counter while helping you to avoid long wait in front of the counter simultaneously.
Being a tourist hot-spot, this beach remains packed with visitors, particularly during peak season. If you don't want to miss the chance to enjoy the facilities paired with chalets, make sure you book in advance.
For more information on How to Book a Chalet at Mamzar Park check out our guide.
Al Mamzar Beach
Settled on the shoreline of Arabian Sea, Dubai flaunts an amazing sparkling coastal area dotted with a series of gorgeous beaches. However, the saddest part is most of them are overloaded with tourists.
When you are looking for a beach destination in and around Dubai that can help you to ditch the crowd, it has to be Al Mamzar Beach. Not many people are aware of this stunning beach which is secluded yet fulfilling.
This beach is surrounded by the Al Mamzar Park which makes it is perfect weekend getaway for all age groups. The park itself is very beautiful and well maintained. Kids have lots of things to enjoy and plenty of things to try at the park.
Al Mamzar Beach is known for its warm sea, captivating sunset hues, seaside fun and picturesque views. This is also an ideal swimming destination with crystal clear water.
The beach here is certainly a place where you can enjoy private time with your loved ones and can make piles of beautiful memories to take back to home.
As the park sits just beside the beach, you have 106 hectares of land to plan your activities. Lined with more than 1,600 palm trees and 300 coconut trees, the park adds a stunning patch of greenery along the beach.
After swimming in the sea, you can lay under the shade of a palm tree and cherish the impressive skyline of the city flanked by azure sea and blue sky.
Al Mamzar Beach Cabins
If you're spending the day at Al Mamzar Beach and want unrivalled service then check out the Beach Cabin Rentals. Rental prices start at 150AED for a small cabin and 200AED for a large cabin.
Al Mamzar Beach Sunbed Prices
Sunbed prices per day are 15AED. Umbrellas are an extra 10AED per day.
Ladies Day at Al Mamzar Beach Park
If you are a woman, then Al Mamzar Beach Park has something special for you. This park reserves entries for women only on Monday and Wednesday.
Of course, you can take your son with you if he is younger than 4 years. Daughters can always accompany their mothers. The primary goal to introduce special ladies' days at Al Mamzar Beach Park is to allow all lovely ladies to enjoy life just the way they like it.
Mamzar Beach Swimming Pool
The most prominent attraction of Al Mamzar Beach Park is its huge swimming area. In addition to the Entry Fee, you have to pay 10AED for adults and 5AED for children. The pool remains functional from 9.00 AM till 8.00 PM.
When its ladies' day (Monday and Wednesday), no men or boys (above the age of 4 years) can access the pool.
The pool area of the Mamzar Beach Park comes with impeccably clean surroundings, bathrooms, toilets, air-conditioned changing rooms, plenty of seating arrangements and ample of lifeguards around.
Photography is strictly prohibited at the pool area although taking pictures of your family having fun seems more or less acceptable. During weekends and public holidays, the pool remains extremely crowded. So, plan your visit accordingly if you are not very fond of crowds.
Hotels Near Al Mamzar Beach Park
Plenty of hotels and resorts sit close by. Further, it's not a problem to find a comfortable place to stay near the park without blowing your budget. All of these hotels are well-equipped with modern facilities and provide impeccable service to meet all your accommodation requirements.
Here is the list of some of the most popular ones:
Al Mamzar Beach Opening Hours
Al Mamzar Beach Park remains open for public from 8.00 Am to 10.00 PM. This time schedule is followed from Sunday to Wednesday of every week. Park timings change to 8.00 Am to 11.00 PM on Thursday to Saturday (don't forget that Friday and Saturday are weekends in Dubai).
During Ramadan month, Al Mamzar Beach Park opens its doors at 8 o'clock in the morning and shuts it down by 11 at night.
Al Mamzar Beach Park Ticket Price
Entry Fee to Al Mamzar Beach Park is 5AED per person. People with special needs and kids below years of age don't have to pay. Also, the park levies parking fees for your vehicles.
Among the 3 main entrances, one is reserved for cars while other two are for public. The external parking lot can accommodate 618 cars while the internal parking zone can accommodate 620 cars. 10 parking slots have been reserved exclusively for disabled parking. Parking fee at the park can seriously pinch your pocket a bit as it is AED 30 per vehicle. Because of this, you may wish to grab a taxi instead.
Things to do at Al Mamzar Beach Park
This beach park gives you a golden opportunity to plan your day on a beachfront just the way you have imagined it. Let's check out the options that you can take your side to turn your day-out in a complete bliss.
1. Enjoy a BBQ Party
One of the most exciting way to include everyone in the family for a fun-filled event is to throw a barbecue party. The mere thought of a barbecue party conjures up images of mouth-watering dinners coupled with heart-warming gatherings around the flames.
You can literally turn each of your barbecue party ideas into a hard reality here. You just need a barbecue stand and you are all set to drool over good food and great company all the night long at the beach.
2. Go Swimming in the Sea
Who doesn't love to swim into deep blue ocean and adore its comforting ripples? This beach has a perfect spot to go for open sea swimming. If you can't gather much courage to venture out the sea, the swimming pool instead.
3. Indulge in Thrilling Water Sport Activities
Al Mamzar Beach Park has always taken good care of adventure sport enthusiasts. If you are one of them, then get ready for lots of fun at Al Mamzar Beach.
You can go on an underwater snorkelling expedition to watch beautiful marine ecosystem. For a more adrenaline pumping adventure, you can try the jet skiing which is a joy ride of 30-minute thrill. One session of jet skiing will cost you about AED 70 per person.
4. Play on the Beach
If you love outdoor games, then you are going to have a hell lot of fun at Al Mamzar Beach Park. The park includes a basketball court where you can show off some of your amazing skills to score points. For soccer lovers, the park authority prepared a finely manicured football ground. Whatsmore, there is even a roller-skating rink adjacent to the beach which is quite popular among kids as well as the grown-ups.
Undoubtedly, Al Mamzar Beach Park has come up with enough ideas to make your visit super exciting. 
5. Hop onto a Train
If you don't have much energy left to play or swim but your soul is still not ready to give up, board the train that awaits you. This train will take you on a tour across this lovely beach and beautiful locations around it. You can explore the lush green lawns, food kiosks, well-maintained playgrounds, beach shacks and lot more while enjoying the fun ride.
Apart from relishing the panoramic views, this train ride may help you to find a sun lounger or beach chalet to relax with your family. All you need to do is to buy a ticket of AED 2 (per person) and hop into the train.
6. Take a Fancy Bicycle Ride
Al Mamzar Beach Park is a wonderful place to go for a fancy bicycle ride. You can take a bicycle on rent and go around the park. This will cost you about AED 20 – AED 30 per hour. Bicycle rides are the most convenient way to see the main attractions including the 8-metre high tower, amphitheatre, shades, bungalows and snake house.
Other Activities at Al Mamzar Beach Park
Aside from the above, there are also plenty of other activities families can enjoy at Al Mamzar Beach Park:
Athletics Training Area
Sledging
Climbing Walls
Roller Skating Area
Football and Basketball Courts
Bicycle Rental
Beach Volleyball
Amphitheatre for Musical Events
Al Mamzar Beach Park Contact Numbers
To make bookings for chalets or cabins you can use the contacts below:
Phone Number: +971 4 2967454
E Mail: m.chalet@dm.gov.ae
Conclusion
Thanks for reading. Make sure to come back for more on Travel & Living in Dubai & Abu Dhabi. Follow us on Pinterest and Subscribe to our Youtube channel too!