Kite Beach is a hip tourist destination that has witnessed a steady rise in footfalls with every passing year. Furthermore, people from all around the world head to this destination to bask into Dubai's one of its kind culture, mesmerizing architecture, sumptuous dining options, breath-taking views and array of sight-seeing options and entertainment hubs.
That's why we have written this post on 12 Things to do at Kite Beach.
If you have plans to travel to Dubai anytime soon, then you should certainly consider paying a visit to Kite Beach. Additionally, if you're are someone who loves to explore, then Kite Beach has numerous surprises in store for you.
The beach is one of the most pristine when quiet but also transforms into the most active at certain times of the day and year.
Kite Beach – A Brief Introduction
Kite Beach is one of Dubai's most popular community beaches. This place is seen bustling with energy from 10am in the morning to 10pm at night. What's more, the beach has something unique to offer to each of its visitors.
If you happen to be at the Kite Beach in the morning, you are sure to be greeted by calm waters. In the mornings, the sea is very peaceful and thus extremely family-friendly.
As afternoon sets in, the calm waters get transformed into lively, energetic waves. Eventually, this scene paves way for some fun water sporting activities.
Kite Beach is one of Dubai's cleanest beaches as it is maintained very well. As compared to other beaches in Dubai, this beach is less crowded.
Additionally, Kite Beach is dominated by a long stretch of white, clean sand and people who love adventure, are sure to have a great time here.
All in all, if you are looking forward to spend some quality time by the shore, then there is no better alternative than Kite Beach in Dubai.
Kite Beach Location
Kite Beach is located in Umm Suqeim, not too far away from Jumeirah Open Beach, meaning visiting two beaches in one day is possible.
Let's take a quick look below on the distance and time it takes to get to Kite Beach from each of the popular tourist area's of Dubai.
| | | |
| --- | --- | --- |
| Area | Distance to Kite Beach | Duration to Kite Beach (Car) |
| JBR | 19km | 20min |
| Palm Jumeirah | 15km | 15min |
| Madinat Jumeirah | 7km | 13min |
| Downtown Dubai | 12km | 17min |
| Deira | 22km | 21min |
As you can see, Kite Beach is quickly accessible from most area's of Dubai, which adds to why this beach area is so popular.
Things to do at Kite Beach
1. Go Kite Surfing
One of the first things worth engaging in at the Kite Beach is none other than Kite Surfing. This place is a perfect spot for advanced kite surfers. This is mainly because deep waters and winds that flow in the direction of the shore dominate this beach.
Thus, if you are a newbie in the area of kite surfing, you should take all the necessary safety measures. Even if you do not wish to engage in kite surfing, you can simply settle at the beach and enjoy watching the other kite surfers have a good time in the water.
Kitesurf School Dubai is located at Kite Beach. Here, you can partake in professional kite surfing lessons. Some of the best kite surfing instructors, all of whom are certified by the International Kitesurf Association take kite surfing sessions at this school.
During the summer, this school opens at 6am. However, during the other seasons it operates from 7am, all days of the week.
Therefore, if you are someone who wants to take kite surfing lessons, but not miss the sunrise, then the Kitesurf School Dubai is the place for you. You never know, when you return from Kite Beach, you might have turned into an expert kite surfer.
A kite surfing session at Kite Beach is likely to cost somewhere between AED 350 to 1900. Likewise, the equipment rental is charged from AED 50/hr to AED 250/hr.
Website: http://www.kitesurf.ae/
2. Explore Food Trucks – 3 Popular Eating Joints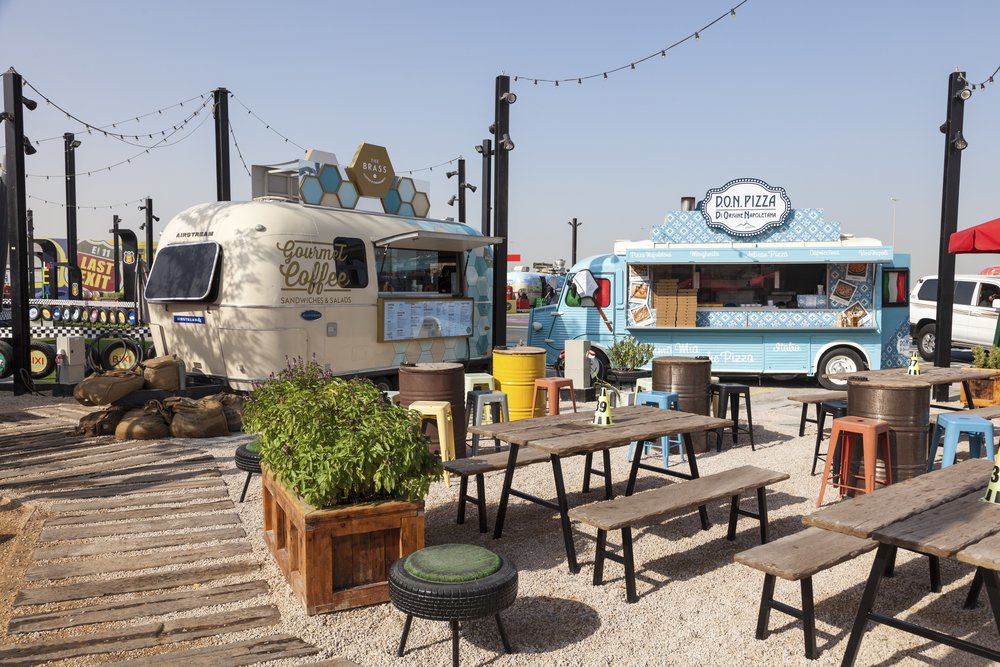 A personal favourite thing to do at Kite Beach. Eat!
If you are a food lover, then you should certainly stop at the many Food Trucks that line up at Kite Beach. Right from juicy burgers to delectable sushi, you can have it all at these food trucks.
The vast variety of cuisines served at these food trucks is sure to leave you spellbound. What is even better is the fact that you can enjoy a tasty meal while soaking in the sun and watching the beautiful blue ocean.
Salt: http://www.find-salt.com/
If lip-smacking food is what you have your eyes on, then Salt is the place for you. The idea behind setting up this food truck was to unite people over great meals. This place is home to some simple yet casual décor. Pop music that plays on this truck attracts a good deal of visitors, who instantly groove on the beats.
Salt boasts of an extensive food menu. This place is a perfect pick for all the beef lovers out there. Here, the portions served are generous and the staff is absolutely warm and friendly. It would not be wrong to claim that Salt is the best burger place around Kite Beach.
Taste of Brazil: http://www.tasteofbrazil.ae/
If you are someone, who cannot get enough of street food, then Taste of Brazil is the food truck you should be heading to. The goal of this truck has always been to bring Brazilian culture alive in Dubai and how! Authentic Brazilian music sets up the mood around this truck.
Service on this truck is spot on. If you are a fan of churros, then this truck is sure to take your love for churros to an all-new level. The highlight of this truck is delicious food served at prices that assure value for every penny spent.
From crepes, sandwiches, organic bowls, smoothies and juices, there is a lot more worth trying at this truck.
Wouldn't it be a lot more fun to munch on your favorite Sushi, unbothered, by the beach side? Apart from sushi, this place also serves some delectable salads, bento boxes, rolls and appetizers.
If you like to be your own boss as far as food choices are concerned, then this place is going to help you do just that. At Chez Sushi, you get to take control by choosing your own ingredients, sauces and toppings. This fun place is both unique and casual.
Eating on the go is something you can explore with Chez Sushi.
3. XDubai Skatepark
One attraction around Kite Beach, that attracts loads of visitors day in and day out is XDubai Skatepark. This place is a paradise for all lovers of skateboarding and rollerblading.
Spread across 3,100 square meters, this park features a wide range of unique obstacles. Both beginners as well as pros can have a good time skateboarding at this park. You can either carry your own board or rent one on the spot.
This skate park is open to children aged above 4 years. However, children aged up to 9 years need to be accompanied by an adult. This park is equally friendly towards inline skating, BMX and use of scooters.
The best part about XDubai Skatepark is that this is the only facility all over Dubai that is dedicated towards pleasing the skateboarding community.
Website: http://xdubai.com/skatepark/
4. The Running Track
With most of us having turned into fitness freaks, we are not very keen on letting go of a good workout. It is important to lose those brunch calories too!
Vacations clearly focus on a new place, great surroundings and of course an opportunity to engage in some exploration.
Amidst all this, why waste your time in the four walls of a gym? If you have plans to visit the Kite beach any time soon, then let your workout revolve around taking a good run across the fantastic running track; just make sure it's done early in the morning or after sunset to avoid the heat.
This 14-kilometer long track welcomes both runners and cyclists with open arms. Your outdoor workout is going to be a lot more fun-filled all thanks to his amazing running track. However, the soft surface and distance markers remain the highlight of this track
5. Engage in a game of Volleyball
If you are an individual, who has deep liking for sports and physical engagements, then Kite Beach is surely going to appeal to you. This beach is a treat especially for Volleyball lovers.
A walk around Kite beach and you are certain to bump into an array of volleyball courts. You can plan a day out with friends and engage in an enthralling game of volleyball at Kite Beach.
Likewise, if you would be interested to witness or participate in a structured game of volleyball, then sign up with the many leagues that host volleyball games at the beach all-round the year.
6. Paddle Boarding
If your love for water sports has got you to Kite Beach, then how is it that you give paddle boarding a miss?
The fame of paddle boarding at this beach is such, that multiple companies have started offering rentals and lessons out here. Most people plan these fun water activities during weekends, which is when you can spot maximum rush.
The guided paddle boarding sessions at Kite Beach, begin with some basics like learning to stand and move on the board. Hence, it is not very difficult to pick up this sport. Your family as a whole can sign up for paddle boarding sessions at Kite Beach.
For paddle boarding, you should consider associating with Kite N Surf as they have some of the best, qualified and patient instructors onboard.
Website: https://www.kitensurf.ae/
7. Wire World
People, who thoroughly enjoy outdoor adventure, should head to Wire World. This space appeals to both children and adults alike.
This outdoor adventure park is a hit among visitors with special inclination towards the Swinging Tarzan. This is essentially a 40-metre zip line that calls for an adrenaline rush.
Another thrill activity here is the bungee ejection. If you are a fan of acrobatics, you can try some somersaults, backflips or simply enjoy a free fall. In this activity, you take off from the ground, up there in the air.
Children can have an awesome time at this adventure park as well. Accrobranche Junior is a must-try for your kids.
Safety parameters are observed to the t at this park. So feel free to allow your child to get hooked and enjoy a trek about 10 feet above the ground.
Website: http://wwap.wireworldparks.com/kite-beach-dubai/
8. Beach Library
Are you a fan of good books?  Have you ever considered soaking in the sun, right before a gorgeous beach with a good read to accompany you? If not, then live the life of your dreams only at the Beach Library located at Kite Beach.
This library houses books for children as well as adults. Books in Arabic as also the English language are available at this beach library.
This environment friendly beach library uses solar energy and a self-lighting system to avoid wastage of energy.
9. Splash N Party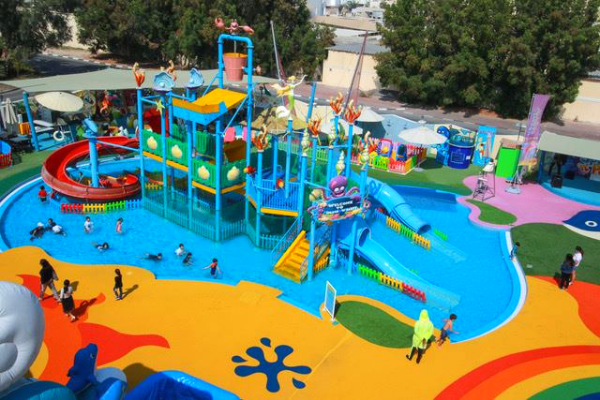 Water parks are indeed a lot of fun. You can have a great time with your family and friends, splashing water on one another at these parks.
When at Kite Beach, you should certainly consider heading to the Splash N Party waterpark. This place is a perfect hub for children. The many water slides and splash pads at this park are sure to leave your kids spoilt for choice.
As an add-on, this place is capable of hosting some memorable birthday parties and other special events.
Splash N Party is a complete entertainment package for the entire family, much more than just standalone water activities.
Website: https://www.splashnparty.ae/
10. Go Jet Skiing
A personal favourite thing to do whilst on vacation. Go Jet Skiing!
Your visit to Kite Beach will remain incomplete if you skip Jet Skiing. You can join hands with My Jet Ski, in order to get a breathtaking jet skiing experience.
When you set out jet skiing on the thunderous waves at this beach, you are likely to drown deeper into the mesmerizing landscape of Dubai. My Jet Ski makes your jet skiing experience even more enjoyable all credit to their jet skis that boast of smooth rides and accelerated performances.
Expert guides at My Jet Ski will give you all the necessary safety instructions at the start of your ride, halt at places of interest and support you through the entire adventure.
Website: http://www.myjetski.ae/
11. Sole Mio
One of the many reasons behind us choosing to visit a beach is to simply relax and rejuvenate our bodies and minds. What better way than to chill on a lounger by the seaside.
If you happen to visit the Kite Beach, then you can connect with Sole Mio to rent umbrellas, loungers or towels.
As you rest on one of these loungers, you are likely to lose yourself to the spellbinding view of Burj Al Arab. With beach food delivery included in the package, you can feast on a sumptuous meal while spending the time of your life.
Website: https://www.solemio.ae/
12. Magnum Fitness Beach
Another one for the fitness freaks looking to stay in shape whilst on vacay.
Open gyms are indeed a lot of fun. If you have plans to visit Kite Beach, you should certainly engage in a workout at Magnum Fitness Beach. This workout area includes all state of art equipment. Additionally, there are instructors to guide you through your workout session.
Another highlight of this open gym is exclusive one-hour sessions in Jiu-Jitsu, self-defense, Muay Thai as also sessions in the aqua gym that you can take.
Make sure you save some calories to burn at this open gym as your sure to work up a sweat in the open air of Dubai.
All this while, if you had been wondering as to how you can plan your day around Kite Beach, now you know how. In fact, you need not make any special planning at all. Simply head to the beach and engage yourself in the above activities, one after the other.
You will be at a loss of words, when you realize how swiftly time has flown away on your visit to Kite Beach.
Thanks for reading. Make sure to come back for more on Travel & Living in Dubai & Abu Dhabi. Follow us on Pinterest and Subscribe to our Youtube channel too!